Woman cyclist aims for men's world speed record
It's been 23 years since anyone has attempted to break the world's paced bicycle speed record of 167 miles an hour. But if the skies are fair and the body's willing, Denise Mueller-Korenek hopes to smash that record Sept. 15 on a dry riverbed in Utah.
The 45-year-old Valley Center resident — who set the women's world record of 147.7 mph in September 2016 — is confident she has the strength, the equipment and the "crazy factor" required to best the record of 167 mph set in 1995 by Dutch cyclist Fred Rompelberg.
Pedaling a high-geared bicycle at nearly 170 miles an hour just inches behind a speeding pace car is so dangerous that most world-record cyclists won't even try. But Mueller-Korenek is undaunted and her new husband, machinist Chris Korenek, and her three adult sons will be cheering her on.
"They're all behind me," she said this week. "In our family, crazy is our sort of normal."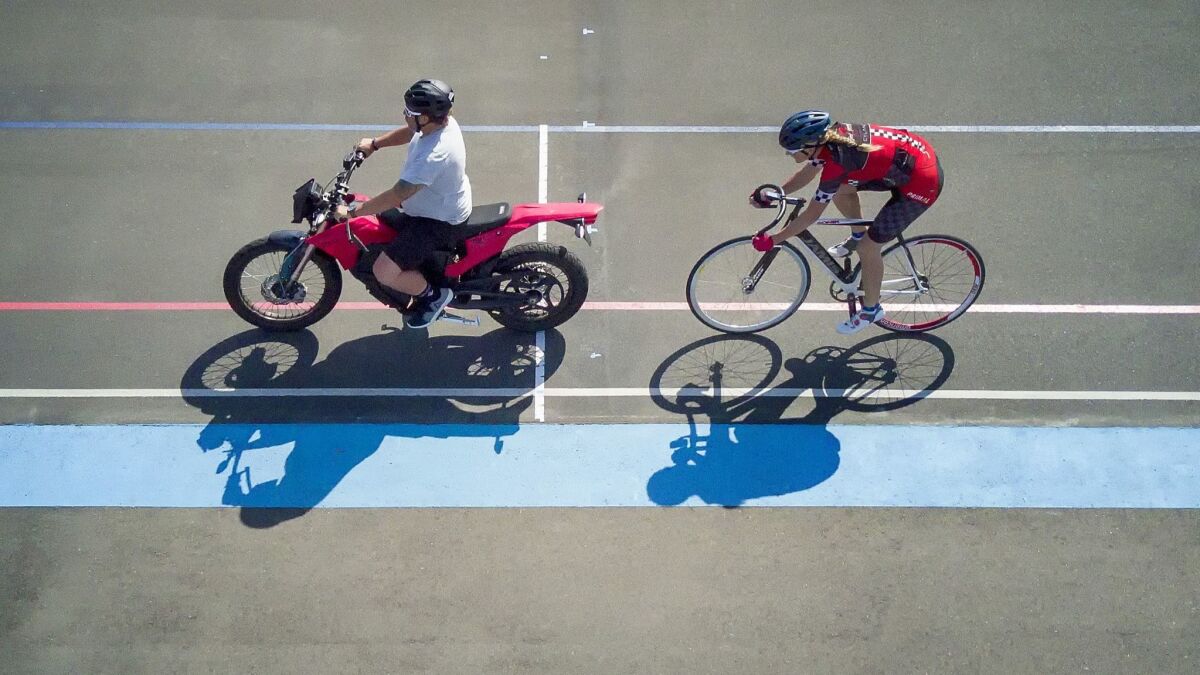 Mueller-Korenek grew up in a family of risk-takers. Her late father Myron Mueller was an ultra-distance cyclist who marked his 70th birthday pedaling 12,100 miles around the perimeter of the continental U.S. Her mother, Anna Dement, raced midget demolition derby cars in her 30s and jumped out of a plane for her 84th birthday.
As a teenager, Mueller-Korenek was a fiercely competitive junior cyclist, but she walked away from the sport at 19. Twenty years passed before she got back on a bike in 2012 and she's been racing for the record books ever since.
Her trainer — first when Mueller-Korenek was a teen and now again in her 40s — is cycling legend John Howard, 70, of Encinitas. The three-time Olympian and Ultracycling Hall of Famer holds 14 cycling world championships and won the 1981 Ironman World Championship. He also set two world records, including the 1985 paced bicycle speed record of 152 mph, which Rompelberg crushed a decade later.
Howard was the one who urged Mueller-Korenek to go after the speed record, and after six years of training together he's optimistic she can achieve it, as long as it doesn't rain on the course at Utah's Bonneville Salt Flats.
"We're confident it can happen," he said. "Weather is the only thing that can stop us now."
Mueller-Korenek and Howard met in 1987 on the final day of a 620-mile bike ride from San Francisco to San Diego. She and her dad were setting out that morning when Howard whipped by on his bike. He was a stranger at the time, but Mueller-Korenek knew if she pedaled close behind in the man's draft she could practically coast the final 50 miles to the finish line.
"I thought 'who is this skinny little thing?'" Howard recalled of that day. "I remember her sitting on my wheel and I remember the brief conversation we had. Her dad was a wonderful guy and her mom was a wild child if ever there was one."
A few years later, Mueller hired Howard to train his daughter and for three years Howard coached her to multiple cycling victories. Howard said as a teen Mueller-Korenek had a winning instinct, the ability to maneuver quickly around obstacles and she was lightning fast.
"Her forté was that she could accelerate quickly with power — that explosive jump that comes with fast-twitch muscle fiber," he said.
But with each win, Mueller-Korenek's anxieties grew. The pressure to perform, she said, "ate me up." Howard said he saw the end coming long before she finally quit in 1992.
"She was at the starting line of a race and I looked in her eyes and I couldn't see the fire burning in there anymore," he said.
After graduating from San Dieguito High School, she quit cycling, went to work at her parents' company, Rancho Santa Fe Security Systems, and later married and raised three boys, Jonathan Boever, now 24, Michael Boever, 23, and Daniel Boever, 18.
Over the years, Mueller-Korenek worked her way up to president and CEO of the family company and raised her boys. Her only exercise was a daily gym workout.
Then in 2009, she and some friends decided to cycle between checkpoints at the Rock 'n' Roll Marathon to cheer on a friend. Her competitive instinct reignited and she decided in 2010 to run the marathon with her son, Michael. To train her son, she gave her old friend Howard a call.
Michael went on to run 19 half-marathons nationwide and in 2012 Mueller-Korenek hired Howard to train her for her first Ironman. Her anxieties came roaring back but with hypnotherapy she calmed them and was soon winning bike races again. Howard dangled the paced bicycle record in front of her as an incentive to work harder.
"He knew that I'm an adrenaline junkie and love a challenge, so I was all in," she said.
Until she set the inaugural women's record in 2016, all of the paced bicycle speed records have been set by men. But Howard believes women over 40 are more capable of long-distance peak performance than men and he hopes to prove his theory with Mueller-Korenek.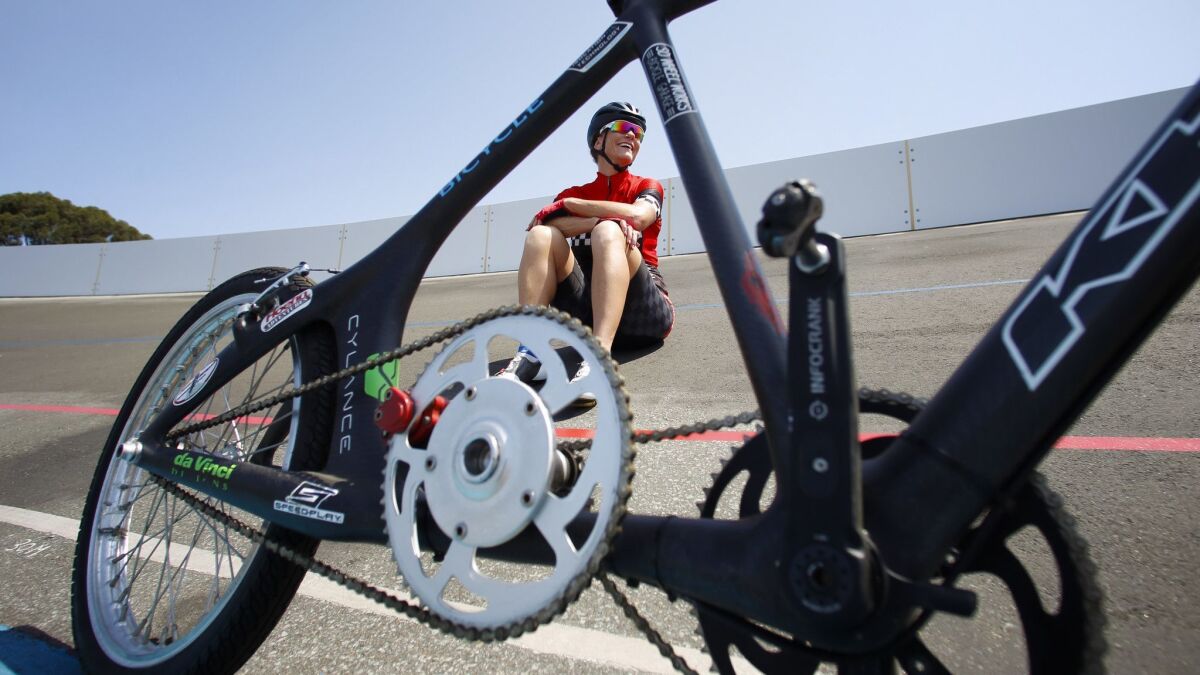 The first paced bicycle record was set in 1899 by Charles "Mile-a-Minute" Murphy, when he pedaled a bike in the draft of a steam train at 60 miles an hour. Over the next 100 years, the record gradually rose as the quality of bicycles improved and the shape of the pacing vehicles and the draft they provided changed.
It was a popular spectator sport, Howard said, because it was spectacularly dangerous. Many cyclists died or were severely injured in their attempts, including Rompelberg, who suffered a bone-smashing crash three years before his record-making ride in 1995.
Without any device to shield a rider from wind resistance, a human-powered bicycle can travel a maximum of 40 miles an hour. Beginning in 1935, speed cyclists began riding behind pace cars fitted with a fanlike wind shield known as a fairing.
The fairing creates a capsule-shaped resistance-free pocket of air behind the pace car that shrinks in size and pressure the faster the car moves. The trick, Mueller-Korenek says, is staying inside that pocket without hitting the vehicle in front or getting sucked out from behind. She'll wear an 8-pound leather and Kevlar suit designed not to tear in a high-speed slide from a fall.
Rompelberg's pace vehicle in 1995 was a custom-made dragster race car fitted with a box-like rear fairing. For her attempt next month, Mueller-Korenek has restored Rompelberg's original dragster. It's been proven at high speeds at Bonneville and it's affordable. Building a new pace car from scratch would cost $160,000 or more.
The dragster will be driven by Shea Holbrook, who won the 2011 Long Beach Grand Prix and is a 7-time Pirelli World Challenge Winner. She also drove the pace vehicle, a specially adapted Range Rover, that Mueller-Korenek used to set her first record in 2016.
When the Project Speed team of Mueller-Korenek, Howard and Holbrook made their first visit to Bonneville two years ago, they weren't sure what to expect. Over three days, they made multiple runs finding what Mueller-Korenek calls "the magic of the dance" between car and cyclist. They had to settle for 147.7 mph when it rained on the final day of their record attempt.
The course they'll travel is five miles long. During the first mile, Mueller-Korenek will be hooked to the car as it accelerates to 100 mph, then she'll detach and gradually accelerate her pedaling behind the car as it climbs to 130 mph. In the final mile, she'll make the attempt with a short and final burst of speed to take her up and over the record number. Each run takes about three minutes to complete, and they hope to make several attempts.
She'll be riding a 35-pound performance bike specially adapted for high-speed racing. It's 7-½ feet long with a straight handlebar and motorcycle-like wheels low to the ground, which creates a lower center of gravity and more stability. It was designed by rocket scientist Doug Malewicki, best known for creating one of the rocket-powered Sky Cycle that daredevil Evel Knievel used in his attempt to jump the Snake River in 1973.
If the Project Speed team achieves the record, Mueller-Korenek said she'd like to retire from racing, buy a horse and try her hand at trick-riding. Howard said he'll focus on training other cyclists and publishing a book about boundary-breaking, 19th-century black cyclist Marshall "Major" Taylor.
And if they don't? Mueller-Korenek is too competitive to say "c'est la vie."
"I think I'd be done, but I never say never," she said.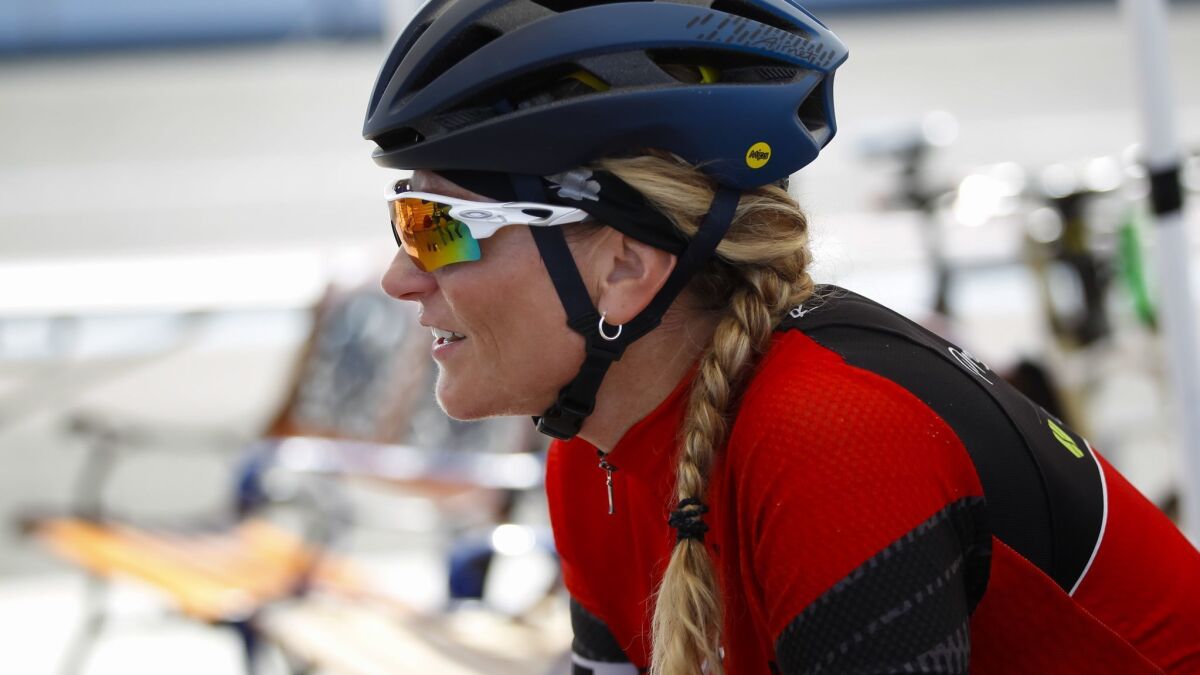 ---
Sign up for the Pacific Insider newsletter
PACIFIC magazine delivers the latest restaurant and bar openings, festivals and top concerts, every Tuesday.
You may occasionally receive promotional content from the Pacific San Diego.