No kiddin', yoga lovers can commune with goats at family farm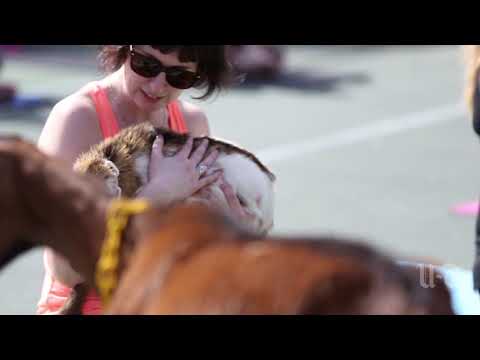 Sugar sweet farm in Encinitas is starting to offer yoga with baby goats classes.
Reporting from Encinitas —
A family farm in a city that's known as a mecca for yoga enthusiasts is starting to capitalize on the nation's latest fitness craze by offering yoga classes with cute and very cuddly baby goats.
"I'm just a goat farmer, not a yogi," said 16-year-old, 4-H member Sissy Sugarman.
But she knows a good business opportunity when she sees one, she added. That's why this home-schooled teen and her mom started hosting goat yoga classes earlier this month at their family farm. They'd been hearing online chatter for months about a hot new yoga trend — classes with animals, particularly goats who climb up on people's backs and nibble on their bare toes while they do yoga poses.
For the Sugarmans, who have operated Sugar Sweet Farm in Encinitas' Olivenhain neighborhood for 15 years, tapping into this new craze gives them a golden opportunity to take advantage of their existing resources. They've been passionate about raising baby goats since Sissy was 10 and they have the space to host yoga classes outdoors amid the sounds of farm life. And, they wouldn't have any trouble hiring a local yoga instructor.
"In Encinitas, which is the yoga capital of the world, it's not hard to get a great yoga instructor," Sissy's mom, Elizabeth, said with a smile.
Instructor Janie Surico said she's finding that people leave her new classes feeling relaxed and light-hearted after interacting with the ever-curious baby goats.
"They're so cute and friendly and they have no inhibitions," she said as baby goats cavorted around the farm's yoga classroom, a repurposed tennis court.
Surico has modified her traditional yoga routine, making it more goat-friendly by emphasizing poses down near the ground. Elizabeth Sugarman said the goats don't care for the warrior pose, or anything where someone is standing tall with arms outstretched. They like people's "submissive" poses where they're close to the ground, below the goats' eye level and less threatening to approach, she said.
"Usually, as soon as we're below their eye level ... they come right up to you," she said.
Friday morning's class contained a dozen humans and 16 goats, many of them 1-month-old babies. As people spread out their yoga mats and got comfortable, the goats bounced about, climbing on wooden balance beams, eating hay from strategically placed buckets and eyeing the humans warily.
Attendees were warned in advance to expect the goats to "freely share their goat curiosity, goat silliness, and goat affection" as well as "some goat poop and goat pee." When the goats pooped, Sissy and several other helpers rushed forward to sweep up the pellets.
Surico said she knows that people have signed up for the yoga classes to spend time with the goats rather than just for the exercise, so she has no problem with someone reaching out to pet a goat or hugging one close in mid-lesson.
"Keep your feet together, unless there's a goat on your back," she told the class at one point, and a little while later, she said, "You can put your head down on the ground, or you can snuggle a goat."
The goats became increasingly adventurous as the hour-long class wore on. By the end, they were nibbling people's pony tails, licking their toes and poking through their belongings. They loved shoe laces, but appeared to have zero interest in cell phones.
Class participants ranged from folks who lived nearby to two women from Minnesota who said they'd heard about the goat class craze and wanted to try it while on a girls' get-away weekend in Southern California. They could have done an indoor class with rabbits at home, but they wanted California sunshine, they said.
"We wanted to find things to do outside," Molly Kingery said. "We have our day of goat yoga and a winery tour."
Encinitas resident Tatiana Southard admitted she was a newcomer to yoga, or as she joked, "the last person in Encinitas to do yoga." She said she signed up for the class because she wanted be around goats and was delighted when the class aides perched one of the baby goats on her back during a yoga pose.
"They're really light and they're sweet," she said afterward. "I loved it. I would do it every day."
Elizabeth Sugarman said she's been startled by how many people wanted to sign up for more than one session with the goats. She'd been expecting people to do it as a one-time experience, she said. She's also getting requests for corporate bonding experiences, she said, mentioning that a rock climbing facility is bringing its employees later this month.
Her daughter said she's hoping to market goat yoga to other 4-H members in Southern California, saying dairy goat club members have limited revenue options right now other than selling milk and baby goats.
Sugar Sweet Farm is charging $40 for a 50-minute goat yoga class followed by 15 minutes of "goat cuddles and goat selfies." People can register by visiting the farm's web site at: sugarsweetfarm.com/goat-yoga.html
Initially, the farm was only offering classes on weekday mornings, but she's added some evening sessions due to requests, Sugarman said.
Sign up for the Pacific Insider newsletter
You may occasionally receive promotional content from the Pacific San Diego.