Are dockless bikes on their way out as electric scooters surge?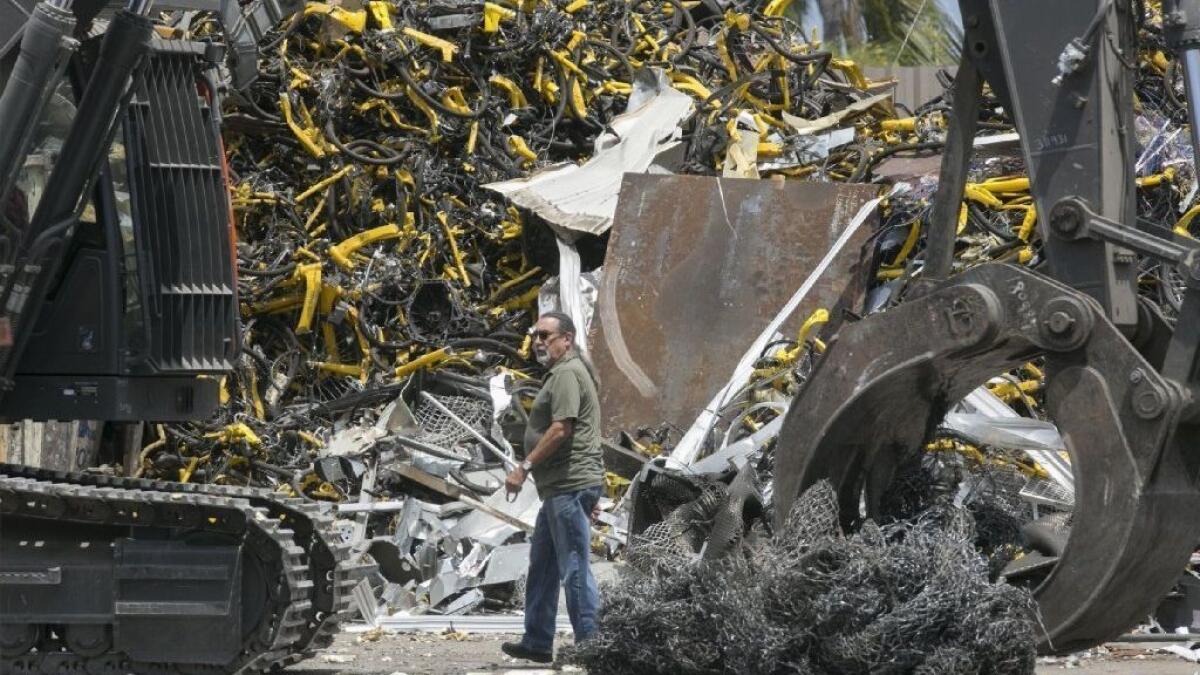 The barrage of candy-colored rental bikes that appeared seemingly overnight in downtown San Diego this spring has faded in recent months.
The orange, yellow and green bicycles that seemed to clog every street corner have largely been replaced by a wave of electric scooters, from the city's urban core to Mission Hills to North Park to Pacific Beach.
This week, hundreds of bike-sharing company Ofo's yellow bikes were spotted piled up at a recycling center in Logan Heights. The company downplayed the situation, saying that selling the bikes for scrap metal was a routine part of operations.
Rumors have swirled that Ofo, the world's first and largest dockless bike company, was leaving San Diego and several other cities for good. Last month, corporate officials said an email blast announcing its departure from a number of metropolitan regions was sent out by mistake.
While the company said it plans to stay in San Diego, it has confirmed mass layoffs throughout the U.S. and a retreat from many larger cities, including in Europe.
"As we continue to bring bike-share to communities across the globe, Ofo has begun to reevaluate markets that present obstacles to new, green transit solutions …" spokesman Taylor Bennett said in an email.
Startup companies offering so-called dockless mobility options grew out of the app-based technology that made ride-sharing companies, such as Lyft and Uber, possible. But in San Diego, and much of Southern California, it's the motorized scooters that seem to be cornering the market.
Users can unlock the scooters and bikes using a phone and then drop them anywhere. The business comes in contrast to the docked model, where users must pick up and return bicycles to a fixed station.
Some local advocates for alternative transportation have bemoaned the waning of the dockless bike craze, pointing to the slow pace at which promised bicycle lanes have been rolled out in the region.
"It would definitely be going in the wrong direction if we didn't have shared bikes along with scooters," said Colin Parent, executive director of the transportation think tank Circulate San Diego. "But I think eventually we're going to have better bicycle facilities downtown with the right political leadership."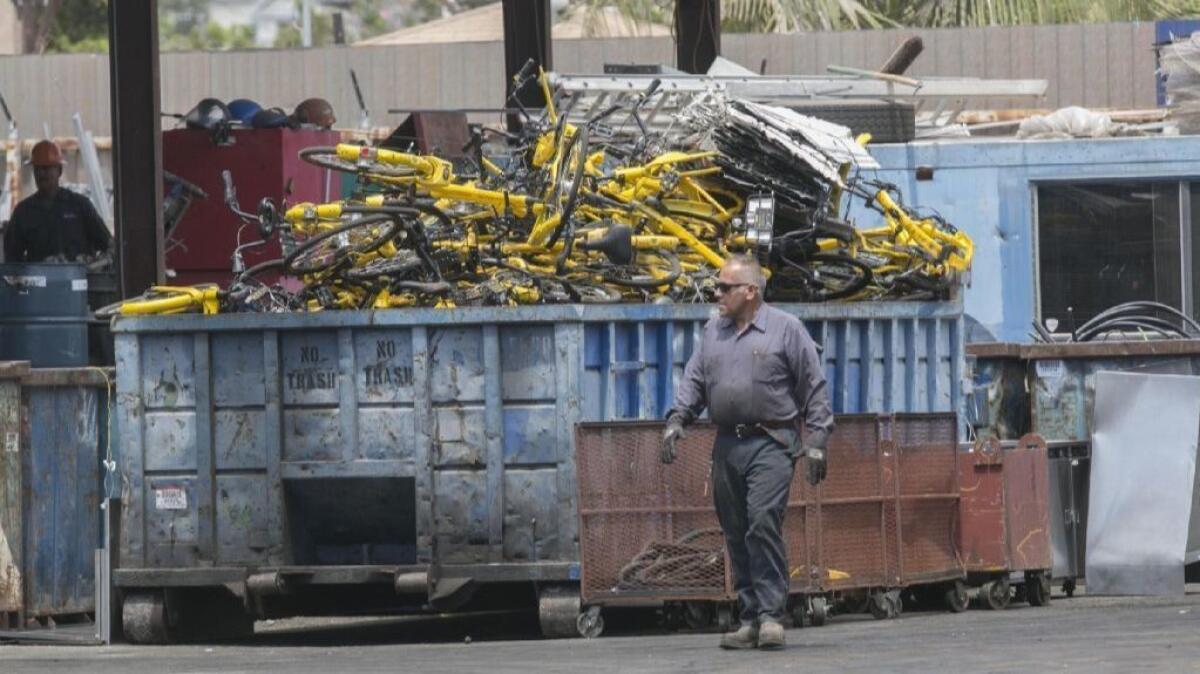 Even if companies such as Ofo and Mobike plan to stay in San Diego, it's not clear for how long.
Mobility companies have been reluctant to share data publicly, such as the number of vehicles deployed in any one area.
Dockless scooter and bike company Lime — which changed its name from Lime Bike as scooters gained in popularity — said its electric vehicles have been extremely successful.
"We see a lot of people gravitate toward the scooter or electric bikes because they can go to work and not sweat," said spokeswoman Mary Pruitt. "People are embracing the electric products."
Nikolaj Koster, who flew into San Diego from New York for a work conference, said on Thursday that he'd been riding the scooters all week.
"When you're on them, they're amazing," said the 41-year-old. "You're on a green vehicle and you don't take up a lot of space. You're not in a huge car.
"You feel like a 12-year-old boy again," he added. "You look at it and you're like, 'I need to try this out.'"
Koster and his coworker, Paul Grant, said they didn't even consider using the dockless bikes, as they cruised on from their hotel in the Gaslamp Quarter to Hillcrest for breakfast Thursday morning.
"It's actually quite fun on the scooters," said 45-year-old Grant. "It's new and it's fresh. Bicycles we're used to."
At the same time, Ammar Ohan who works downtown said he prefers the bikes because it affords him a bit of exercise on his lunch break, and it's cheaper than the electric alternative.
"You're burning more calories," said the 38-year-old. "And this company has an offer for $5 a month. It's like nothing."
The company that started the dockless electric scooter phenomenon, Bird, is now seeking a $2 billion valuation and is considered the fastest growing startup in history.
Lime is racing to catch up, touting a worth of over $1 billion, also in anticipation of going public.
However, their success is far from guaranteed.
Many cities have taken exception to mobility companies dropping their bikes and scooters on sidewalks without first consulting with officials.
In response, cites such as San Francisco and Los Angeles have decided to draft permits that will regulate the industry. The new rules will select operators, charge fees and impose regulations on where the vehicles can operate.
Last week, Santa Monica signaled that it was preparing to award its operating contracts to ridesharing companies Lyft and Uber, which earlier this year purchased bike-sharing companies Motivate and Jump, respectively.
Lime and Bird shut down operations for a day on Tuesday in protest, following the release of an internal memo from the Santa Monica planning director that outlined the leaders in the competitive bidding process.
Bird, which first launched in Santa Monica, declined an interview for this story.
The city of San Diego has distinguished itself by declining to regulate the emerging industry. Despite safety and cost concerns by some elected officials, the City Council has repeatedly pushed the issue onto the back burner.
The city has yet to release comprehensive data on how many people have been injured in accidents involving the electric scooters, but there have been reports of concussions, broken bones and intoxicated riding.
Twitter: @jemersmith
Phone: (619) 293-2234
Sign up for the Pacific Insider newsletter
You may occasionally receive promotional content from the Pacific San Diego.