Health pro balances workouts and diet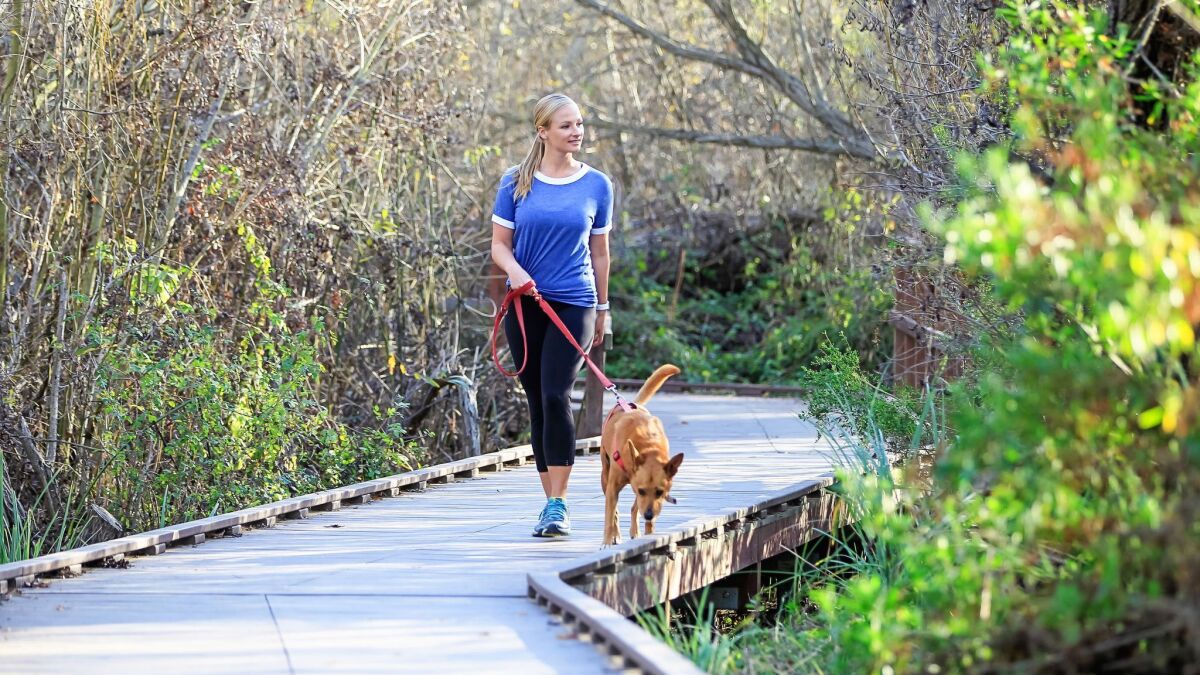 Subject: Nicole Crane
Age: 30
Residence: Carlsbad
She jokes she has an affliction called "exercise ADHD." "I can't do the same thing a couple of days in a row," she says. "It's boring."
So, Crane has no set sweat routine. She exercises six days a week, with the only constant being a yoga session to start the day. A couple of days a week, she'll cycle, either on a trainer at home, in a class or outdoors on her mountain bike. She'll hike one day a week. She'll also sprinkle in high-intensity group workouts, some boxing exercise routines and meet-ups and group outings for cycling, yoga or whatever looks interesting on the other days.
She grew up in an active family in New Jersey, where exercise and healthy eating were the norm. By 10, she'd decided to become a vegetarian because of her love for animals. As an adult, she simply feels much better when she's exercising and eating well.
"Sometimes your brain gets foggy if you're eating a bunch of crap," she says. "Sleeping well, exercising well, eating right, just having a healthy mindset, all of that is linked to your health and affects how you feel. I really just want to feel my best."
Crane moved to San Diego eight years ago when her Marine husband, Adam, was stationed here. Because she liked to cook and exercise, she started a blog (Foodie Loves Fitness) six years ago just for fun when he was deployed.
"I thought, 'Maybe I'll start it as a project while he's gone. It will give me something to do maybe at 10 o'clock at night when I'm just hanging out,'" she recalls.
But, it wound up leading her into a career. Her focus on healthy eating sparked her to go back to school to study diet and nutrition. Then she became a certified health coach, yoga sculpt instructor, freelance health and food writer and professional blogger.
Today, she juggles those gigs into a professional life that also allows her to still cook healthy meals and feed her passion for exercise.
Workout regimen
Though her routines vary, she's committed to yoga in the morning. "I love to do that as a way to center my day and start on the right mindset," she says. "Also, I wake up feeling stiff, and after 15 minutes of yoga, I feel completely different. That to me is not just physical exercise but also a meditative daily practice." She loves hiking with her dog, Harley, and Adam on local trails all over the county.
Motivation
Aside from a desire to feel her best, Crane wants to live as long and as full a life as possible. She was extremely close with a grandmother who died in her 70s. She saw her grandmother's near-addiction to diet sodas and unhealthy eating and vowed to pay attention to her own. She's read about epigenetics, the study of how our behaviors may influence our genes. Unhealthy diets, alcohol, drugs and lack of exercise may trigger some diseases that our genes might make us vulnerable to, she says. "I want to do anything in my power to turn off any of those genes that can cause cancer," she says.
Diet
She plans ahead, cooking brown rice and chopping vegetables on weekends, as well as preparing ready-to-eat food for the week. That helps her make meals quickly during the week. She uses a lot of vegetables and whole grains and keeps things simple.
Her guideline, though, is moderation in everything. If she eats healthfully 80 percent of the time, she can enjoy the other things — wine, breads, treats when she and Adam travel — the other 20 percent. "You're not going to find me with a super strict diet," she says. "That's not how people live. That's why the word 'diet' has a bad connotation."
Advice for others
Her counsel: You don't have to be perfect. If you skip a workout or eat a whole pizza one night, don't go off the rails. Get right back into your routine the next day so healthy behavior is a habit. The longer you do it, the more ingrained healthy behavior becomes.
Williams is a San Diego freelance writer.
---
Sign up for the Pacific Insider newsletter
PACIFIC magazine delivers the latest restaurant and bar openings, festivals and top concerts, every Tuesday.
You may occasionally receive promotional content from the Pacific San Diego.