How dockless bikes are failing and succeeding in 6 U.S. cities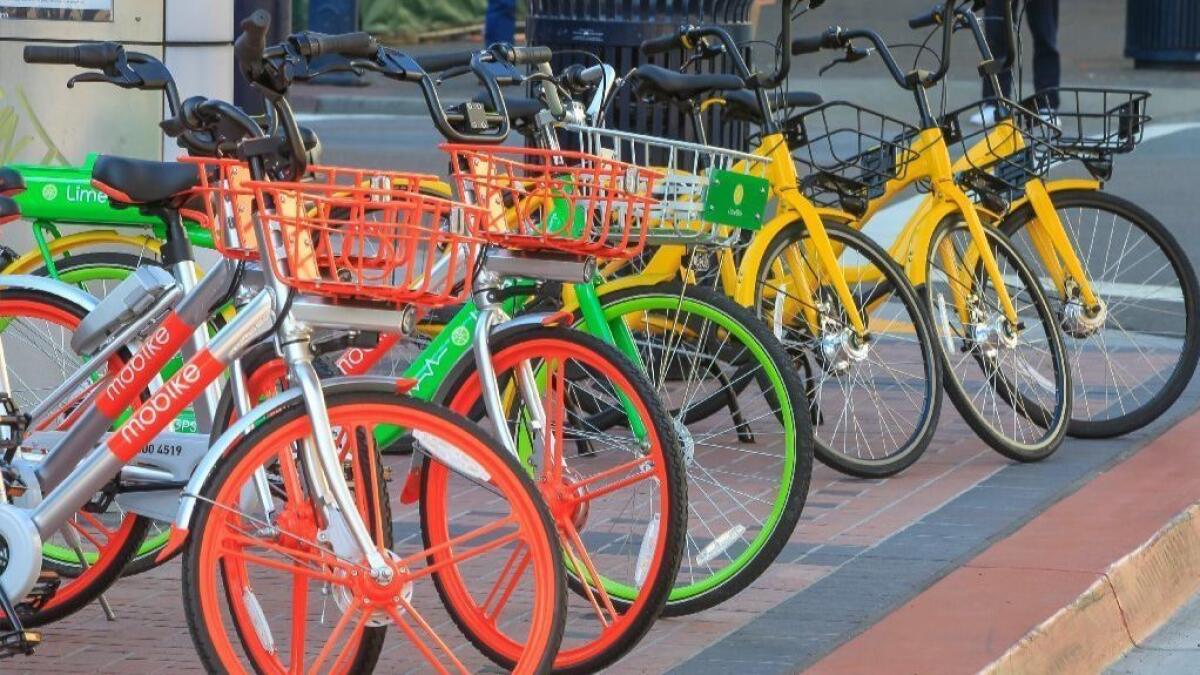 From New York City to San Diego and many cities in between, the dockless bike (and scooter) revolution has been one of the major stories of 2018 in tech and transportation.
Officials and residents vary in opinion and thoughts from city to city about regulation, and programs from companies like LimeBike, Mobike, Ofo and Bird have seen degrees of success and failure. No one way of handling them seem to prevail across the nation.
In some cities, the programs are thriving or just getting started. In others, lawmakers have taken actions that have pushed them out of town. Yet some cities are seeing companies running longtime docked bike share programs race to catch up with the trend and offer their own dockless bikes.
In San Diego, the use of dockless bikes appears to be going strong. Just this week, Ofo — which has left other markets — said it's not planning on leaving San Diego.
Here's just a handful of other examples of how cities are handling the dockless bike revolution.
Arriving in St. Paul/Minneapolis
A total of 800 bikes from the company Lime were introduced in St. Paul, Minnesota on Tuesday. Its twin city, Minneapolis, is expected to see dockless bikes provided by a company called Nice Ride Minnesota — which previously only offered docked bikes — this fall.
Nice Ride Minnesota's 200 dock stations across Minneapolis and St. Paul are expected to be phased out by 2021, according to the Star Tribune. A unique plan for its dockless bike program will be 500 "virtual parking zones" which differ from the hap hazard parking seen in other cities.
Some leaving Washington, D.C.
Mobike and Ofo, which both offer dockless bikes in San Diego, announced in July that they would be leaving Washington, D.C.
The city's permits allow each company to have a total of 400 bikes and/or scooter running at a time. Mobike cites the cap as its reason for leaving Washington, D.C. and so does Ofo.
"We are not being able to get the same successful operation efficiency or user experience that we have in all of our other international markets right now," Chris Martin, Mobike's vice president of North America operations, told The Washington Post.
Arriving in Baltimore
Baltimore is an example of a city fully transitioning from docks to dockless. This summer, Bird and Lime will each bring 1,000 of its bicycles and/or scooters to the city for a pilot program lasting six months.
The docked bike share program that was introduced there less than two years ago will be shut down permanently, with city officials citing a backlog of repairs and an inability to keep up with demand as the reason why, according to The Baltimore Sun.
Some leaving Dallas
Some dockless bike companies are leaving Dallas. Ofo, Mobike and Spin have all left, with VBikes and Lime remaining.
In June, the Dallas City Council approved regulations that require the program operators to get an approved $808 permit application and pay $21 per bike or scooter in operation.
Arriving in New York City
In New York City where the docked Citi Bike program has reigned supreme for years, dockless and electric bikes were introduced this month in parts of Queens, the Bronx and Staten Island with 200 bikes allowed in each location. Meanwhile, Citi Bike is also getting into the dockless game with plans to bring 200 dockless bikes to the Bronx in 2018.
Across the country, discussions surrounding the dockless bikes and scooters continue with a ride range of opinion.
What's your most recent opinion about dockless bikes? Has it changed or remained the same since they arrived in San Diego?
Email: abby.hamblin@sduniontribune.com
Twitter: @abbyhamblin
Sign up for the Pacific Insider newsletter
You may occasionally receive promotional content from the Pacific San Diego.