Big top or bust? Learning the ropes at San Diego Circus Center's trapeze class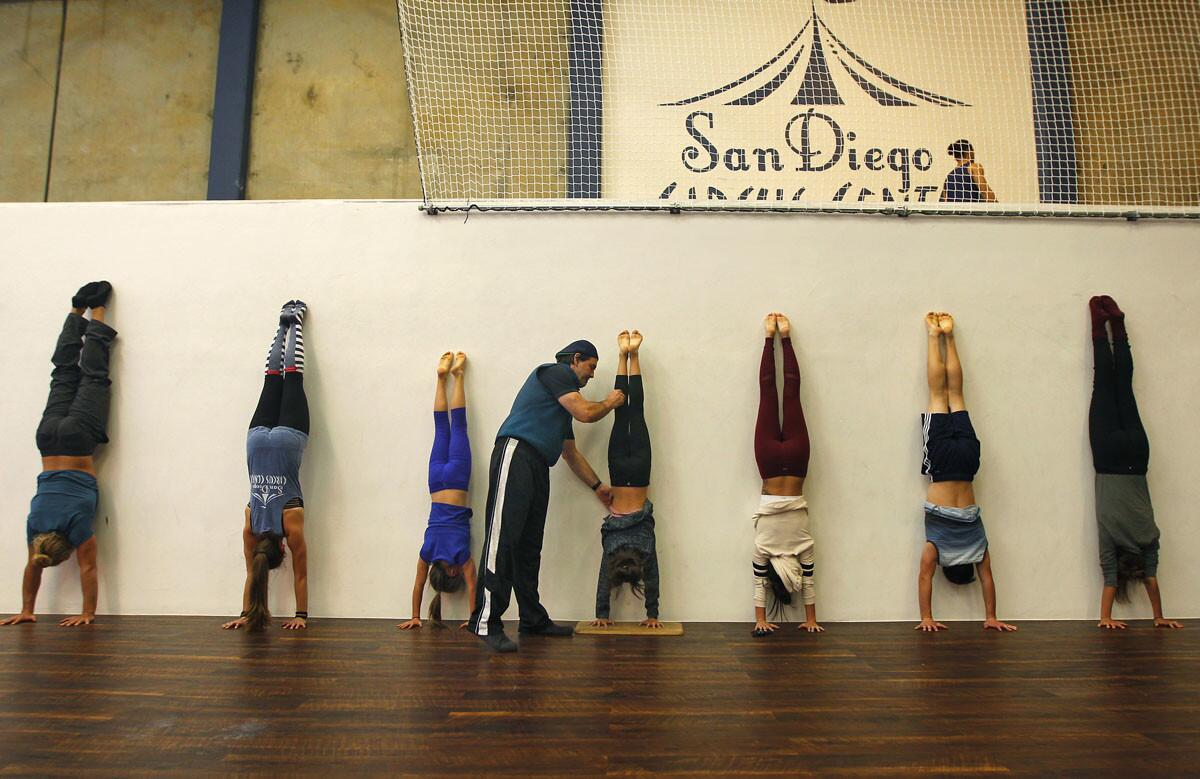 Before you run away to join a San Diego Circus Center class, ask yourself the following questions: 1. Do I have the upper-body strength of an Olympic gymnast or Popeye? 2. Do I have the grace of a prima ballerina or a mermaid? 3. Do I have clothes that will stay put while I am hanging upside down?
And, most importantly: If the answer to all of these questions is, "No," should I go anyway?
I pondered all of the above when I kicked off my brave new year by attending "Static Trapeze Level 1," a one-hour San Diego Circus Center class that teaches students how to balance, pose and drop on a trapeze bar suspended from the ceiling. The class description promised "a great class for an individual of any age, physical and fitness background."
For me, an individual of a non-circus friendly age (57) with a physical fitness profile that hovers somewhere between "not totally pathetic" and "don't get any fancy ideas, lady," the class turned out to be one of the bigger challenges of my gym-going, Pilates-following life. It was also great fun, and that's not just the Advil talking.

Welcome to the circus
Founded in 2012 by former Cirque du Soleil performer Jean-Luc Martin and his wife, Mara, the San Diego Circus Center (2050 Hancock St., near Mission Hills) offers serious training in such circus skills as handstands, trampoline, juggling, trapeze, stilt-walking and aerial silks (where performers do acrobatics while hanging from suspended swaths of fabric). Class fees start at $20, and money-saving packages and monthly contracts are available.
Who comes to the Circus Center? Sports-minded kids who want to explore life beyond soccer and Little League. Aspiring theater types interested in expanding their performance repertoire. Fitness fiends looking for a new challenge, and daring young men and women who want to make the circus their career. The center's nine-month youth preparatory program is for them.
"We work with kids who want to do this for a living, but we are also recreational," Martin said, as the padded floor behind him filled with students stretching their way through a flexibility class and aerial silks students spinning and twirling from the ceiling. "We have people who want to be professional circus performers, but we also have people who just want to be in shape."
What about people who just want to see what their desk-jockey body can do? Martin usually tells beginners to start with a flexibility class to get the lay of the land and prepare themselves for the rigors to come. Would I be OK skipping directly to the trapeze? Miller was encouraging, but realistic.
"It's good if you can do a pull-up, but she's going to work with what you can do," Martin said of trapeze instructor Nikki Unwin. "That's what's great about the circus. It doesn't matter what body size you have. There is always something you can do."
"What if I can't do a pull-up?" I asked.
"Well, we'll see, eh?" Martin said with a laugh.
That wasn't ominous at all.
Trapeze for newbies
The good news for me was that unlike the flying and swinging types, the static trapeze remains stable while the acrobat does tricks over and under the bar. The scary news was, it involved doing tricks over and under the bar. It also involved me tucking my T-shirt into my leggings so I could hang upside down without revealing too much geezer flesh. This was perhaps the most terrifying thing of all.
"Everything is going to be OK," instructor Unwin said soothingly.
Would it? Everything was certainly OK for my fellow students, a limber bunch of Circus Center regulars, all of them younger than my college-aged daughter. After a warm-up of full-body Burpees that left me wheezing, my four classmates and I followed Unwin to the three trapezes for conditioning drills.
The first one involved hanging from the bar and doing shoulder shrugs. I could do that. The second one had us hanging from the bar, then lifting our legs and torso up, maneuvering our feet under the bar to get our legs over the bar. (I think.) Unwin whipped through that in seconds, ending up in a pretty pose with one leg draped over the bar. I did not think I could do that.
But true to the class' promise of being appropriate for all skill levels, Unwin got me set up on the trapeze hanging less than six feet above the ground and patiently led me through each step. While my experienced classmates popped easily up to the higher trapeze then swung gracefully through various poses and drops, Unwin reconfigured the routine into something I could sort of do. As long as she gave me helpful nudges (OK, pushes) during the rough parts and stood ready to catch me if I fell.
Even so, it was hard. Unwin had to spend a lot of time with me, leaving my accomplished classmates to run through their paces mostly on their own. And getting your body up, under and around the static trapeze requires loads of upper-body strength and major power in that core region everyone's always talking about. It looks like ballet and feels like boot camp.
"It takes time, let me tell you," said Carly Curry, 15, as she watched Shayna Rutledge twist herself into an air-born pretzel. "Not everyone is as flexible as Shayna."

Angel rising
About 45 minutes into the hour-long class, blisters were starting to bloom on my palms, and my hands were too shaky to hold my pen. But then, Unwin guided me through a Half Angel, a trapeze move that ends with the acrobat hanging one-handed from the bar with one foot tucked behind the rope and the free leg and arm outstretched in an arabesque pose.
Did you get all that? One arm? Foot tucked behind rope? Arabesque pose while dangling above the ground? Against all odds and the violent protests of my gelatinous arms, I hoisted, rolled and wriggled myself into something resembling the correct position.
"You nailed it!" Unwin said happily.
So I had. And while I felt a little guilty about monopolizing Unwin's time, striking this pose felt like a major accomplishment totally worth the post-workout pain I would still feel days later. And the enthusiastic support of Unwin and my young classmates was the icing on the bucket-list cake.
"It's really gratifying to see yourself progress," said Unwin, whose acrobatic life began with a Fern Street Circus gig while she was a student at Roosevelt Middle School in San Diego. "It's not a common thing to do, so you can feel very accomplished for being the first person you know who has tried it. It's not a competition here, so everyone is happy when you do well."
Ladies and gentlemen, the AARP Angel has landed. And she would give her right wing for a heating pad.
Sign up for the Pacific Insider newsletter
You may occasionally receive promotional content from the Pacific San Diego.