Tennis serves up lifetime fitness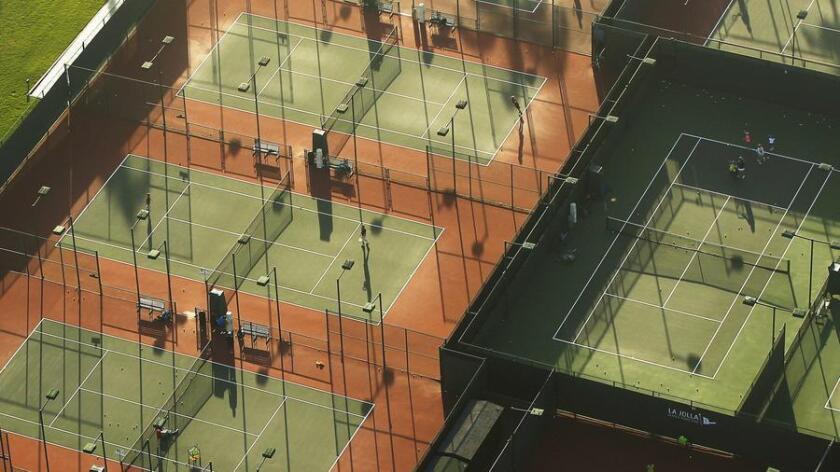 When I was a kid, my mom would take me to her tennis matches at a local La Jolla rec center. I would spend hours playing by the swing sets and wander around being bored.
One day she gave me a tennis racket and a sleeve of tennis balls and took me to a big wall with a line painted on it, about the same height as a tennis net. There I stayed for hours, hitting balls against the wall and having imaginary matches.
It wasn't the greatest introduction to tennis, but eventually I learned and graduated to where I could play with real live humans instead of that wall. Since then, it has always been an activity that I fall back on when the surf is flat or if I'm just tired of the same old gym routine.
The beauty of tennis is that after you buy a racket, some good shoes and a new can of tennis balls, you can play for free anytime you want. If you're not sure tennis is something you want to jump into, search Craigslist for some used equipment and give it a try. You'll find you can get started for less than $100.
San Diego tennis shops
Just Tennis
Address: 9984 Scripps Ranch Blvd., Scripps Ranch
Phone: (858) 547-9707
Online: justtennis.net
Ray's Tennis
Address: 1436 University Ave., Hillcrest
Phone: (619) 295-5362
Online: raystennis.com
Emmo Tennis
Address: 7003 Murray Park Drive, San Carlos
Phone: (619) 697-1418
Online: emmotennis.com
Seaside Rackets
Address: 1343 Encinitas Blvd., Encinitas
Phone: (760) 436-1404
Online: seasiderackets.com
Since San Diego has more than 300 sunny days a year, tennis is always an option with our county's plentiful public courts. One of the best places to play with friends or find a person to play a pickup match with is the Morley Field Sports Complex in Balboa Park. With more than 25 lighted courts, the Balboa Tennis Club, which is open to the public, houses San Diego's finest public courts and features a killer center court with stadium seating. That doesn't mean getting a court time is easy though. On weekends, make sure you get there early and put your name on the list at the pro shop to reserve a court.
While La Jolla and Ocean Beach also have great courts that are available on a first-come-first-served basis, there are pocket parks throughout the county that have a smaller number of courts available for people to use.
If you're striking out trying to find a city park with courts near you, try checking out the local high school or community college. They often have courts that are unlocked and open for players. Check out our list of courts, grab a buddy and add some fun to your exercise routine.
San Diego's best public courts
Canyonside Community Park
Address: 12350 Black Mountain Road, San Diego
Phone: (858) 538-8131
Details: 12 courts with lights. 8 a.m. to 9:45 p.m.
La Jolla Tennis Courts
Address: 7632 Draper Ave., La Jolla
Phone: (858) 552-1658
Details: Nine courts with lights. Dawn to 9 p.m.
Lake Murray Park
Address: 7003 Murray Park Drive, San Diego
Phone: (619) 469-3232
Details: 10 courts with lights. 8 a.m. to 8 p.m.
Morley Field Sports Complex
Address: 2221 Morley Field Drive, North Park
Phone: (619) 295-9278
Details: 25 courts with lights. 8 a.m. to 8 p.m. Monday through Friday. 8 a.m.to 6 p.m. Saturday through Sunday.
As a lifelong San Diegan, Ken Lewis has surfing and ocean life in his DNA. A 30-year surfer himself, Lewis has worked in the surf and skate industry for most of his career. Send him thoughts about the surfing and fitness worlds to kenlewis760@gmail.comor follow him on Instagram @hanger18.
Source: DiscoverSD
---
Sign up for the Pacific Insider newsletter
PACIFIC magazine delivers the latest restaurant and bar openings, festivals and top concerts, every Tuesday.
You may occasionally receive promotional content from the Pacific San Diego.