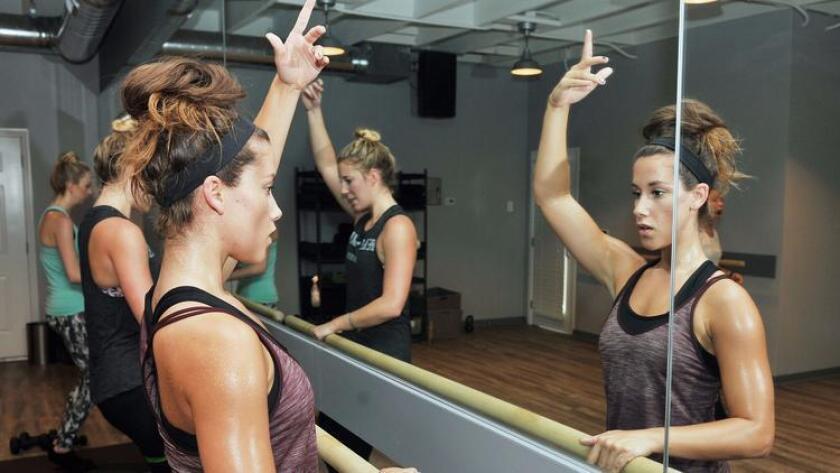 A brand new, heated barre studio has opened in Hillcrest, where "the music is a bit louder, the weights are a bit heavier and the workout is more intense," says owner John-Paul Dydo.
Belle + Barre, San Diego's first heated barre studio, opened doors in late September. Although the studio does offer unheated options, every B+B class goes beyond the typical barre workout by incorporating more cardio intervals and serious strength training.
How hot is hot? The signature class here is offered in an 85 to 95-degree room, heated by infrared paneling.
Dydo and his biz partner Kelly Schuler created this workout by drawing from a culmination of her favorite workouts over the years.
"I first fell in love with barre and the community it yields around five years ago, but found that, in order to avoid plateaus and have a more well-rounded fitness regime, I was required to do cardio and strength training separately," said Shuler. "When I wasn't taking class and was working out on my own, I was combining the three different styles to be more efficient with my gym time and - lightbulb - realized this could be a class on its own."
The Belle + Barre structure draws from basic barre cues and exercises you might already be familiar with, but then amps things up in some intense and challenging intervals; think burpees, wide legged squats, ski jumps and more. Small movements, heavier weights and quick spurts of cardio make for one comprehensive (and sweaty) workout. Classes are non-stop, meaning the stretching portion of class is saved until the very end.
"Belle + Barre, representing strength training (kettlebells) + (barre), are seemingly opposing forces. But when brought together, the combination of small movements and heavier weights with cardio result in a powerful and complimentary workout," said Shuler.
Heated workouts can help increase flexibility and endorphins, as well as amplified cardiac output. It's certainly not comfortable, but Schuler maintains that the body adapts to performing at a higher temperature.
So can a first-time barre-goer handle the heat? "Absolutely," she said. "We encourage people of all levels, but especially beginners, to take class at their own pace and stay in-tune with their bodies at all times. Instructors also provide low impact options and hands-on adjustments for newer individuals. We also offer the same class in an air-conditioned room should it be preferred."
Address: 3956 First Ave., Hillcrest
Phone: (619) 642-0271
Cost: First Class: $1; one class: $23; five classes: $95; 15 classes: $255; one month (intro): $95; one month recurring: $145
Online: belleandbarre.com
Copyright © 2016, DiscoverSD
---