Actress Alicia Silverstone expands collaboration to launch herbal supplements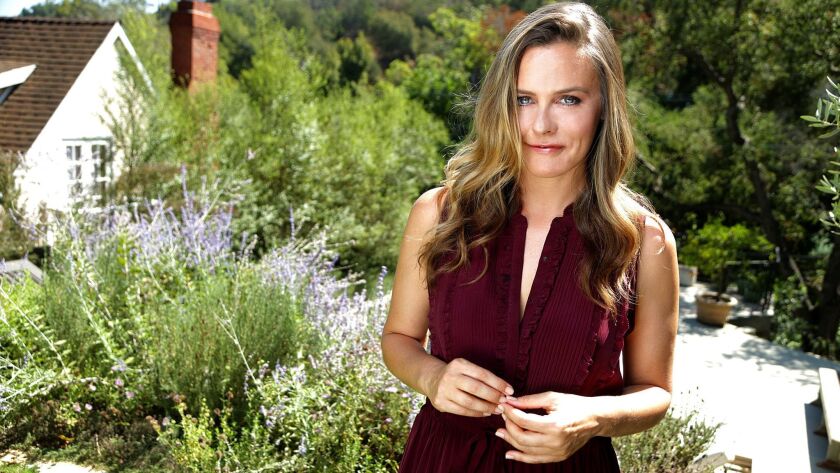 For years, Alicia Silverstone didn't believe in vitamins. As a vegan for two decades, the actress and activist has typically adhered to a clean and organic diet replete with nutrient-rich greens, whole grains, lentils, nuts and fruit.
"My midwife suggested I take a prenatal supplement, but I thought 'Why?'" said Silverstone, who has also written two healthy cookbooks, "The Kind Diet" and "The Kind Mama," explaining that she was already following a highly nutritious diet.
Still, for those days when the "American Woman" actress was traveling, or putting in long hours on the set, and couldn't access the right foods, Silverstone started looking for a supplement — and said she came up empty.
"Everything had chemicals in it," she said on a recent morning, sitting cross-legged on a couch in her unfussy Los Angeles home, a vegetable garden outside, shortly after a hike. "We're under the impression that we buy vitamins and they are clean and good for us. But a lot of them aren't."
So Silverstone, 41, decided to create her own. She teamed with supplement company Garden of Life and launched a brand called MyKind Organics, consisting of vitamins derived from organic fruits and vegetables (the women's multivitamin gummy is boosted with celery, broccoli, spinach and Brussels sprouts) and with none of the fillers and synthetics often found in supplements.
In September, MyKind Organics launched its Herbals line, predicated on herbs known for their health-boosting properties — like ashwagandha, which is said to reduce harmful stress levels, as well as turmeric, maca, elderberry and oregano, using ingredients sourced from organic farms.
Silverstone concedes there is no replacement for consistently eating a fresh and nutritious diet. But for those days when eating right isn't possible, or a seasonal illness threatens to surface, popping a couple of capsules or chewing on a vitamin gummy can help get you over the hump. Here, she shares what to look for when browsing vitamin aisles, why it's OK to "flirt" with healthier eating, and what's better than a midafternoon caffeine jolt (hint: It's not coffee).
Don't just skim labels.
There are a lot of vitamin gummies out there. The popular ones have gelatin [collagen from animal body parts], and some have two teaspoons of sugar in a serving. I'd rather have a glass of wine or a little bourbon than sugar in my vitamins as a daily routine. Some vitamin brands use hexane for extraction or genetically modified corn. Anything you can't pronounce or don't know what it is, that's a good indication that it's not ideal. I don't want to eat chemicals; I don't want it in my water or in my food. We do enough damage to ourselves in daily life that if you are looking at vitamins as something to support and build you, shouldn't that be the cleanest thing you can possibly take?
Pick and choose.
In the middle of the day if I'm feeling a little low, instead of grabbing a cup of coffee, I'll have a spray of B12, some vitamin C, a few gummies, and it does the trick. If I'm coming down with something, a little oregano oil takes care of it ... I take turmeric if I've been around a bunch of sick kids, and ashwagandha if I'm stressed. If I want my best hair, nails and skin, I'll take a collagen booster, or elderberry [to fend off] an allergic reaction to the changing weather.
Even better, eat well.
I like a super breakfast to make me feel like a champion. [At home,] we make steel-cut oats with chopped walnuts, apple, cinnamon, dates, flaxseed oil and maple syrup. Or blanched greens like bok choy, kale, cabbage and leek with umeboshi plum vinegar and fresh lemon. If I'm feeling festive, we'll do high-protein waffles made with white beans, which I keep frozen for a quick exit, on which I'll put some Brad's Organics tahini. My parents are English and I grew up on beans and toast, so sometimes we'll do an English breakfast with Field Roast [vegan] sausages, sourdough toast, mushrooms, tomatoes.
Flirting is fun.
It really helps to know that eating well is not all or nothing. In my book "The Kind Diet," I talk about how it's OK to flirt with this way of living, to just try it on before committing. Can you give up one particular thing? Maybe eating cow or pig but not the others? You can start there and have all the information you need to help you, delicious recipes and tips for what to order at restaurants.
Don't compromise taste.
I'm a food snob. I know what delicious food tastes like. I've eaten all the meat in the world. People don't have the right idea of what healthy vegan food is because many people make it terribly. But we all want to feel and look better, to stop taking all those medications and to build our bodies up and be responsible for our own health. Why not start by learning about what foods help with that and what don't?
READ ON!
Yes, you can eat your way to beautiful skin
10 high-tech gadgets to help you get to sleep
How 'Scandal's' Katie Lowes hid her psoriasis
7 steps to making your health your No. 1 priority
---
Sign up for the Pacific Insider newsletter
PACIFIC magazine delivers the latest restaurant and bar openings, festivals and top concerts, every Tuesday.
You may occasionally receive promotional content from the Pacific San Diego.