Fashion company makes modesty a mission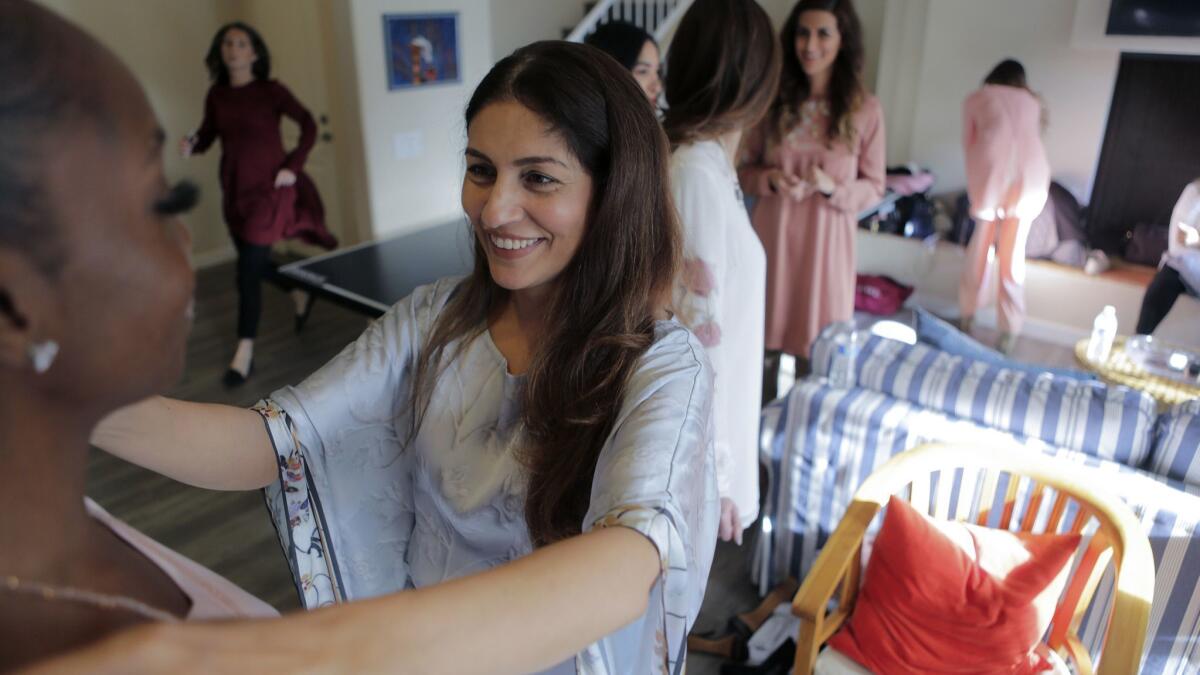 Encinitas —
On a wind-swept oceanfront catwalk in Encinitas on Sunday afternoon, a team of models swept past rows of admiring customers at Artizara's first independent fashion show.
The women — wearing high heels, flowing calf-length dresses and long-sleeved tunics with pants — looked like any other models in cool-weather attire, except one sported a turban and two others were in headscarves.
This was a coming-out party, of sorts, for part-time Encinitas resident Sarah Ansari, a banker-turned-fashionista who makes and markets Islamic art-inspired modest clothing to Muslim women around the world.
Ansari and a friend started Artizara 15 years ago as a way to creatively celebrate their Muslim identity after the 9/11 terrorist attacks. Ansari said the tragedies led much of the American public to think of all Muslims as the same and in a negative light.
"We were being seen as a collective, but we're so diverse," said Ansari, who moved to the U.S. from Pakistan in 1990 with her husband of 30 years, cardiologist Athar Ansari. "As a Muslim-American, I had a desire to do something about it and fashion was a way to show that diversity."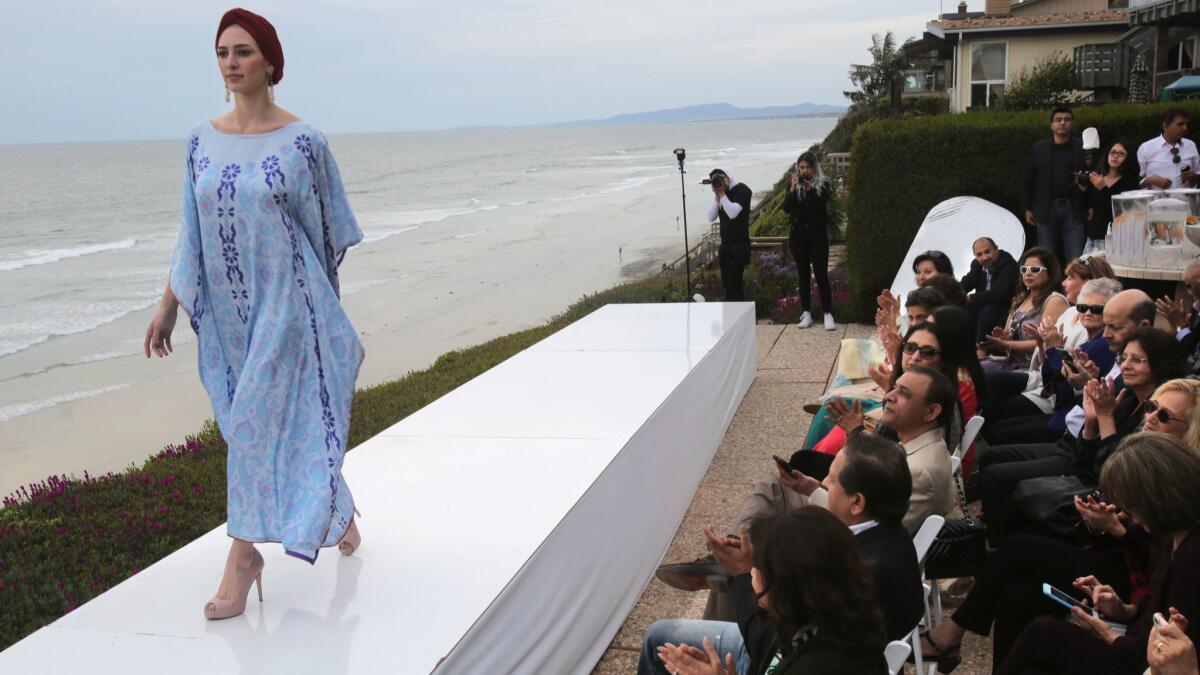 Operating from a 4,000-square-foot warehouse in El Cajon, Ansari leads a 4-member team of designers and staff in creating and shipping orders to the U.S., Canada, United Kingdom, Middle East, Africa and more. Although Artizara, found online at artizara.com, makes some items for men and children, most of its customers are women, the majority between the ages of 25 and 45.
Ansari doesn't disclose annual sales but she said Artizara is a small company with "moonshot" ambitions thanks to its market potential.
According to a study by the Pew Research Center, Muslims make up 24 percent of the world's population, or roughly 1.8 billion people. By 2050, that percentage is expected to grow to nearly 30 percent.
Yet despite the size of this fast-growing demographic, fashion companies have only recently begun to respond to its needs. The first all-hijab collection debuted in 2016 at New York Fashion Week and this spring Nike will introduce its first hijab tracksuit for women athletes.
"The market is huge but it hasn't been properly targeted to mainstream businesses," Ansari said.
Artizara's clothing is mid-priced, with pieces starting at $39 and topping out at $300.
Many of the items feature patterns inspired by Islamic art mosaics mixed with Arabic calligraphy that were designed by Peter Gould, an artist and entrepreneur from Australia who converted to Islam in 2002. He said Ansari is on the cutting edge of the Islamic fashion trend.
"Sarah is considered a pioneer in the emerging global modest fashion scene and super inspirational," Gould said via email. "Her passion for positive change and building understanding shines through everything she does. It's a great blessing to know her and work on creative projects together."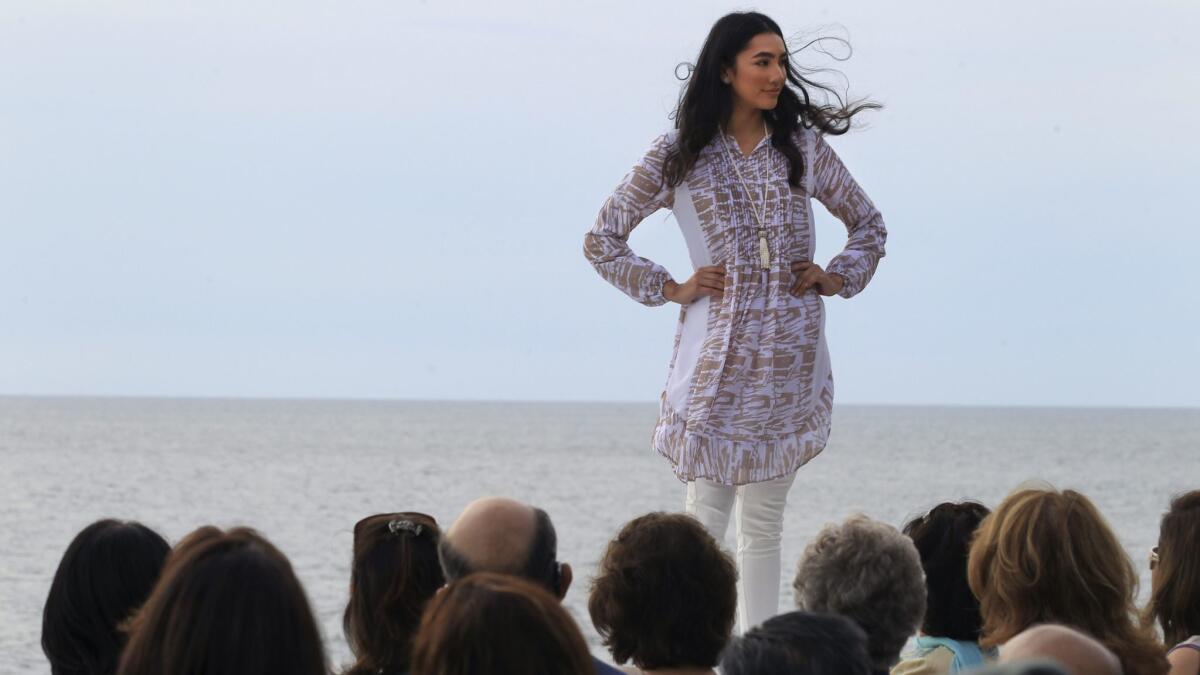 Ansari learned to sew as a child in Pakistan, but fashion was never her passion; numbers were. After earning her MBA in Pakistan, she and her husband came to the U.S. and settled, after a few years in Los Angeles, where she worked in banking and finance, and had four children. In 1999, they moved to San Diego, where they split their time between homes in Alpine and Encinitas.
When 9/11 happened two years later, Ansari began talking over ideas with a fellow Muslim woman friend who was an engineer at Qualcomm. Both were frustrated over the difficulty of finding attractive modest professional attire. Ansari doesn't wear short skirts or short-sleeve shirts and she doesn't wear a hijab or headscarf.
After much planning and consultation, Artizara made its debut in 2003 at the annual Islamic Society of North America convention in Chicago. Ansari and her partner, who she bought out a few years later, went in with low expectations, but the 12-piece inaugural line was a smash. Write-ups soon followed in the Washington Post and New York Times.
Ansari said Artizara distinguishes itself from other modest-wear fashion companies because it is centered around the beauty of Islamic art, not the Islamic religion. In fact, many customers are non-Muslims who like the designs and prefer more skin coverage.
"We're not trying to be religious. We're not advocating a style of dress. We are just responding to this very young, very vibrant, very hopeful and very artistic community to produce a brand that celebrates identity," she said.
Ansari said she knew she had a crossover brand when she wore her Gould-designed, long-sleeve T-shirts out in public: "I would be standing in line at Starbucks and I'd get a tap, tap, tap on my shoulder from women asking me, 'where did you get your top?'"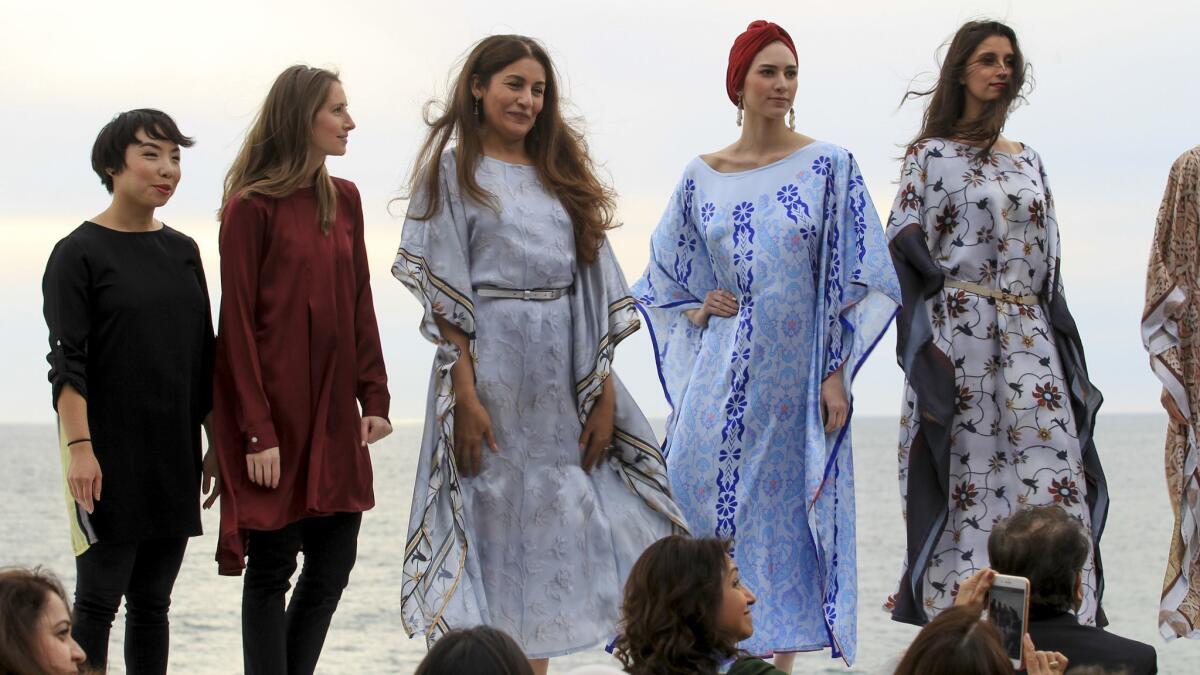 Gould said Artizara represents a growing "Muslim chic" trend among young Muslims worldwide who want to express themselves creatively with new brands and imaginative products.
"We want to see positive change in our world, like all young people, though we may have a particular lens through faith as one of our inspirations," Gould said.
Ansari and Gould admit there's a strong global current of anti-Muslim sentiment that they continuously swim against. Ansari said Internet trolls continually click on her online ads just to send hate mail.
She's also accustomed to criticism on the powerlessness and subjugation of women who wear hijabs, abayas and other head-to-toe attire.
"Women choose to cover themselves for many reasons," Ansari said. "Some cover for piety, some cover for identity, some cover for family reasons and some cover just to stir the pot. Women's bodies have been a battleground for people who are not women for thousands of years. It's time that we, as women, take over that debate."
As the business has slowly grown, Ansari said it has become more than a full-time job, but she wouldn't consider giving it up because the need is so great.
"If I didn't love it so much I would've quit long ago," she said. "I think it's deeply needed, deeply personal and very fulfilling."
Sign up for the Pacific Insider newsletter
You may occasionally receive promotional content from the Pacific San Diego.