Horton Plaza sold to real estate investment firm, will get tech-campus makeover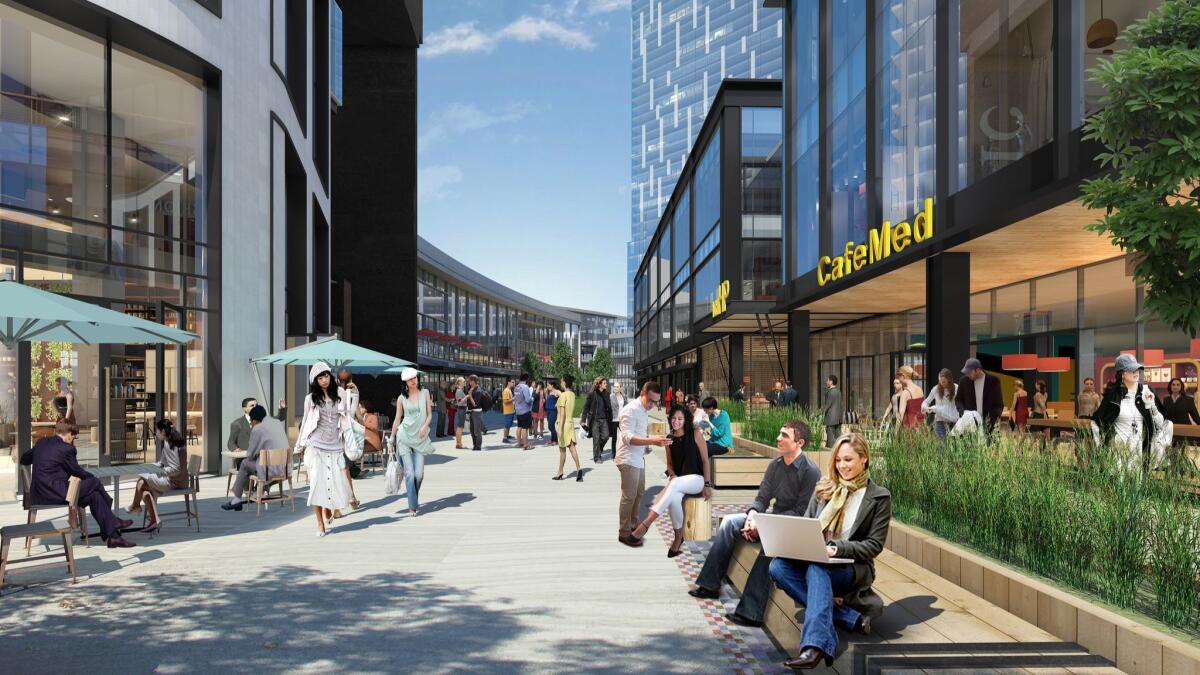 The one-time crown jewel of downtown, Horton Plaza, has officially been sold to real estate investment firm Stockdale Capital Partners, which seeks to return the 900,000 square-foot property to its former glory — albeit in much different form.
"Our vision is to create downtown San Diego's absolute leading creative office space," said Daniel Michaels, managing director of the firm, which closed on the property Thursday.
Terms of the deal were not disclosed.
Horton Plaza opened in 1985 with a Disneyland-meets-Italian-hills vibe, and was seen as a model of urban development at the time. Thirty-three years later, many of the mall's storefronts have been abandoned as dueling forces — the rise of e-commerce and the center's fortress-like design — hastened retailers' exit. The plaza also suffered from years of indecision on the part of previous owner-operator Westfield, which is currently embroiled in a suit with mall tenant Jimbo's.
Now, keys in hand, Stockdale envisions the plaza as an ultra-modern office campus, dubbed "The Campus at Horton," and geared toward top technology firms.
Department store shells, like the currently vacant Nordstrom building, will be converted into light-filled, expansive workplaces with 40,000 square-foot floors. The center will also see the retail outposts on the second and third floors transformed into hip work zones. And specialized ground floor retailers will be selected to ensure workers and visitors can eat, drink and work out in quintessential San Diego style.
In addition, the developer plans to significantly open up the meandering path that already winds through the mall site — referred to as "the boardwalk" in the new version of Horton — and further invest in the adjacent Horton Plaza park, Michaels said. Other planned amenities include a luxury cinema, daycare facility and dog-care service.
Ultimately, Stockdale expects to gut the retail center down to its studs and pump hundreds of millions of dollars into building it back up. It anticipates around two years of construction with tenants occupying the downtown tech campus by the end of 2020. The result should be a work-play hub that creates as many as 4,000 high-paying jobs and generates an estimated $1.8 billion in annual economic impact, according to calculations commissioned by the firm.
The future tenants, as Michaels describes them, are the big and important kind; technology firms of Facebook's caliber that have avoided establishing a presence in San Diego.
"There's an incredible opportunity to capture primarily Bay Area technology tenants who are looking to expand outside a very expensive San Francisco," said Steven Yari, co-managing director of Stockdale Capital. "I can tell you, San Diego is not on their radar. It's not been on their radar because there's no space."
But to create the space they covet, Stockdale will need to renegotiate land use approvals with the city.
The site contract currently requires at least 600,000 square feet of retail space. Though it wouldn't share specifics on square footage, Stockdale's plan is clearly heavy on office and light on retail. And any changes to the Horton Plaza owner participation agreement, as it's called, would require the approval of City Council, said Andrew Phillips, interim president of the city's downtown planning agency Civic San Diego.
It's unclear how the proposed office park use will be received by the council.
Gary London, principal real estate analyst with London Moeder Advisors, says council members will need to be swayed by Stockdale's design along with representations that it has secured office tenants.
"It makes sense that Horton Plaza needs to be revitalized as something different," he added. "There is insufficient demand for that type of regional shopping center in downtown San Diego."
Michaels, of course, views the Horton redo as a no-brainer for the city.
"This is an opportunity to take a blighted mall and create 3,000 to 4,000 high-paying jobs," he said.
Working in his favor is Stockdale's transformation of the 560,000 square-foot Galleria Corporate Center in Arizona, which was a dated indoor mall that has since been remodeled and outfitted with tech tenants, including Yelp, Zillow and Square. Already out of space and with demand still high, Stockdale is building a new office tower on the Galleria site, Michaels said.
Should The Campus at Horton prove as popular, Stockdale said it could add as much as 1.5 million square feet to its office development in future phases.
Going forward, the firm said it will work with the San Diego Regional Chamber of Commerce, Downtown San Diego Partnership and the San Diego Regional Economic Development Corporation to host a series of community engagement workshops on the project.
jennifer.vangrove@sduniontribune.com (619) 293-1840 Twitter: @jbruin
---
UPDATES:
3:41 p.m.: Stockdale clarified that it plans to spend hundreds of millions of dollars on the first phase of development.
This article was originally published at 2:30 p.m.
Sign up for the Pacific Insider newsletter
You may occasionally receive promotional content from the Pacific San Diego.