Lessons in styling: Tutoring clients on finding the perfect outfit
Blogger Conni Jespersen left her job as a teacher to persue her passion for fashion and overall style, which led her to create Art in the Find, her website and personal styling business. Despite the lack of a traditional school room, she continues to educate clients and followers on finding the best clothing pieces for each person's unique style.
PACIFIC recently turned to Jespersen for her top holiday picks including gifts for everyone on the naughty and nice lists and the appropriate attire for wherever you'll catch the ball drop on New Year's Eve.
Name: Conni Jespersen, Art in the Find
Age: 37
Hometown: San Diego, for the past 13 years. Paradise and Chico, Calif., through high school/college
Current neighborhood: Windansea/La Jolla
What do you do for a living? Wardrobe stylist/consultant/organizer and style blogger.
Website/social media handles: artinthefind.com
Instagram: @artinthefind
Facebook: @artinthefind
Pinterest: @artinthefind
Twitter: @artinthefind
In her own words
Art in the Find blog is a place where you can find affordable style inspiration for the everyday, busy gal. It is a style resource for women on the go, who are looking to up their outfit game. I provide everyday style tips, ways to mix and match outfits, fashion advice, trend updates and the occasional city guide or decor tip.
Why did you decide to start Art in the Find?
I have a degree in education and minor in child development. Seven years into my teaching career, I started wondering if I wanted to pursue other passions. I've always had an interest in history, fashion and overall style and I wanted to explore those more. So, in my last year of teaching, I started my blog, Art in the Find. I wrote my heart out about style, trends and took night classes at a local community college to get my fashion merchandising credential. I wanted to share my interests with anyone who'd read it. Art in the Find is both about my styling business and my style blog. The name comes from the belief that there is an art to finding the right pieces for each person. It's part of what I love to do; I love the hunt, the acquisition, finding just the right piece for a client or blog follower.
Let's talk presents. What gift would you buy for:
Your significant other?
Hopefully, he's not reading this, but I'm all about the old-school pieces right now, so I'm on the hunt for a super cool record player.
Your mom?
A lovely custom illustrated image of our family from Sophie & Lilli (sophieandlili.bigcartel.com).
Your boss?
That's me! Hah, but for someone else's boss, I'd opt for a really cool wine set, maybe some great glasses along with a favorite wine.
Your best friend?
A great everyday bag, monogrammed from The Transport Tote from Madewell (madewell.com) or the Foldover Clutch or Alistar Petit from Clare V (clarev.com).
Describe both men's and women's New Year's Eve outfits that you would recommend for the following events in San Diego:
House party?
For women, keep it chic, cute and festive with a dress like the Cornela from Ted Baker. And casually pulled together for men. A great button-down like the Mod Fit Gingham Sport Shirt from Ted Baker (maybe with a slim tie or bow tie) with a V-neck sweater like the Nordstrom Cotton & Cashmere V-Neck Sweater and dark denim or slacks.
Bar/club?
Think sexy, chic for women like the Zulema dress from Tularosa. And for men, think a suave men's velvet jacket (like the Reman Trim Fit Velvet Dinner Jacket by BOSS) and bow tie (Silk Pre-Tied Bow Tie by BOSS) with a great pair of pants.
Ball?
Time to get dolled up. Think floor-length, gown-style dresses (like the Beaded Bodice Ballgown from Eliza J) and men in a great suit (like a wool suit from Zara).
What are some of your favorite trends right now?
I absolutely love fall and the holidays because all of the fabulous textures and rich colors come alive. Give me all the velvets, burgundy, all the sparkle, all the feathers.
What are some of your favorite San Diego stores or boutiques?
I love Vocabulary Boutique, Pigment, Graffiti Beach and Mimi & Red for casual wear.
Favorite San Diego restaurant?
I really enjoy Madison on Park for a lovely dinner. If we're hanging in La Jolla, Whisknladle Bistro & Bar is great or Puesto for tacos. We love sushi and tried Himitsu in La Jolla (just opened, 30 seats), and it was amazing.
Favorite San Diego happy hour?
Anywhere! No, but really, I love Cafe Chloe for a traditional French cocktail or glass of bubbly. I also love You & Yours Distillery. They make the most beautiful cocktails and their tasting room is fantastic to sit and chat with a friend. Starlight is a traditional fav.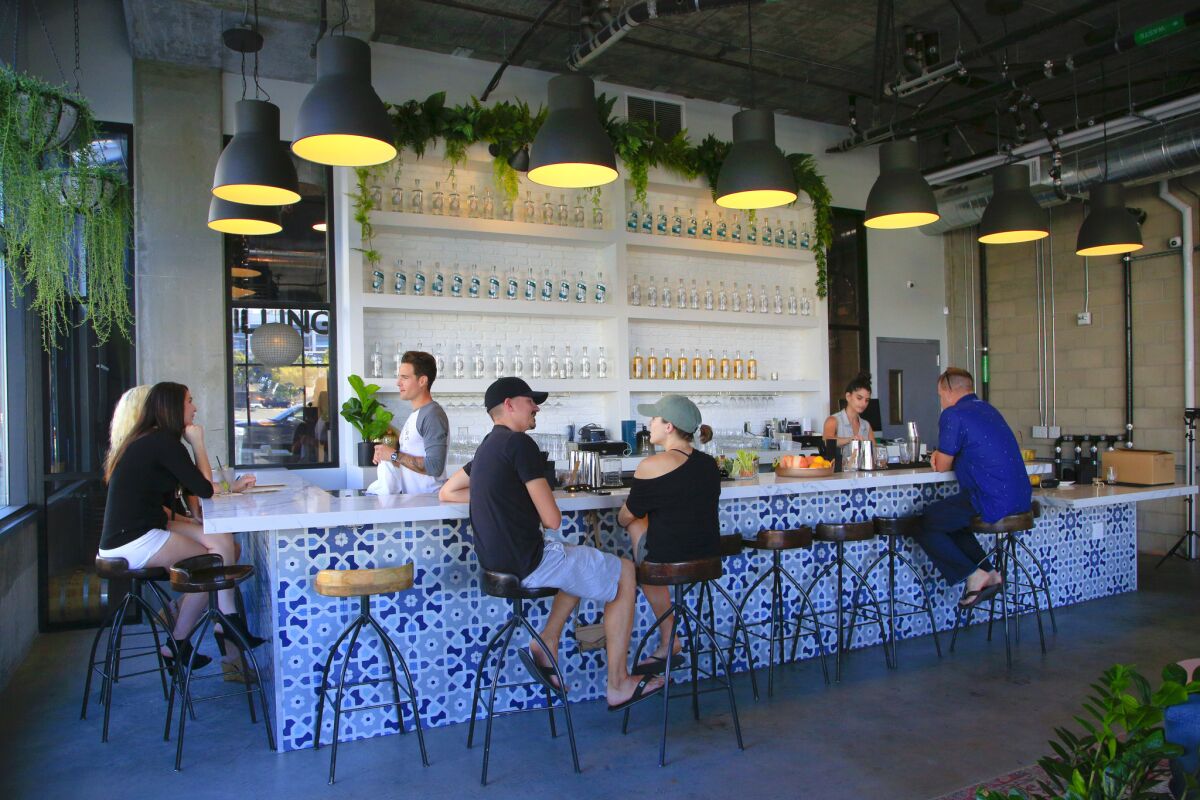 What do you think is San Diego's coolest neighborhood and why?
I think that so many of San Diego's neighborhoods have amazing things to offer. Encinitas is really bringing their A game, Little Italy has always been so vibrant, Mission Hills is so, so lovely. But I always find myself gravitating towards North Park. There are breweries and great restaurants (that make my husband super happy) and shops and cafes (that make me happy), so there's the best of all the worlds in one 'hood.
Sign up for the Pacific Insider newsletter
You may occasionally receive promotional content from the Pacific San Diego.