December Nights 2018: 10 things you shouldn't miss at Balboa Park's holiday extravaganza
San Diegans will know the holidays have officially arrived when Balboa Park kicks off the season Friday and Saturday with the most anticipated celebration of the year: December Nights.
Celebrating its 41st year, the two-day extravaganza offers entertainment for the whole family as well as brightly colored lights and festive decorations throughout the park — from the Plaza de Panama to the landmark Moreton Bay Fig Tree.
The event, called Christmas on the Prado until 2002, was founded in 1978 by 10 Balboa Park cultural organizations with 3,000 guests in attendance. The two-evening event featured music, crafts, Elizabethan-era dances and museum store shopping.
During the years, attendance grew, drawing 360,000 revelers last year to experience the sights, sounds and aromas that herald the arrival of the yuletide season.
"Every year, San Diego comes together as a community to celebrate our diversity at one of the largest free holiday festivals in the country — December Nights," said San Diego Mayor Kevin L. Faulconer. "I encourage all San Diegans to experience the lights, the music and the incredible food throughout Balboa Park."
This year, there will be entertainment on five stages, more than 100 vendors selling handmade wares and more than a dozen gourmet food trucks parked at Food Truck Alley.
Here are 10 "must-see" December Nights events you won't want to miss:
1. Spreckels Organ concerts
San Diego civic organist Raúl Prieto Ramírez will perform his first
December Nights concerts on the largest musical instrument in the world — the Spreckels Organ. One of the 10 "must-sees" at this elaborate celebration, Ramírez's repertoire titled a "Celebration of Music from the Great Masters" will include pieces by Johann Sebastian Bach and John Philip Sousa, as well as Queen's Bohemian Rhapsody and the Simpson's soundtrack.
"Only in San Diego (can you) experience the power and beauty of the largest outdoor musical instrument in the world," Ramírez said. "My goal for December Nights is to add my art and passion as an honest contribution to make it possible for San Diegans to enjoy their city's musical jewel and for visitors to end their tour feeling overwhelmed by what San Diego has to offer.
"My only expectation is to help make this wonderful city shine during such a special event like December Nights."
The free concerts are 50 minutes in length with performances at 4:50 p.m. Friday and 2:40 p.m. Saturday in the 2,500-capacity organ pavilion.
2. December Nights Tree Lighting
The nighttime activities start at 6 p.m. Friday at the Spreckels Organ Pavilion — one of the original 1915 structures — with salutations from Mayor Kevin Faulconer, followed by the official December Nights Tree Lighting countdown at 6:15 p.m.
3. "Christmas Story Tree"
Since 1987, the Del Cerro Baptist Church has staged an annual performance of the "Christmas Story Tree." The 70-voice choir and drama team tells the Biblical story of Christmas through traditional hymns and carols and living scenes of the birth of Christ in Bethlehem more than 2,000 years ago. Performances are from 8:30 to 9:30 p.m. both nights at the Spreckels Organ Pavilion Stage. An encore performance for those who can't handle huge crowds will take place at 5:15 p.m. Sunday.
4. Christmas Festival
You don't need a passport to sample a world of international flavors and spirits at the House of Pacific Relations International Cottages' Christmas Festival. You'll find empanadas from Colombia; tamales and tostadas from Mexico; mooncakes from China; meatballs in gravy from Finland; aebleskiver (pancake ball) from Denmark; crepes from France and falafel from Lebanon and Palestine, and also available at the House of Israel. Feast from 3 to 11 p.m. Friday and noon to 11 p.m. Saturday.
5. Santa Lucia Procession
The California Quadrangle in the Plaza de Panama area is where you'll find the Santa Lucia Procession, a Swedish celebration with candlelight and music. The 37th annual procession takes place at 6 and 8:30 p.m. each night. Don't leave without trying Swedish meatballs and glögg, Sweden's seasonal mulled wine.
6. "Jewels of the Season"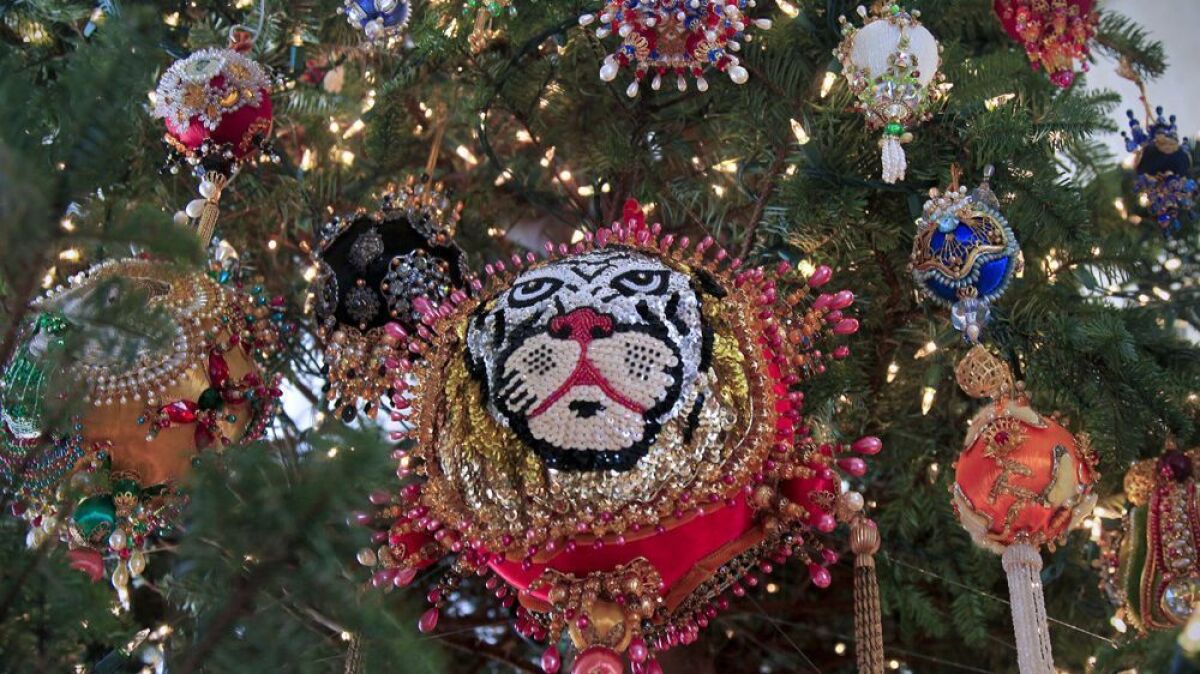 The Timken Museum's "Jewels of the Season," a display of holiday ornaments dressed in semi-precious stones, sequins and filigree, will be on public view through Dec. 30. For three decades, these elegantly crafted designs by local artists Florence Hord and Elizabeth Schlappi, have adorned the museum's rotunda — a collection that has grown to more than 2,000 ornaments.
7. Cascades Marketplace
A new stage at the Cascades Marketplace will feature a wide range of music and dance performances, including 16-year-old San Diego resident Marissa Grace, who recently released her first EP, "Will." She will perform at 9 p.m. Friday.
8. Poinsettia Seasonal Floral Display
Need a reason to visit December Nights during the day? There are more than 400 pots of them. In honor of the holidays, the Botanical Building houses the annual Poinsettia Seasonal Floral Display from the first weekend in December through the first week in January. Visitors can view the red and green foliage — also known as the Christmas Star — from 10 a.m. to 4 p.m. each day.
9. Carousel
December Nights isn't complete without a ride on the iconic carousel, one of the few carousels in the world that offers the classic brass ring game. Since 1922, the merry-go-round has brought smiles to young and old with its menagerie of animals — from horses and frogs to cats and zebras — and military band music. The festively decorated carousel will operate during December Nights from 3 to 10 pm. Friday and 11 a.m. to 10:30 p.m. Saturday. The cost is $3 per person.
10. Balboa Park museums
Participating Balboa Park museums will offer free admission from 5 to 9 p.m. both days. Each museum will have holiday-themed activities. The San Diego Natural History Museum will feature the Pomerado Brass Quintet and the TubaFours. The San Diego Museum of Art will host the La Jolla Renaissance Singers and Schola Pacifica on Friday and Courtly Noyse and In aChord on Saturday in The Hidden Gallery.
41st annual December Nights
When: 3 to 11 p.m. Friday and noon to 11 p.m. Saturday
Where: Throughout Balboa Park.
Admission: Free.
Online: sandiego.gov/december-nights
Getting there
Parking: Be prepared — lots fill up quickly. But don't let that turn you into Mr. Grinch. Limited, free parking is available at the San Diego Zoo lot and the City College parking lot.
Disabled parking: There are 156 disabled parking spaces at the Fleet Science Center lot on Park Boulevard and Space Theater Way. The Federal lot at Park Boulevard and Presidents Way has 33 designated parking spaces.
Paid parking: Optional preferred parking for $25 at the Natural History Museum parking lot and the South Carousel lot (both accessible from Park Boulevard and Village Place) and at the Inspiration Point parking lot for $20 (accessible from Park Boulevard and Presidents Way). Cash and/or credit cards are accepted.
Shuttles: Friday from 3 p.m. to 11 p.m. and Saturday from 11:30 a.m. to 11 p.m. with pick-up and drop-off in downtown San Diego on Ash Street between Fifth and Sixth avenues only. There's no shuttle service from City College. The last shuttle to the Balboa Park departs at 8:30 p.m. each night.
Public transportation: The Metropolitan Transit System will provide service to three locations adjacent to December Nights: City College, Fifth Avenue Trolley Station and Park and University. There is no direct bus service along Park Boulevard from downtown to Hillcrest. For more information, visit sdmts.com
Sign up for the Pacific Insider newsletter
You may occasionally receive promotional content from the Pacific San Diego.