Dogs of all shapes and sizes test their agility on land and sea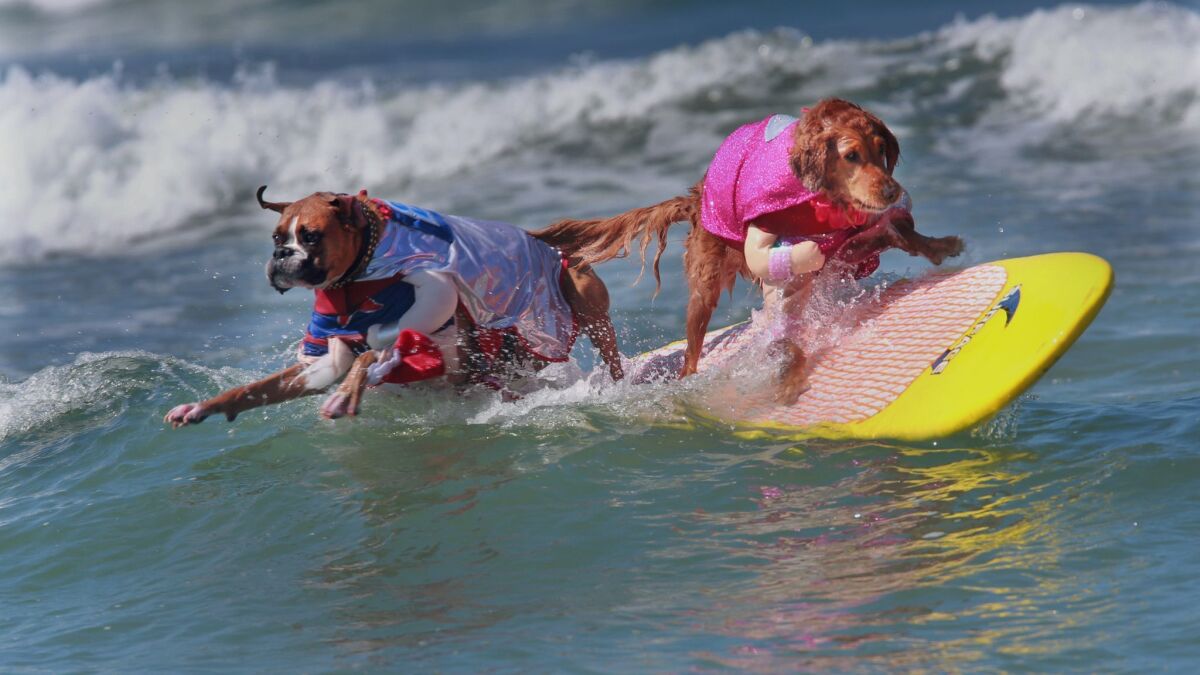 The dog days of summer may be drawing to a close, but there's still plenty of hound-worthy events happening around the region this weekend. Here are a few:
Poway Days Dog Dash
8 a.m. to 5 p.m. Saturday. Poway Dog Park, 13094 Civic Center Drive, Poway. Free to spectators. sdflyball.com/upcoming-events-2/dog-dash
Fur will fly and adrenaline will be pumping as teams of dogs make a mad dash for the finish line at the second annual Poway Days Dog Dash on Saturday. Presented by SD Flyball, and in part by the Poway Days community event, the U-FLI (United Flyball League International) sanctioned tournament showcases each dog's agility, speed and teamwork.
This year, there are 13 teams playing in four divisions. Six dogs are assigned on each team; four dogs will race at a time and two dogs stand by as backup. In addition to the team racing, there will be singles and pairs racing, as well as preflights. Preflights are for dogs in training, but aren't quite ready for team racing. It gives them a certain amount of ring-time practice in the tournament environment.
Here's how the game is played: Two teams of four dogs each race against each other on a two-lane course that's 51 feet in length. Each dog charges down the course jumping four hurdles, triggering the flyball box to release a tennis ball which the dog grabs with its mouth, racing back over the hurdles to its handler. Each dog is released to run the course but can't cross the start/finish line until the previous dog successfully completes the course. The first team to have all four dogs finish the course without making a mistake wins the heat.
Need a recharge after watching those doggies exude all that energy? There's plenty of food trucks to appease your appetite and thirst, as well as vendors, rides and a few more surprises.
Dogfest San Diego
8 a.m. to 11:30 a.m. Sunday. NTC Park at Liberty Station, 2455 Cushing Road, San Diego. Registration is free. (760) 901-4300. cci.org/dogfestsandiego
Instead of the usual walk around the block, grab a leash and your four-legged pal and follow the paws to Canine Companions for Independence's fifth annual tail-waggin' event.
The scooter, walker, cane and wheelchair-accessible, 1.2-mile scenic stroll features family- and dog-friendly activities, including music, games, dog demonstrations, a color guard presentation, awards and opportunity drawings. Disc Dogs in Southern California's disc performance team will present high-energy Frisbee demonstrations. Lindsey Peña, 10News anchor, will emcee the festivities.
Proceeds from the event will support Canine Companions' efforts in providing highly trained assistance dogs to children, adults and veterans with disabilities free of charge.
Surf Dog Surf-A-Thon
8 a.m. to 2 p.m. Sunday. Del Mar Dog Beach-North, 3200 Camino Del Mar, Del Mar. Admission for spectators is free, but donations are appreciated. Registration fee: $35 per dog surf dog heats and freestyle surf contest; $10 costume contest; $5 life-vest rentals; $15 board rentals (limited supply). (858) 756-4117. Registration: animalcenter.org/surf-dog-surf-a-thon
Paws up, sur-fur dudes and dudettes! Get ready to hit the waves and hang four at Helen Woodward Animal Center's longest-running dog-surfing contest in Southern California.
More than 70 board-braving canines will compete in five different weight-class groups — extra-small, small, medium, large and extra-large — for the title of "Top Surf Dog."
Contestants, with the help of their human parents, will participate in 10-minute heats. Celebrities, surf pros and aficionados will judge each entrant on length of ride, size of wave, catching the swell area of the wave and maneuvers, including board-walking, turns on the wave, hanging 20, kick outs and always a plus, barking.
Scoring is done on a 1-to-10 scale and six-wave maximum with the top two waves counted for the final score. All heats in a weight class will be counted as one. For example, all small dogs compete against each other no matter which heat number they are in.
Also featured in this year's event is a 10-minute Freestyle Surf Contest where points are awarded for creativity, overall theme, length of wave and special maneuvers. Costumes are encouraged to bow wow the judges. A maximum of three solo dogs or one human and two dogs are allowed per board. Surfing experience is a must and so are the life vests.
For the non-surfing pups and their human families, there are lots of rad and gnarley activities, including music, food and refreshments, the ever pup-ular Canine Costume Contest, more than 50 interactive vendor booths, a dog agility course, and a special free Kid's Activity area with make-and-take crafts, face painting and games with prizes.
The festivities end with an awards ceremony from 1:40 to 2 p.m.
All proceeds will benefit funding for orphan pets and community programs provided by the Helen Woodward Animal Center.
Sign up for the Pacific Insider newsletter
PACIFIC magazine delivers the latest restaurant and bar openings, festivals and top concerts, every Tuesday.
You may occasionally receive promotional content from the Pacific San Diego.