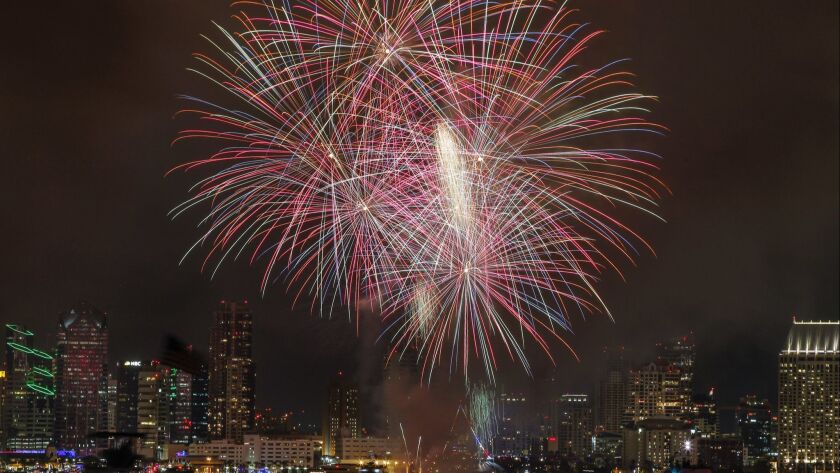 Family, festivals and fireworks: That's what we do on the Fourth of July to celebrate the nation's birthday. From sea to shining sea, the American tradition is to spend Independence Day eating, drinking and making merry. From Oceanside to the Mexican border, you'll find organized celebrations in communities throughout San Diego County — parades, festivals and fireworks displays — all set to a patriotic soundtrack.
Biggest bang
Big Bay Boom
9 p.m. July 4. Multiple locations along San Diego Bay. Free. bigbayboom.com
Without question, this is San Diego's biggest display with fireworks being launched from four barges strategically placed around San Diego Bay. Find any spot along the bay — Shelter Island, Harbor Island, the Embarcadero and Seaport Village areas or the Coronado Landing — and you've found the best seat in the house. The accompanying score is simulcast on The Mighty 1090 AM and Max FM 105.7.
Biggest party
Escondido Independence Day Festival & Fireworks
July 4. Starts at 4 p.m. with fireworks at 9 p.m. California Center for the Arts, 340 N. Escondido Blvd., Escondido. Free. artcenter.org
Join more than 20,000 patriotic festival-goers for the 55th annual Independence Day celebration with live music, family-friendly activities and games. The transition from festival to fireworks begins with a performance by the 3rd Marine Aircraft Wing Band. For $5 per person, a VIP wristband gives all ages access to shaded and air-conditioned areas, private restrooms, the best views to the main stage and the evening's fireworks display and other perks.
Best after-party
San Diego County Fair 4th of July Celebration
July 4. Starts at 10 a.m. with fireworks at 9 p.m. Del Mar Fairgrounds, 2260 Jimmy Durante Blvd., Del Mar. Included with $12-$19 fair admission. sdfair.com
The San Diego County Fair ends with a bang with a fireworks show starting around 9 p.m. at the west end of the racetrack. Then, let the crowd and the parking lot clear and join the Fun after Fireworks dance party with DJ SteevieWild, starting immediately after the fireworks show.
Family-friendly
Ocean Beach July 4th Celebration
9 p.m. July 4. Ocean Beach Pier, at the end of Newport Avenue, Ocean Beach. Free. oceanbeachsandiego.com
For years, this was the most unruly celebration in town. Now, families looking to enjoy Independence Day at the beach can also enjoy fireworks at the beach. As the sun sets, bundle up for a great pyrotechnics show launched from the OB Pier. oceanbeachsandiego.com
Best show NOT on July 4
Independence Celebration at the Border
July 1. Starts at 3 p.m. with fireworks at 9 p.m. Larsen Field at Cesar Chavez Park, 4061 Camino de la Plaza, San Ysidro. Free. sanysidrochamber.org
A Sunday celebration in San Ysidro commemorates Independence Day with games and activities to suit all ages, live music all day on multiple stages, drinks and food.
MORE FIREWORKS SHOWS
CENTRAL
Spirit of the Fourth Rancho Bernardo: 9 a.m. to 9:30 p.m. July 4. Webb Park, Avena Place and Bernardo Center Drive, Rancho Bernardo; "Sky Concert" fireworks begins at 9 p.m. at the Bernardo Heights Middle School athletic field, 12990 Paseo Lucido, San Diego. spiritofthefourth.org
Mira Mesa Fourth of July Celebration: Pancake Breakfast, Parade, Family Activities and Fireworks: 7 a.m. to 9 p.m. Mira Mesa Community Park, Mira Mesa Boulevard and New Salem Street, San Diego. miramesatowncouncil.org/fourth-of-july
Big Bay Boom: 9 p.m. July 4. Multiple locations along San Diego Bay. Free. bigbayboom.com
Ocean Beach July 4th Fireworks: 9 p.m. July 4. Ocean Beach Pier, at the end of Newport Avenue, Ocean Beach. Free. oceanbeachsandiego.com
SeaWorld San Diego 4th of July Fireworks: 9:40 p.m. July 4. SeaWorld San Diego, 500 SeaWorld Drive, San Diego. seaworld.com
NORTH COUNTY
Oceanside 130th Anniversary and Independence Day Fireworks Show (TUESDAY): 6 to 10 p.m. July 3. El Corazon Park, Rancho Del Oro Boulevard, between Mesa Drive and Oceanside Boulevard, Oceanside. (760) 435-5041. ci.oceanside.ca.us
Poway Old-fashioned Fourth of July & Fireworks: 10 a.m. to 4 p.m. July 4 at Old Poway Park, 14134 Midland Road, Poway; 6 p.m. to 9 p.m. fireworks at Poway High School Stadium, 15500 Espola Road, Poway. poway.org
San Diego County Fair 4th of July Celebration with Fireworks: 10 a.m. to 9 p.m. July 4. Del Mar Fairgrounds, 2260 Jimmy Durante Blvd., Del Mar. Included with $12-$19 fair admission. sdfair.com
Red, White and Boom!: 1 to 9 p.m. July 4. Legoland California, One Legoland Drive, Carlsbad. Included in the cost of admission. legoland.com/california
Escondido Independence Day Festival & Fireworks: 4 to 9 p.m. July 4. California Center for the Arts, 340 N. Escondido Blvd., Escondido. Free. artcenter.org
San Marcos 4th of July Celebration: 6 to 9 p.m. July 4. William Bradley Park, 465 S. Rancho Santa Fe Road, San Marcos. facebook.com/SMFireworks
Vista Independence Day Fireworks: 9 p.m. July 4. Brengle Terrace Park, 1200 Vale Terrace Drive, Vista. $15 per car for parking; $30 per recreational vehicle. cityofvista.com
EAST COUNTY
Independence Day Celebration (TUESDAY): 6 to 10 p.m. July 3 (fireworks at 9 p.m.). Viejas Park at Viejas Casino & Resort, 5000 Willows Road, Alpine. Free. viejas.com
Lake Murray Music Fest & Fireworks: 11 a.m. to 9:30 p.m. Lake Murray Community Park, 7001 Murray Park Drive, San Diego. Free. lakemurrayfireworks.org
Fourth of July Picnic and Fireworks: 2 to 9:30 p.m. July 4. Kennedy Park, 1675 E. Madison Ave., El Cajon. www.cityofelcajon.us
Santee Salutes Fourth of July Celebration with Fireworks: 2:30 to 10 p.m. Town Center Community Park East, 550 Park Center Drive, Santee. www.cityofelcajon.us
SOUTH BAY
Chula Vista 4thFest & Fireworks: 6 to 9 p.m. July 4. Chula Vista Elite Athlete Training Center, 2800 Olympic Parkway, Chula Vista; alternate viewing location is Mountain Hawk Park, 1475 Lake Crest Drive, Chula Vista. chulavistaca.gov
Imperial Beach Independence Day Fireworks: 4 to 9 p.m. July 4. Imperial Beach Pier, 10 Evergreen Ave, Imperial Beach. imperialbeachca.gov
CORONADO
Coronado 4th of July Celebration: 7 a.m. to 9 p.m. July 4. At various locations throughout Coronado, celebrate the 4th of July in the Crown City with a community run, a parade down Orange Avenue, a concert in Spreckels Park and fireworks over Glorietta Bay at 9 p.m. coronadotimes.com/4th
MORE FAMILY-FRIENDLY 4TH
CENTRAL
Mission Hills Fourth of July Celebration: Hooray for the red, white and blue at this patriotic fest featuring a parade, kids' games, a costume contest, a pie-baking contest, and live music by the Hullabaloos and MohaviSoul. 10:30 a.m. to 2:30 p.m. Pioneer Park, 1521 Washington Place, San Diego. missionhillstowncouncil.org/events/4th-of-july
NORTH COAST
Oceanside's Yankee Doodle Dinghy Parade: Dozens of dinghies will sail around the north end of Oceanside Harbor at the Oceanside Yacht Club's 17th annual Yankee Doodle Dinghy Parade. Anyone may decorate a patriotic dinghy 12 feet or shorter and enter in the parade. There is no entry fee, and trophies will be awarded. Register at the yacht club office before Wednesday or at the skippers meeting at 10 a.m. Wednesday at the yacht club, 1950 Harbor Drive N. 1 to 3 p.m. Oceanside Harbor, Oceanside. (760) 722-5751. oceansideyc.net
NORTH INLAND
Rancho Bernardo's Spirit of the Fourth: A day of family festivities includes a community fair with a car show from 9 a.m. to 2 p.m. in Webb Park off Bernardo Center Drive, a parade starting at 3:30 p.m. in downtown Rancho Bernardo and fireworks at 9 p.m. Gates open at 6 p.m. for the fireworks "Sky Concert" in the athletic field of Bernardo Heights Middle School, 2990 Paseo Lucido. The Grand Finale fireworks display features 400 high-altitude shells. A donation of $10 per person or $20 for a family is suggested to support the fireworks show. Parking is free in the student parking lot. Food and refreshments will be sold. spiritofthefourth.org
EAST COUNTY
Alpine's 4th of July Parade and Festival: A flyover of the Buecker Squadron's refurbished World War II biplanes and the ringing of the church bells kick off the parade at 10 a.m. The procession steps off from West Victoria Drive down Alpine Boulevard, ending at Tavern Road. Then, make your way to the festival at the Alpine Community Center Park, 1830 Alpine Blvd., with deep-pit barbecue, hot dogs, vendor booths, a carnival, a dunk tank, a bounce house and live music. 10 a.m. to 1 p.m. Alpine Boulevard and Tavern Road, Alpine. alpinecommunitycenter.com
SOUTH COUNTY
National City's 4th of July Carnival: The National City Host Lions Club invites you to celebrate Independence Day with four days of carnival fun complete with rides, games, food and entertainment, including musical acts and contests. A fireworks display wraps up the festivities at 9 p.m. on July Fourth. 5 to 11 p.m. Friday; 1 to 11 p.m. Saturday-Sunday; 5 to 11 p.m. Monday-Tuesday; noon to midnight Wednesday. Kimball Park, 12th Street and D Avenue, National City. (619) 336-6754. ci.national-city.ca.us
MORE 4TH EVENTS
48th Scripps Ranch 4th of July Parade: 10 a.m. July 4. Parade begins at Red Cedar Drive; ends with festivities at Scripps Ranch Hoyt Park, 10800 Canyon Lake Drive, San Diego. scrippsranch.org/committees/4th-of-july
4th of July Parade: 10:30 a.m. July 4. San Diego Botanical Gardens, 230 Quail Gardens Drive, Encinitas. (760) 436-3036. sdbgarden.org
4th of July Veterans Park Ceremony: 11 a.m. July 4. Veterans Park, 14134 Midland Road, Poway. (858) 668-4576. poway.org
An 1800s Fourth of July: 11 a.m. to 4 p.m. July 4. Some highlights of the day will be a parade, crafts, activities, and a pie eating contest. Old Town State Historic Park, 4002 Wallace St., San Diego. www.parks.ca.gov/oldtownsandiego
4th of July Picnic Dinner and Fireworks Viewing: 5 to 8:30 p.m. July 4. Maritime Musuem of San Diego, 1492 N. Harbor Drive, San Diego. $18-$35. (619) 231-9153. sdmaritime.org
Kona Kai Resort & Spa Hosts Big Bay Boom BBQ: 5 to 10 p.m. July 4. Kona Kai Resort & Spa, 1551 Shelter Island Drive, San Diego. $25-$45. resortkonakai.com
Big Bay Boom Viewing Party: 5:30 to 9:30 p.m. July 4. San Diego Convention Center upper terrace, 111 W. Harbor Drive, San Diego. Free admission; $35 parking. (619) 525-5000. visitsandiego.com
A Family Fun 4th of July Celebration: 6 to 10 p.m. July 4. USS Midway Museum, 910 Harbor Drive, San Diego. $15-$23. midway.org
4th of July Fireworks Dinner Cruise: 6:30 p.m. July 4. Hornblower Cruises & Events, 1800 N. Harbor Drive, San Diego. $172.95. (619) 686-8715. hornblower.com
Fourth of July Sunset BBQ & Fireworks Show: 6:45 to 9:30 p.m. July 4. Fairmont Grand Del Mar, 5300 Grand Del Mar Court, San Diego. $89; $38 for ages 4-12. (858) 314-1988. fairmont.com
4th of July Fireworks Cruise/Yacht Party: 7 to 10 p.m. July 4. Chere Amie Yacht, 1901 N. Harbor Drive, San Diego. $60-$900. eventbrite.com
July 4th Fireworks Cruises: 7 p.m. July 4. Flagship Cruises & Events, 990 N. Harbor Drive, San Diego. $30-$150. flagshipsd.com
---