KAABOO releases 2017 culinary lineup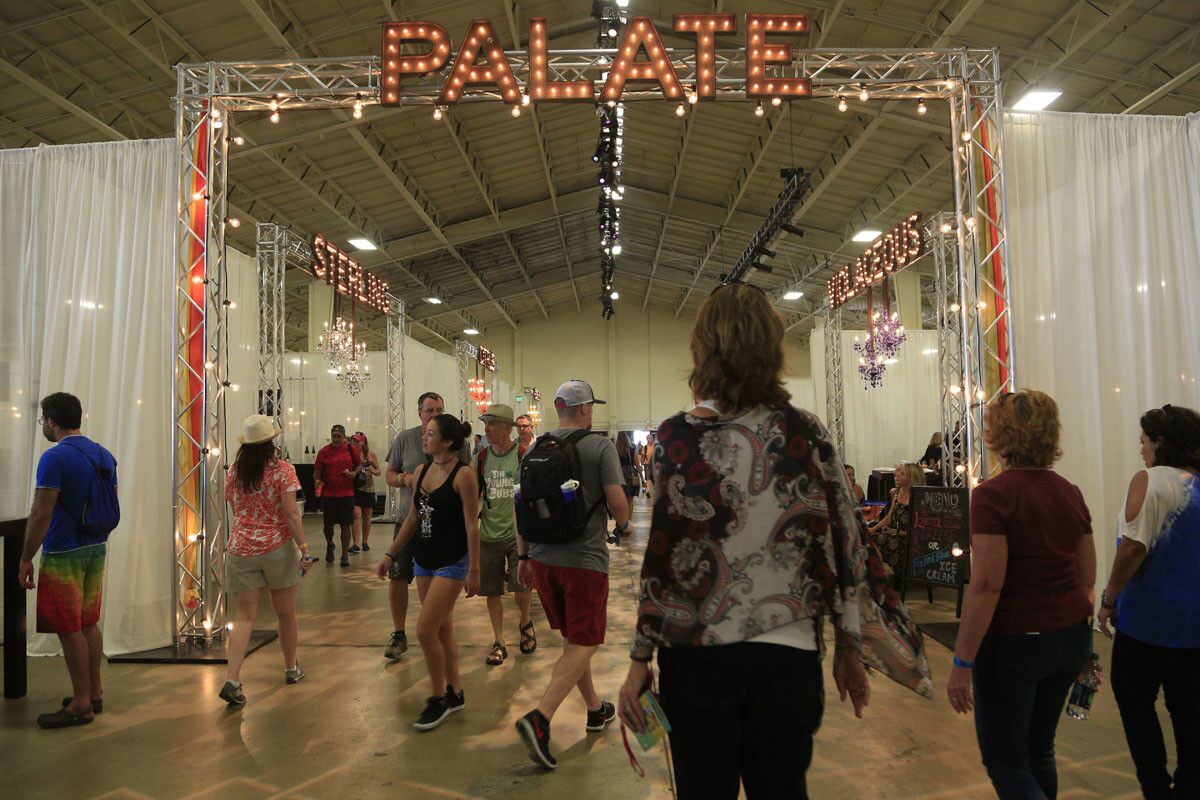 Damn right it's better than yours!
Will those lyrics from Kelis's 2003 hit song, "Milkshake," become a mantra for the chefs who demonstrate their skills at KAABOO Del Mar in September?
We'll find out when Kelis - a Le Cordon Bleu graduate who in 2014 debuted her Cooking Channel show, "Saucy and Sweet" - joins other culinary stars as part of the Del Mar festival's annual PALATE lineup.
The three-year-old music and comedy festival, which takes place Sept. 15-17 at the Del Mar racetrack and adjacent fairgrounds, is being headlined this year by Tom Petty & The Heartbreakers, Muse, Pink, Red Hot Chili Peppers, David Spade and Patton Oswalt. Here is the complete day-by-day lineup and ticket information.
Kelis will be in good company at PALATE. This year's lineup is headed by Jon Shook and Vinny Dotolo, best known for their Los Angeles restaurants Animal, Son of a Gun and Jon & Vinny's.
Also set to give PALATE demos are Richard Blais, who has made a big splash in San Diego with Crack Shack and Juniper and Ivy, English celebrity chef Robert Irvine (Food Network host), Michael Voltaggio (ink. in Los Angeles; Top Chef winner), Kevin Gillespie (Woodfire Grill in Atlanta; former Top Chef contestant), Julio Cabrera (Regent Cocktail Club in Miami), and Chris Adams (EAG international consulting firm).
What are the biggest similarities between making music and cooking?
"Well, I think the biggest similarity is that, if you're any good, your personality should shine through, and your character," Kelis told the Union-Tribune in a 2014 interview.
"I also think that happens when you have confidence and know what you're doing. The difference is that, with music, you have to be prepared to become talented and you have to be interested and be willing to think about your future. Whereas, with food, everything is very much in the present and right now."
PALATE's 2017 food vendors total nearly two-dozen. They include: Bling Bling Dumplings; BuddhaRito; Crab Hut; Dang Brother Pizza; Davanti; La Pousserie Beignets + Coffee; Little Fatty; Mallow Mallow; Mariposa Ice Cream; Morton's The Steakhouse; Pinpoint Café; Poseidon Del Mar; Puesto; Searsucker; So Rich! Chocolates; STK; Sweetfin Poke; The Baked Bear; The Dirty Cookie; The Oceanaire Seafood Room; Voodoo Lounge; and Wicked Maine Lobster.
There will be even more PALATE beverage vendors this year. The lineup includes: Angel City Brewery; Arta Tequila; Ballast Point; Bluecoat Gin; Buzzbox; Charles Smith; Clos Du Bois; Crystal Head Vodka; Dark Horse; Do Good Distillery; Double Cross Vodka; FEW Bourbon; Gran Centenario; If You See Kay Wine; Josh Cellars; La Marca Prosecco; Latitude 33; Legacy Brewing; Magic Hat; Mark West; Moet; New Amsterdam; Nomadica; ONEHOPE; Prophecy; Ravage; RumChata; Saint Archer; San Agustin Vineyards; Sapporo; Small Town Brewery; Ste. Michelle Wine Estates; Tequila Fortaleza; Uinta Brewing Co.; and Wyder's Hard Cider.
"KAABOO has truly found its niche in the festival world, offering the best in music, food and entertainment," said KAABOO mastermind Bryan E. Gordon, in a statement issued Tuesday morning.
"Our guests have grown to expect a refined experience at each of our multi-sensory activations, so we have hand-selected our culinary and beverage partners to provide highly desirous food and beverage options, reflective of the KAABOO ethos."
Single-day and multi-day KAABOO passes are available from the festival's website: kaaboodelmar.com.
Sign up for the Pacific Insider newsletter
You may occasionally receive promotional content from the Pacific San Diego.