Help clean up San Diego County for Earth Day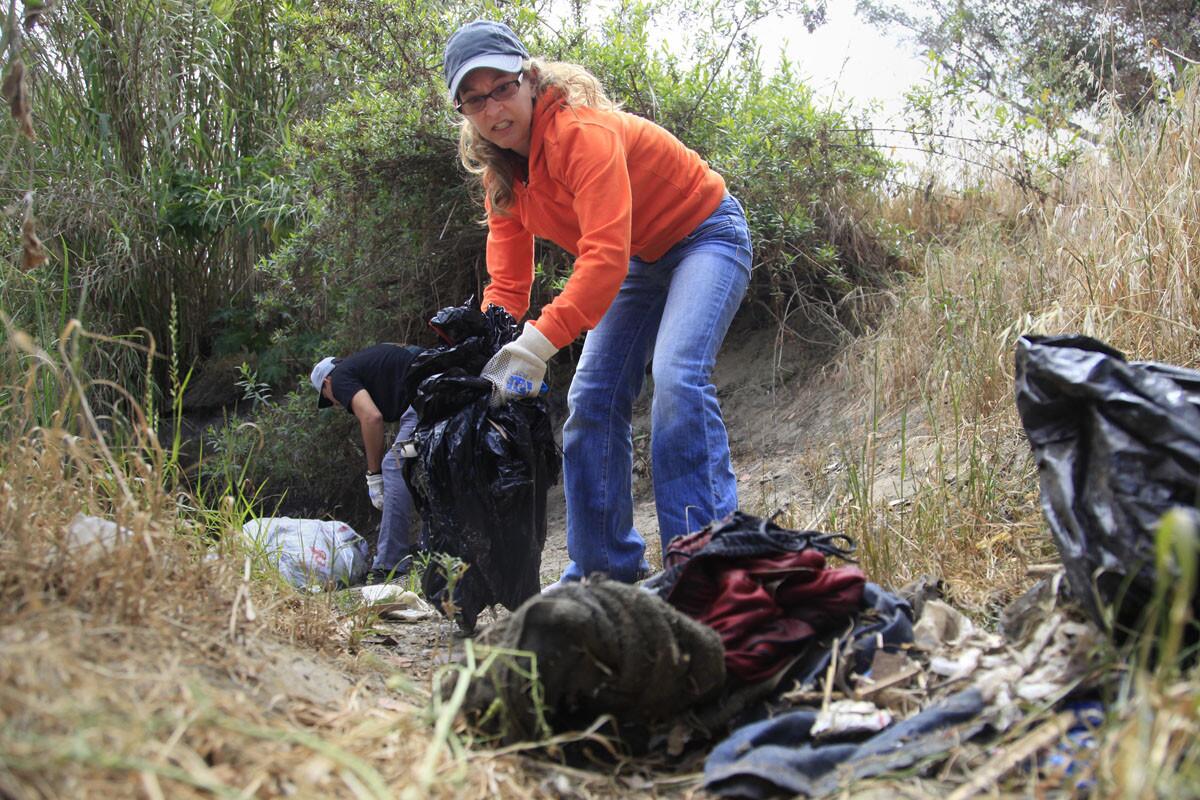 A variety of organizations are coming together to celebrate Earth Day on April 22 (and one on April 23) with one goal in mind: To help clean up San Diego. Whether the beach is your home away from home or you prefer to stick to the neighborhoods, here are some local events where you can volunteer your time or cleaning skills, or whose organizers will gladly accept your donation of hard-earned cash.

15th annual Creek to Bay Cleanup
Last year, this annual event attracted 6,400 volunteers, who removed 150,000 pounds of litter from 110 sites across San Diego County. And although cleaning up the county's waterways is extremely important to the health of the environment, elbow grease won't be the only action at this year's event. During the Saturday events, volunteers can enter for a chance to win a Sony Cyber-shot camera during the day's photo contest and, for those crafty volunteers, prizes will be given for the most blinged-out buckets decorated for the event. For more details, including locations and how to register, go to creektobay.org.
Lemon Grove Earth Day Community Cleanup
With an Earth-friendly name such as Lemon Grove, how could you not want to help keep this city clean? On Saturday, this community event will focus on litter pickup from 9-11:30 a.m. starting at Civic Center Park, 3200 Main St. Registration and check-in begin at 8:30 a.m. For more information about the event or to sign up to help, contact Malik Tamimi at 619.825.3827 or mtamimi@lemongrove.ca.gov.

Earth Day Restoration Work Party
It's not only garbage that can ruin the environment. The past year's heavy rains have caused latent seeds of invasive species to take root and snuff out vital native plants along the Tijuana River Estuary in Imperial Beach. Volunteers at this Saturday event will help remove harmful growth. Space is limited to 50 volunteers who must work in long pants and boots (or sturdy shoes), but work gloves, tools and water will be provided. With temperatures rising this weekend, sunglasses, hats and sunscreen also are recommended. For more information or to register, call 619.575.3613, ext. 331, email volunteer@trnerr.org or go online to trnerr.org/one-day-volunteer.

Green Day at Santee Lakes
Bring the whole family out to Santee Lakes for this volunteer cleanup event from 8-11 a.m. on Saturday. Hard work will be rewarded with kid-friendly activities and refreshments. Stay afterward to enjoy the beautiful Santee Lakes.
Santee Lakes, 9310 Fanita Pkwy., Santee

Cal Parks Earth Day cleanups
There are a number of beach and park cleanups being offered through the Cal Parks organization. Find your favorite or nearest beach and, chances are, cleanup efforts will be going on there on Saturday. Projects include habitat restoration, native garden conservation, fence building, trail maintenance and beach cleanups. In the 18 years Cal Parks has held cleanup events, 83,785 volunteers have lent a helping hand. For more information on volunteer sites (most of which have a maximum number of participants), visit calparks.org/help/earth-day.

Mission Beach Lover Official Beach Cleanup
Want to remember your Earth Day service? Sign up to participate in this beach cleanup and receive a free Mission Beach Lover T-shirt. Volunteers will meet at Sandbar Sports Grill in Mission Beach to pick up supplies, raffle tickets and maybe a cold drink before hitting the sand. The event runs from noon to 6 p.m. on Saturday with raffle prize winners announced at 6 p.m. For more information, visit missionbeachlover.com.
Sandbar Sports Grill, 718 Ventura Place, Mission Beach

Oak Park Earth Day Cleanup
Bring the whole family to this community cleanup from 9 a.m. to noon on Saturday in Oak Park. Free lunch will be provided (exercise and the rush of endorphins that come with helping your neighbors are free, too). A trash bin will be available onsite for large item disposals for the duration of the cleanup event from 9 a.m. to noon. The event starts in the Oak Park Church parking lot at 3060 54th St., with cleanup taking place to the south to the Tina's Bar site at 1956 54th St. (about 1.8 miles round trip).

GreenFest SDSU Beach Cleanup
Join SDSU students and GreenFest for a cleanup at the Ocean Beach Pier from 9 a.m. to noon on Saturday. Go one step further on this green-friendly day by carpooling from the College area by filling out a special form. Carpool groups will meet up before the event at Parking Structure 4A, near Zura Hall and across from Parking Lots 3 and 4 by 8:30 a.m. Aztec colors (red and black) are encouraged at this collegiate cleanup. Cleaning supplies will be provided, but volunteers are encouraged to bring reusable buckets, work gloves and water bottles of their own.

San Diego Italian Film Festival film screening
If outdoor cleanup isn't your thing, kick back and enjoy this Earth Day event from the San Diego Italian Film Festival. At 7 p.m. on Saturday, a screening of Bella Vita will be held at the La Paloma Theatre in Encinitas. A party and wine launch from Ziobaffa Wines will be from 5:30-6:30 p.m. before the screening with bites from The Land & Water Co., Cucina Migrante and Gaia Gelato Film director Jason Baffa will host a Q&A session after the film. A limited number of tickets for the event are available for $30 and may be purchased at the door or online at sandiegoitalianfilmfestival.com. All proceeds support the San Diego Italian Film Festival and the Surfing Madonna Oceans Project.
La Paloma Theatre, 471 S. Coast Highway 101, Encinitas, lapalomatheatre.com
March for Science
Events are being held across the country in support of science and the role it plays in health, safety and economics. According to the organization's website, "The March for Science is a celebration of science. It's not only about scientists and politicians; it is about the very real role that science plays in each of our lives and the need to respect and encourage research that gives us insight into the world." The San Diego March for Science will take place at 10 a.m. on Saturday, starting at Civic Center Plaza (1200 Third Ave., downtown) and stretch 1 mile heading west on Broadway, then north on Harbor Drive, ending at Waterfront Park. To volunteer to help at the march or for more information, visit marchforsciencesd.com.

EarthFair at Balboa Park
While not held on actual Earth Day, this event is more than worthy of attendance. Billed as the "largest free annual environmental fair in the world," the day's activities run from 10 a.m. to 5 p.m. on Sunday, April 23 and include an Earth Day Parade, more than 300 exhibitors, a food pavilion, entertainment venues, eARTH Gallery arts and crafts show, a Clean Car Concourse and a special area for children.
Multiple locations throughout Balboa Park, earthdayweb.org/EarthFair.html
Sign up for the Pacific Insider newsletter
You may occasionally receive promotional content from the Pacific San Diego.