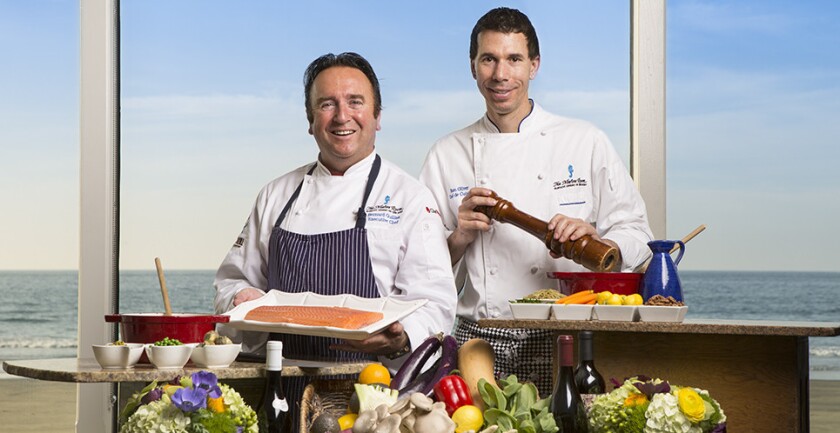 Nine seasoned and celebrated San Diego chefs will come together on May 31 for a four-course Chef Celebration Dinner at The Shores restaurant in La Jolla. The event, which runs $65, aims to raise money for a scholarship to the Culinary Institute of America Greystone in St. Helena, Calif.
CIA programs across the country have turned out such famous chefs as Roy Choi (food entrepreneur who influenced the Jon Favreu movie Chef in 2014) and Anthony Bourdain (TV host of Parts Unknown).
During the May 31 event, chefs Brian Malarkey (Searsucker, Herb & Wood), Jason Knibb (Nine-Ten Restaurant), Rob Ruiz (Land & Water Co.), Casey Thompson (The Inn at Rancho Santa Fe), Evan Cruz (Arterra Del Mar), Jason McLeod (Ironside Fish & Oyster, Born and Raised), Bernard Guillas (The Marine Room), Ron Oliver and Percy Oani (The Shores) will each take on an amuse bousche, appetizer, main course or dessert for the dinner. Diners will then get to select a dish from each of the four courses.
The event runs from 5-9 p.m. and costs $65. Reservations can be made by calling 858.456.0600 or by visiting theshoresrestaurant.com.
The full menu
Amuse
Local Yellowtail Crudo
strawberries + fava beans + black vinegar + thai basil
Brian Malarkey
Herb & Wood
Appetizer (choice of):
Foie Gras Tart
pickled cherries + almond crumb + tarragon
Jason Knibb
Nine-Ten Restaurant & Bar
Soft Shell Blue Crab
socal ipa glaze + stone fruit
Rob Ruiz
Land & Water Co.
Vegetable Ceviche
okra + tomato + radishes + yuzu + kosho vinaigrette
Casey Thompson
The Inn at Rancho Santa Fe
Entrée (choice of)
Kurobuta Pork
chinese xo sauce + green garlic + sweet pea + chino's corn
Evan Cruz
Arterra Del Mar
Roast Thresher Shark
brown butter hollandaise
rio del rey heirloom bean & clam ragout
black garlic + leeks & fennel
Jason McLeod
Ironside Fish & Oyster
Born and Raised
Braised Short Ribs
spinach sunchoke puree + heirloom tomatoes + pickled mico carrots
stone xocoveza demi
Percy Oani
The Shores Restaurant
Dessert
Gianduja Chocolate Pyramid + Sortilege Liqueur Pot de Crème
Cactus Pear Ice + Puffed Wild Rice Tuile
Bernard Guillas and Ron Oliver
The Marine Room
---