Artist brings irresistible women to KAABOO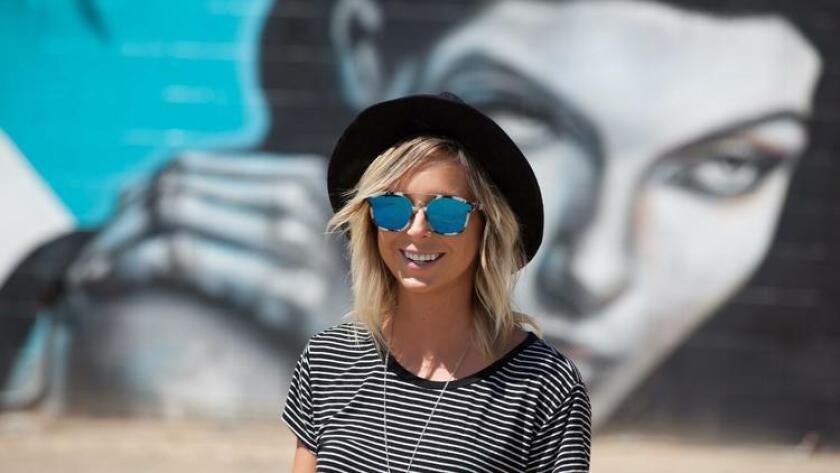 Like a visual variant on the mythological sirens of Odysseus, Carly Ealey's magnificently rendered women draw you in with an irresistible force.
Under the spell of their penetrating gazes, you become consciously aware you are both looking and being looked at. Even with averted eyes they still engage the viewer, commanding our attention and inducing wonderment at Ealey's technique and the stories behind the faces.
Ealey's art is well known around San Diego, through her work with SILO at Maker's Quarter and Cohort Collective.
I asked the engaging and passionate artist about her work and her project with KAABOO.
Q: What is Cohort Collective?
A: We are a collective of artists based in San Diego with an interest in growing the community and putting on rad art shows. There are so many amazing artists here and we want to shed light on that scene.
Q: Your women are gorgeous, with ideal features and movie star looks. What inspires your model of beauty and form?
A: There is something about certain models when they have that "it factor" that I want to paint them. I have a strange obsession with the nose ... well, I guess it's the same for all body parts. I see parts that I want to experiment with and let it evolve from there. Then it's a mix of photograph and putting the picture down and letting my mind run with it.
Q: Your contouring is insanely good. How long did it take you to master that?
A: I've been painting since I was little, watercolors since I was 8. I just learned naturally, I am self-taught. Over the years, I noticed I was drawn to dramatic lights.
Q: Your most recent project was in New Zealand. I love that country. What was it like to paint amongst such different scenery?
A: It was amazing. One of the things I love about painting in new places is meeting new people. And painting on the street I had a lot of passersby. And I was painting right next to the water, which was beautiful.
Q: What will you be doing at KAABOO?
A: I will be painting one of the giant murals, 30 feet tall by 20 feet wide. It's a giant woman, beautiful and peaceful, in the nude swimming in the ocean with kelp and jellyfish. Most public and commission work don't want you to paint nude. But, I naturally paint women in the nude, so I'm excited about being able to do that here. I also do photography, and it's the first time I did a full photo shoot to paint from. I was able to get the lighting and shadowing like I wanted.
Q: If you could paint anywhere in the world next, where would it be?
A: Tulum. I haven't seen the Mayan temples. Speaking of pyramids, Egypt too.
Q: Favorite color?
A: I paint with blue a lot. My mom always tells me I should try other colors. I have a natural inclination to it. Blue is an emotional color, it's the color of water ... of life.
Q: Wish for the future?
A: That more local businesses will reach out to the art community when they have a blank wall, and provide more mural opportunities throughout the city.
Laurie Delk is an avid art historian, holding a master's degree in Art History, with concentrations in the Modern and Postmodern movements. She has taught classes at Tulane University, and has been published with several art publications including Sculpture Magazine and New Orleans Art Review. Send ideas for art stories to lauriedelk101@gmail.com.
Source: DiscoverSD
---
Sign up for the Pacific Insider newsletter
PACIFIC magazine delivers the latest restaurant and bar openings, festivals and top concerts, every Tuesday.
You may occasionally receive promotional content from the Pacific San Diego.