How to talk brews when dating a craft beer geek
In San Diego, hopheads and craft beer nerds are as plentiful as surfboards in the Pacific. Locals pride themselves on the most up-to-date deets on brewery openings, festivals and the latest en vogue beer style.
When dating a craft beer geek, the terminology can be exhaustively endless and may cause initial anxiety or downright zone outs. No need to pretend to be "checking texts" while frantically searching for the definition on Google. Here are some of the must-know words to keep a craft beer date on track.
Hophead: What in the f**k is a hophead? Simply put, it's a person who loves hop-loaded beers. Hops are used to add flavor, aroma and bitterness to beer, and are what make San Diego's famous IPAs stand out from all others in the country. For the lowdown on hops, check out Booze 101: All about the hops.
In a sentence: The hops in this IPA are so fragrant! I do believe there is Simcoe in there.
Wort: Pronounce this one correctly for extra craft beer points. Put aside logic or phonetic reasoning, and just say wert. This sweet liquid comes from placing malted barley in hot water and allowing it to steep. The wort is then boiled with hops and continues its journey to beerdom. Learn all about various malts for wort in Booze 101: All about malts.
In a sentence (when entering his/her apartment and spying odd-looking equipment in the kitchen): Mmm, it smells like wort in here. Do you homebrew?
Specific gravity: Craft beer geeks looove to throw this one around in its many forms to flaunt their scientific knowledge of the brewing process. The umbrella term refers to the density of the liquid, and includes in its shelter the terms original, high, low, and final, or terminal, gravity. So, a "high gravity beer" is one that began with a high original gravity and is thus higher in alcohol content. The reverse is true, with a low original gravity resulting in a "low gravity beer" (think session beers).
In a sentence: During the week, I like to drink low gravity beers, but on the weekends, it's all about high gravity.
Brett, Lacto, Pedio: These are not his bros or the latest type of vegetarian. These abbreviated nicknames refer to Brettanomyces, Lactobacillus, and Pediococcus. These three "bugs" (another term used) get thrown around a lot, particularly the last two with the latest sour beer craze. In short, Brett is a wild yeast that "infects" beer or wine, and gives off a crazy range of aromas and flavors including fruity, meaty, musty and barnyard (seriously). Lacto and Pedio are bacteria that create lactic acid and lend sour beer its characteristic tart and tang.
In a sentence: Oooh, this beer is funky! There must be some brett in here. Or, This sour is perfectly tart, they got the balance of lacto and pedio just right.
Now with a few introductory terms under your belt, check out these must-visit locales to crank up your craft beer lingo:
White Labs
Long adored in the craft beer world for supplying yeasts to brewers, the company has expanded with tasting rooms worldwide. Head to the San Diego location to learn about yeasts, take a tour, and taste beers on tap or surprise your craft beer nerd with one of the Fermenting Pairing Series classes or yeast workshops.
9495 Candida St., Miramar, 858.6933441, whitelabs.com/locations/white-labs-san-diego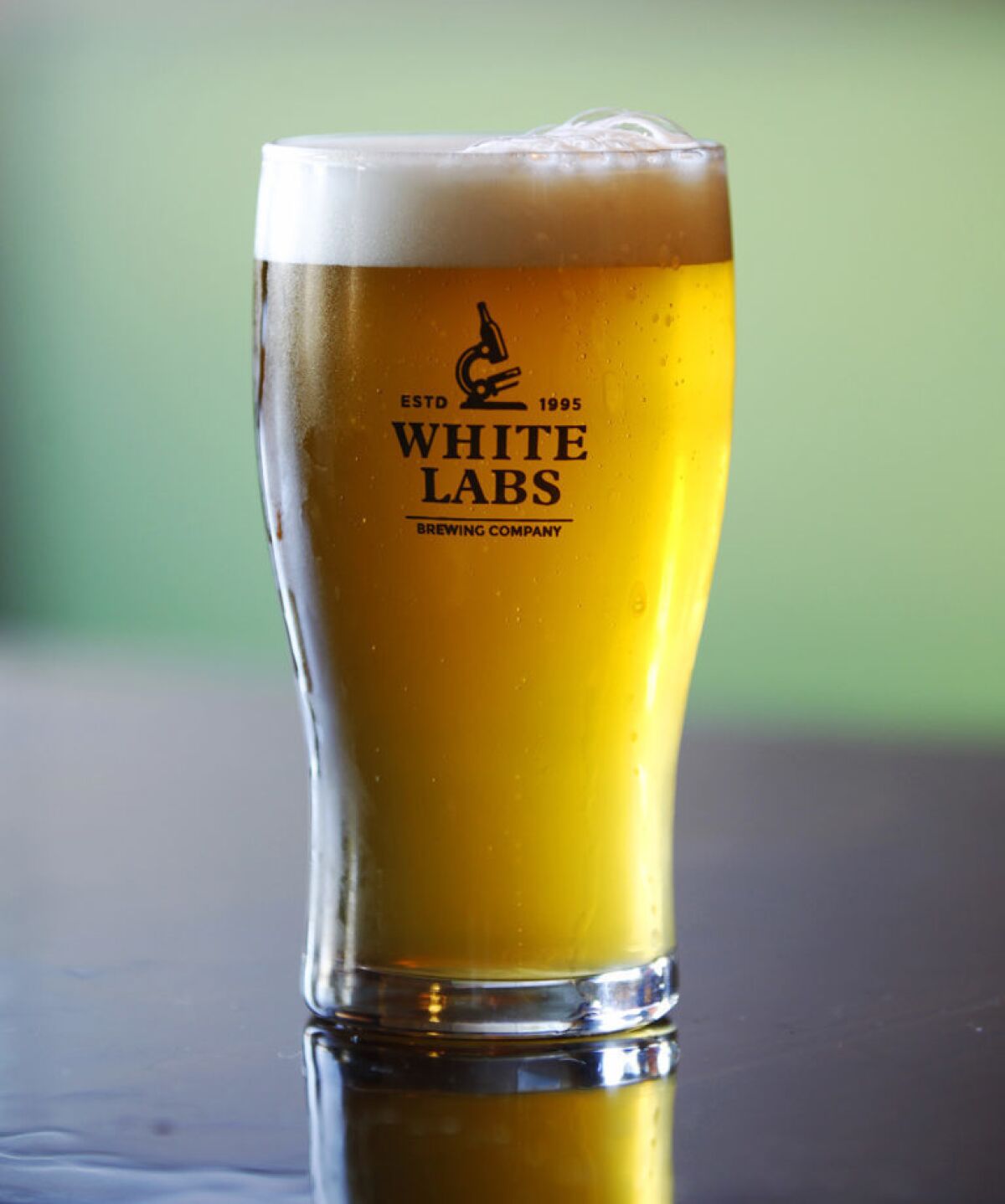 The Homebrewer Supplies & Resources
This shop is filled to the brim with resources, eye candy and easy eavesdropping (terms above included). Walk through to immerse the senses in craft beer knowledge by smelling malts and hops, gazing at yeasts and flipping through books. Upcoming date-worthy events include National Learn to Homebrew Day, Double Blind Tasting with White Labs, and Beer Geek Trivia. Check out the calendar for more information at thehomebrewersd.com/events.
2911 El Cajon Blvd. #2, North Park, 619.450.6165, thehomebrewsd.com
Craft Beer Connoisseur Camp, San Diego State University
Ready to get serious craft beer knowledge? Attend the popular 9-day camp held each year, drawing students from around the world for everything under the sun about craft beer. Taught by experts such as Dr. Bill Sysak (Wild Barrel Brewing) and Michael Peacock (SDSU Craft Beer program instructor), the intensive sessions include visits to local breweries and a day of exploration. For more information, visit ces.sdsu.edu/hospitality/craft-beer-education-camps
Sign up for the Pacific Insider newsletter
You may occasionally receive promotional content from the Pacific San Diego.