The days when September signaled the return of our favorite series after three months of reruns are long gone. But fall still means something in the world of TV: With it comes the Emmys, celebrating the best of the medium's last year; the launch of the broadcast networks' season, marking the start of the next; and, this time around, the debut of two brand new platforms — Apple TV+ (Nov. 1) and Disney+ (Nov. 12). Which is why, after polling The Times TV team about the new and returning series they're most looking forward to, it was so easy to spread the wealth. Here are the 20 TV shows we're most excited about this fall, one from each of 20 networks.
'A Little Late With Lilly Singh' (NBC, Sept. 16)
Taking over the spot on the schedule vacated by Carson Daly, the Canadian-born Singh is a new face as far as network TV is concerned, but on YouTube she's a proven star, with nearly 15 million subscribers to her channel "||Superwoman||," where she has delivered one-person comic sketches and the occasional celebrity cameo (the Rock is a fan). 1:35 a.m. may not be a marquee time slot, but Singh is the first host to break the white dude monopoly in network late night since Joan Rivers, so consider this an intriguing — if overdue — start.
'mixed-ish' (ABC, Sept. 24)
Kenya Barris adds another branch to the "black-ish" family tree with a look back at the childhood of matriarch Rainbow (Tracee Ellis Ross), who grew up in a hippie-ish cult-commune before it was broken up in 1985. Ross is on hand to narrate, and while Barris is sure to explore the social impact of Bow's mixed-race upbringing as deftly as he explored racial dynamics on "black-ish," expect a helping of fish-out-of-water comedy too as young Rainbow (Arica Himmel) and her siblings adjust to the horrors of public school and '80s fashion.
'The Masked Singer' Season 2 (Fox, Sept. 25)
Part talent competition, part hallucinogenic fever dream, the hit adaptation of the South Korean original returns. Can the lightning of its left-field appeal strike twice? Built on a twisted alchemy of surreal, Emmy-nominated costume design and third-tier celebrity appearances from anonymous "singers" such as Terry Bradshaw, Ricki Lake and La Toya Jackson, the first season was a smash. Who'll turn up this time around as hellish, Vegas-adjacent versions of a flamingo, panda or a smiling egg to sing the hits? Your guess is as good as ours.
'Creepshow' (Shudder, Sept. 26)
Speaking of nightmares, this series-length continuation of the cult 1982 horror anthology looks to conjure a few, albeit without the direct involvement of screenwriter Stephen King and director George A. Romero. One of King's stories has been adapted for the pilot, which was directed by showrunner and Romero protégé Greg Nicotero ("The Walking Dead"). Subsequent installments will feature writing by King's son Joe Hill ("NOS4A2"), Josh Malerman ("Bird Box") and David J. Schow ("The Crow") and the revolving cast includes Giancarolo Esposito, Dana Gould and, in another nod to the show's roots, Adrienne Barbeau.
'Evil' (CBS, Sept. 26)
Network TV doesn't have a strong track record with scary stories of late (see 2016's "The Exorcist," which lasted one season), but this series created by Michelle and Robert King ("The Good Wife") shows chilling promise. Built around the pairing of a skeptical clinical psychologist (Katja Herbers, "Westworld") and a priest-in-training (Mike Colter, "Luke Cage") charged with investigating mysterious happenings, the series will try to walk the line between science and the supernatural with horror standbys such as haunted homes and demonic possession.
'Godfather of Harlem' (Epix, Sept. 29)
"Narcos" creator Chris Brancato teams with Paul Eckstein to tell the story of Harlem crime boss Bumpy Johnson (Forest Whitaker, who also executive produces), a crime figure who gets out of jail in the early '60s to find his neighborhood devastated by drug use and the influence of the mafia. The solution? Teaming with Malcolm X (Nigel Thatch) to win back his territory during an already tumultuous time in America. Oscar-winner Whitaker brings his usual gravitas, and the presence of historical figures around the story's framework illuminates an underexamined collaboration from history.
'Porvenir, Texas' (PBS, Oct. 4)
Amid promises to "build the wall" and racist rhetoric from the highest government office, tensions at the border between the U.S. and Mexico are running high, which makes this documentary, directed by Andrew Shapter, especially timely. The film, which focuses on a 1918 incident in which Texas Rangers and the U.S. cavalry teamed with local ranchers to massacre 15 unarmed Mexican villagers, uses archival footage and recent archaeological findings on the southwestern Texas border to reveal how a tragedy more than 100 years in the past resonates today.
'Back to Life' (Showtime, Oct. 6)
Let's be clear: There is no "hot priest" in this acclaimed British series, which first aired on the BBC and was cowritten by star Daisy Haggard, who plays a woman returning to her seaside hometown after serving an 18-year prison sentence for murder. Still, you can't blame Showtime for hoping to recapture the magic of "Fleabag" with this series, which was produced by Harry and Jack Williams, the same siblings behind Phoebe Waller-Bridge's breakthrough. Although "Back to Life" walks a similar, meandering line between tragedy and dark comedy, its unconventional story stands on its own.
'Mr. Robot' Season 4 (USA, Oct. 6)
A lot has happened since we last saw this cyber-thriller, which after two years away is embarking on its final season. Creator Sam Esmail adapted the podcast "Homecoming" into an Emmy-nominated miniseries; hackers and crypto-anarchists remain a hot topic heading into the 2020 election; and, oh yeah, Rami Malek won an Oscar for playing Freddie Mercury in "Bohemian Rhapsody." It's impossible to predict what lies ahead for Malek's Elliott — "Mr. Robot" is a show that's always delighted in blurring fantasy and reality alongside madness and sanity, which is just the way Esmail likes it.
'Nancy Drew' (The CW, Oct. 9)
At a time when nearly every Marvel character has a series in the works, there's something almost quaint about the return of this teenage detective, who dates to a series of mystery novels from the 1930s and was first seen on TV in the feathered-hair heyday of 1977. Kennedy McMann takes over as the red-headed sleuth in a series created by Josh Schwartz ("The O.C.," "Chuck") with a more complex present day in mind. The moodier, more adult atmosphere of "Riverdale" and "Chilling Adventures of Sabrina" is a useful touchstone.
'Limetown' (Facebook Watch, Oct. 16)
Created by Zack Akers and Skip Bronkie, this podcast broke through as a hit with the compelling story of American Public Radio journalist Lia Haddock, who was investigating a mass disappearance at a neuroscience facility, in a way that used the conventions of the format to build a tense, conspiracy-driven mystery. Akers and Bronkie are back to reshape the story for a 10-episode series on Facebook Watch, with Jessica Biel taking over as Haddock.
'Modern Love' (Amazon Prime Video, Oct. 18)
Because every story will one day be adapted into a TV series, the New York Times' weekly-column-turned-podcast composed of first-person essays about romance and relationships will be transformed into an eight-part anthology. Showrunner John Carney ("Once") dug through an archive of roughly 750 published stories to find the best candidates for rejiggering into half-hour segments, with a high-profile cast that includes Tina Fey, John Slattery, Anne Hathaway, Dev Patel and Andy Garcia.
'The Misery Index' (TBS, Oct. 22)
There may be no truer reflection of 2019 then the arrival of a game show that attempts to quantify our most mortifying experiences. Based on a card game developed by Andrew Breckman ("Monk"), the series, hosted by Jameela Jamil ("The Good Place"), will assemble teams of celebrities and the stars of TruTV's hit "Impractical Jokers" to determine whether one real-life horror — like accidentally sexting a family member — is more embarrassing than another — like being fired.
'Mrs. Fletcher' (HBO, Oct. 27)
With her standout appearances on "Transparent" and "I Love Dick," no one inhabits the comic indignities of midlife quite like Kathryn Hahn. Adapted by Tom Perrotta ("The Leftovers") from his own novel, the series centers on Hahn as the title character, a divorced woman who experiences a sexual reawakening that upends her stable life after her son goes away to college. Perrotta's steady hand with tiny, human moments in the shadows of suburbia helped make "The Leftovers" a cult favorite, and the grounded comic potential here seems tailor-made to Hahn's strengths.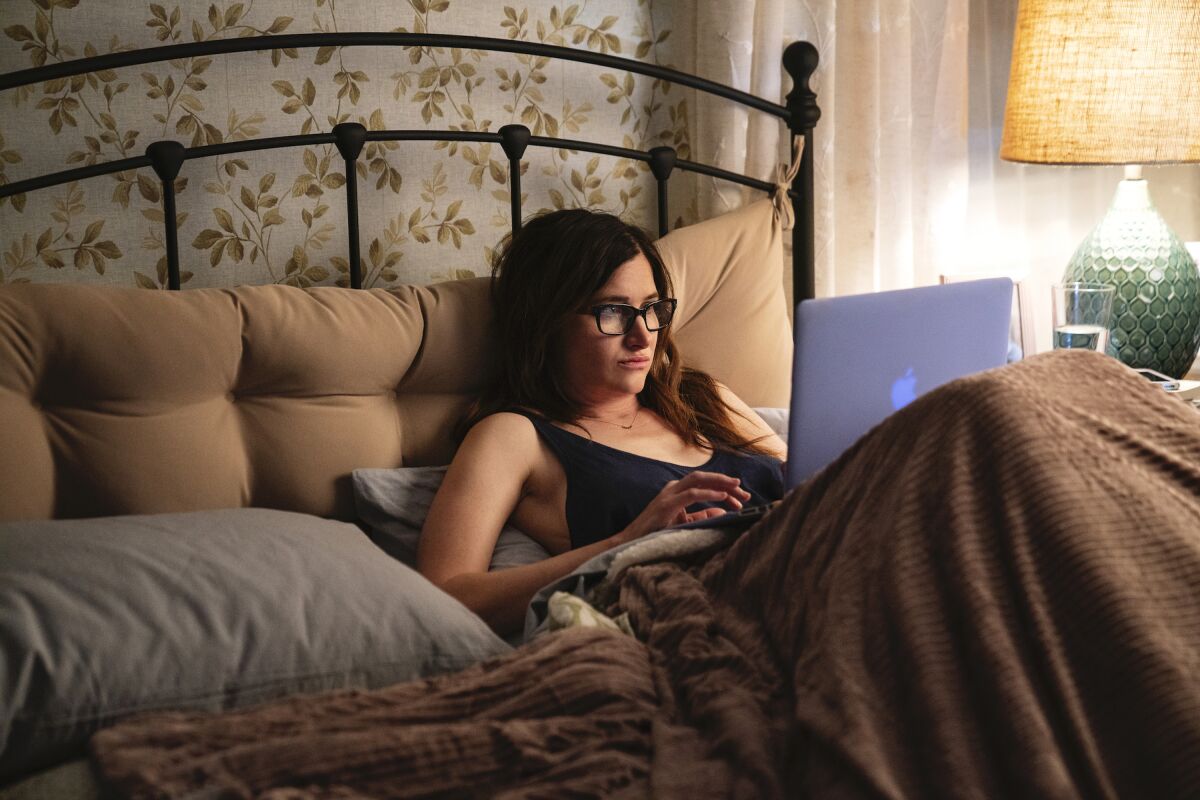 'The Morning Show' (Apple TV+, Nov. 1)
Apple's foray into the Wild West of original content looks to begin with this ripped-from-the-headlines drama about a morning show host (Jennifer Aniston) dealing with the fallout after her cohost (Steve Carrell) is accused of sexual misconduct — and the feather-ruffling local news reporter (Reese Witherspoon) who's either her biggest ally or her biggest rival. From executive producer and showrunner Kerry Ehrin ("Friday Night Lights"), with a pilot directed by Mimi Leder ("The Leftovers"), the series leans hard into the subject of #MeToo while also drawing on film and TV's long fascination with the behind-the-scenes drama that comes with breaking —and being — the news. The supporting cast includes Mark Duplass as an exhausted-looking executive producer and Billy Crudup as a slimy network executive.
Correction: A previous version of this story incorrectly identified Kerry Ehrin as the creator of "The Morning Show." Ehrin is the series' executive producer and showrunner.
'The Mandalorian' (Disney+, Nov. 12)
Sorry, "Star Wars" fans: Boba Fett evidently will not appear in this closely guarded spinoff of George Lucas' lucrative sci-fi universe. Still, take comfort knowing your franchise still dominates pop culture in our current universe; this marks its first foray into live-action TV. Available at the launch of Disney's new streaming service, Disney+, this bounty hunter's story, helmed by showrunner Jon Favreau ("Iron Man"), stars Pedro Pascal ("Game of Thrones"), Gina Carano, Carl Weathers, Giancarlo Esposito, Nick Nolte and, yes, Werner Herzog; on hand to direct are Taika Waititi ("Thor: Ragnarok"), who also turns up as a droid; Rick Famuyiwa ("Dope"); and Bryce Dallas Howard. Plot details are slim, but we do know that the series is set between the events of "Return of the Jedi" and "The Force Awakens."
'The Preppy Murder: Death in Central Park' (Sundance/AMC, Nov. 13)
In wake of television examinations of O.J. Simpson, Lorena Bobbitt and the Central Park Five, "The Preppy Murder" joins the wave of true crime series that have reconsidered the most famous cases of the 1980s and 1990s. Spread over five episodes and directed by Ricki Stern and Annie Sundberg ("Reversing Roe"), this docuseries looks at the 1986 case of 18-year-old Jennifer Levin, who was killed in Central Park by fellow prep school graduate Robert Chambers. The case spurred a tabloid frenzy, and in revisiting the ways that bias was reflected in favor of privilege and against the victim, viewers may, much like Ava DuVernay's "When They See Us," recognize how far we've come. Or not.
'Dollface' (Hulu, Nov. 15)
Kat Dennings ("Two Broke Girls") leads the story of a woman who must reckon with hangups both real and imagined as she works to rebuild her life and rekindle the female friendships she left behind during a relationship. Created by Jordan Weiss (the animated "Harley Quinn"), the series is produced by Margot Robbie and the same team that brought "I, Tonya" to the screen. With "Ramy," "Shrill" and the Mindy Kaling-produced "Four Weddings and a Funeral," "Dollface" joins a vibrant slate of comedies on Hulu — welcome counterprogramming to the existential dread of "The Handmaid's Tale."
'The Crown' Season 3 (Netflix, Nov. 17)
There's a new queen in town as this historical drama bids farewell to Claire Foy, Matt Smith and the rest of a cast that held court for two acclaimed seasons. The third season, now in the capable hands of Oscar winner Olivia Colman as Elizabeth II, Tobias Menzies ("Outlander") as Prince Philip and Helena Bonham Carter as Princess Margaret — examines the queen's reign from 1964 to 1977. The faces may change, but the lushly rendered palace intrigue remains.
'Toast of London' (IFC, Dec. 4)
If you've only recently encountered the wonders of Matt Berry as the imperiously lecherous vampire Lazlo in FX's adaptation of the indie comedy "What We Do in the Shadows," now is your chance to explore more of what makes Berry a favorite among comedy connoisseurs. Portraying middling stage actor and chaos magnet Steven Toast, Berry flexes the talent for far-out absurdity that has made him a perfect fit for Taika Waititi's oddball universe. Keep an eye out for cameos from long-frustrated comic actor Jon Hamm and Queen of the Stone Age's Josh Homme.
---