Column: 'Field of Dreams' anniversary sparks baseball movie debate with Padres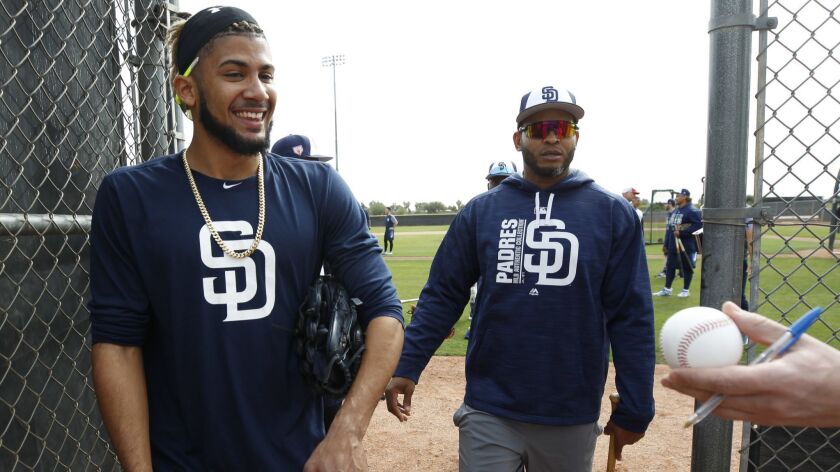 PEORIA, Ariz. —
There's something about the heartwarming mix of relatability and romanticism that makes the movie "Field of Dreams" a spikes-in-cinema classic. It's baseball, at its purest. It's dream-chasing, at its most dreamy. It's fathers and sons, to its core.
Relatable unless, well, you're Bob Scanlan.
With a month until the 30th anniversary of the tear-jerker immortalized through ghost players emerging from a swaying Iowa corn field, the Fox Sports San Diego field reporter and former big-league pitcher has yet to finish it. And he's not sure when or if he will.
"I've never seen that movie all the way, because the one time I sat down to watch it, the phone rang and I got traded from the Phillies to the Cubs," Scanlan said Wednesday, recalling the 1991 moment with a grin. "So I've had this superstition about not wanting to be traded again. Still. I'm pretty happy here in San Diego."
As the movie milestone arrives, the question of most cherished baseball flicks was floated throughout the Padres clubhouse — a place filled with people laser-focused on playing the game itself.
Is "Field of Dreams" too dusty and distant for a clubhouse full of 20-somethings?
If so, then what?
Start with "The Sandlot," for almost everyone in the wholly unscientific poll that included a pitcher, a catcher, an outfielder and a pair of infielders. When 1989 sounds like 1889 to a group born after the red-carpet credits rolled, it's a generational thing.
"I just remember playing like that as a kid with my friends in the back yard," said shortstop-in-waiting Fernando Tatis Jr. "I could see myself in that movie."
Every script lends itself to some real-life revisions, though. Tatis Jr., 20, said that instead of the terror-inducing dog on the other side of the outfield fence named The Beast, his childhood games subbed in a different actor.
"We used to have an old man," said Tatis, laughing. "That was the dog for us. If it went in his yard, game over."
For 25-year-old pitcher Joey Lucchesi and friends, they faced the fangs — without a fence.
"I grew up playing Wiffle ball in my front yard, he said. "Across the street, there was a big, white wolf-type dog my neighbor had. Like half wolf, half husky. We'd always be scared to hit the ball there because it would be aggressive sometimes.
"I would try to get it, but the dog would just chew it up and bark at us."
Too much power to right-center? Cue the nerves.
"Danger zone, man," Lucchesi said. "Stay away from there."
The chatter about a baseball movie from 1989 sparked injured outfielder Travis Jankowski to mention another from that year, "Major League." The odd collection of fictional Cleveland Indians created a wide smile, three decades later.
Jankowski, 27, remained as tricky to pin down as a politician in November.
"I love 'Major League,' " he said. "That's a pretty funny movie, man. Willie Mays Hayes, hysterical. The manager, hysterical. Roger Dorn, man. I always hated Roger Dorn. That's one I liked a little bit older in life.
"When I was younger, it was 'Sandlot.' It's a kid-oriented, feel-good movie. I think some of the lines could be said in any Major League clubhouse and get laughs."
All this "Sandlot" stuff called for a visit to the locker of a level-headed veteran, like 37-year-old catcher Chris Stewart. Surely, someone with his wealth of experience — code for, born before 1989 — might add some spice to the discussion.
Right?
"I think 'Sandlot' is mine," he said. "Kids playing baseball on a run-down field, you know? I can relate to it. I can remember growing up on a cul-de-sac. We'd get some chalk and chalk some bases on the asphalt. That's a great one."
In a reminder that memorable baseball movies peppered theaters like letter-high fastballs back then, Stewart recalled playing for Georgia's Gwinnett Stripers last June when "Bull Durham" writer and director Ron Shelton threw out the first pitch for the Durham Bulls.
Another unforgettable baseball movie. Another 30-year anniversary.
"That's classic, too," Stewart said.
General Manager A.J. Preller opted for "The Natural," the 1984 story of a fictional player played by Robert Redford who resurrects his career while using a unique bat carved from a tree that was struck by lightning.
"I just love the whole story," Preller said. "I kind of even liked that Tom Selleck movie where he was like the 'Ugly American' in Japan, trying to deal with all the cultural differences."
That would be "Mr. Baseball." And that would be an unfortunate choice. The popular movie website Rotten Tomatoes rated it at a lowly 13 percent.
All that screen time inspired big dreams for future big-leaguers.
"We grew up in a cul-de-sac, so we would line up bikes like a home run fence," Jankowski said of playing together, a la "The Sandlot." "We had like five guys in the neighborhood, so it would be a home run if you hit it over the bikes. So it had to be a dead-center shot. It didn't go around. It didn't curve at all. It was just a straight line of bikes.
"I couldn't even hit one then, so some things never change."
The lesson, walking around the clubhouse: Someone needs to fire up the popcorn and show these guys "The Bad News Bears."
==
Rating baseball movies
Here's how critics' reviews on the popular movie website Rotten Tomatoes rated some of baseball's most watched movies of all time:
"The Bad News Bears," "Bull Durham": 97 percent
"Moneyball": 94
"Field of Dreams," "Eight Men Out": 86
"The Natural", "Major League": 82
"A League of Their Own": 78
"The Sandlot": 57
---
Sign up for the Pacific Insider newsletter
PACIFIC magazine delivers the latest restaurant and bar openings, festivals and top concerts, every Tuesday.
You may occasionally receive promotional content from the Pacific San Diego.