Art in the alley: Murals liven up Lemon Grove businesses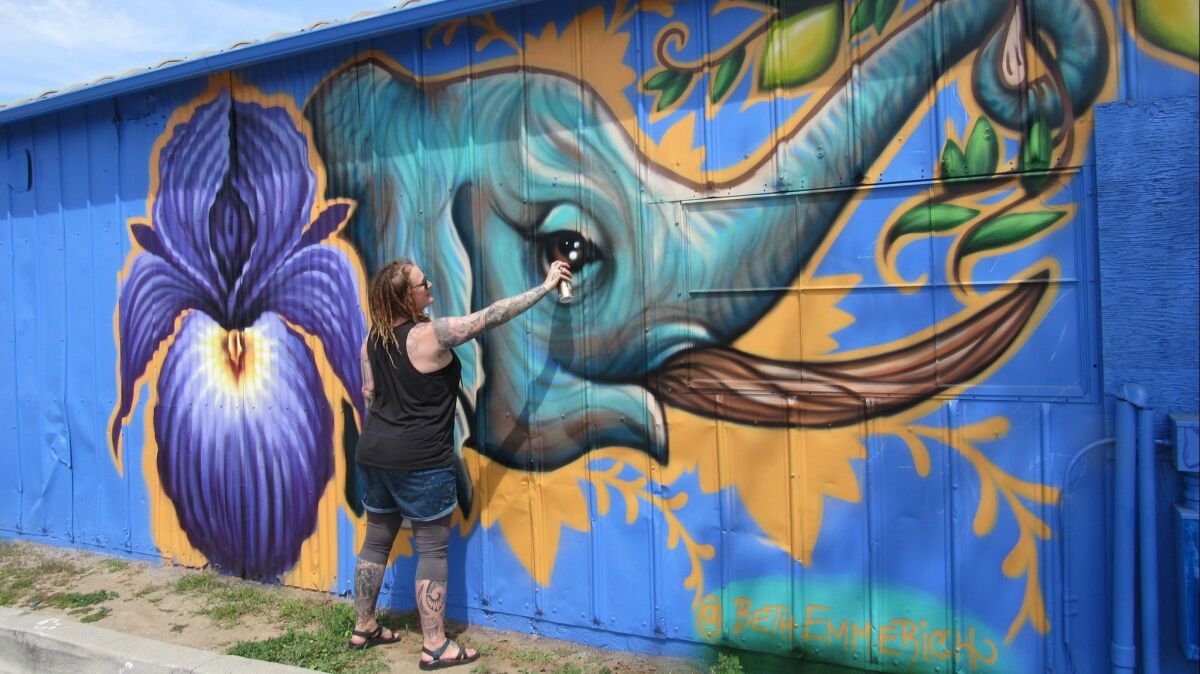 Reporting from East County —
There is an alley in Lemon Grove you don't want to avoid.
Five street artists armed with dozens of cans of spray paint and buckets of paint have been working for several weeks to paint six walls and two electrical boxes behind a home health care business.
They splashed the formerly beige concrete walls of San Diego Homecare Supplies, and the walls of a metal storage building across the alley, with vivid shades of yellow, orange, purple and blue, leaving behind a tapestry of bright flowers, plants, geometric shapes, animals and creatures that pique your imagination.
They did so at the invitation of Sydel Howell, who with her mother, Sara Cummings, has operated the business more than 20 years. The store stocks thousands of items related to wellness and recovery — from leg compression stockings to post-mastectomy needs to wheelchairs.
The circa 1950s building used to house a hardware store. Howell said the dull outdoor walls have been a graffiti target for years and she was at a loss what to do.
Then she became inspired during a January visit to the Wynwood Art District in Miami, which turned a blighted area into a hip and happening gallery-filled hotspot. Howell hired Beth Emmerich, who lives in Grass Valley, to paint a couple of walls on the back of her building at 7846 Broadway, across from a small city parking lot.
Howell had seen Emmerich's work on the side of a tattoo shop in North Park, found her on Facebook and brought her down to San Diego, where Emmerich once lived (and has plans to move back).
"I was like a kid in a candy store when Sydel showed me the walls," Emmerich said. "There was so much space to work in."
Emmerich decided she would spread the work around, inviting four of her friends who are savvy in mural art to help — Gloria Muriel, Alex Banach, Maxx Moses and KJ Ashley.
"It has been absolutely amazing," Howell said. "It's beyond what I ever imagined. I'm so excited about it. A positive change is what everybody needs, especially in these times. My hope is that when you create pride in something, it makes you want to take care of it. That's my hope.
"I told the optometrist next door, 'You're next!' He tells his clients now to park in the alley he is so proud of it."
The bold and bright murals have only been up a few weeks but have already created a buzz among other Lemon Grove businesses, residents and visitors.
On a recent afternoon, four of the artists were gathered in the alleyway discussing and touching up some of their work. While they were there, San Diego resident June Elliott, a self-employed food deliverywoman, drove up.
Elliott, 70, told them she now drives down the alley twice a day, five days a week, to look at the murals. She said she thought it was "a shame that they're back here instead of in the front."
"They're gorgeous," she told the artists. "It makes you happy when you drive up. These walls have always been dull and oppressive, really kind of depressing. It takes you on a little trip without drugs. And I've heard that murals like these discourage graffiti, too."
City Councilwoman Jennifer Mendoza has seen the tagging on the walls. Mendoza's manicurist is next door to Howell's business. She said the area has been blighted for years.
"I've seen what goes on back there, and it's not good," Mendoza said. "So now I think this is something that is going to give this area such a lift. People are going to stop and look at those murals and it's going to be so uplifting and give positive momentum in that back area."
Mendoza said she gets much of the same feeling from when she drives by the Lemon Grove Bakery, which has on its side an award-winning, five-part mural. Those paintings — 65-feet wide by 18 feet tall, filled with art depicting the Kumeyaay people, the 15th and 16th century Spanish Conquest, 1800s Mexican heritage, 19th century buildings and a current look at Lemon Grove — were created over an eight-year span, starting in 2005.
The new murals behind the medical supply store are just around the corner from the city-sponsored Lemon Grove Breezeway Mural Painting Project that was completed last year. That work, on the side of a wall off Lester Street, boasts bright orange, green, purple and yellow tones, painted trees and the words "Lemon Grove" in cursive writing inside a painted lemon.
Additionally, just down the street, the city in 2015 used a $30,000 grant to turn both sides of an underpass at Buena Vista Avenue near state Route 94 into huge murals featuring flowers and birds.
Howell said all the art in Lemon Grove is a positive that can have a domino effect — with a reason to visit and a reason to stay.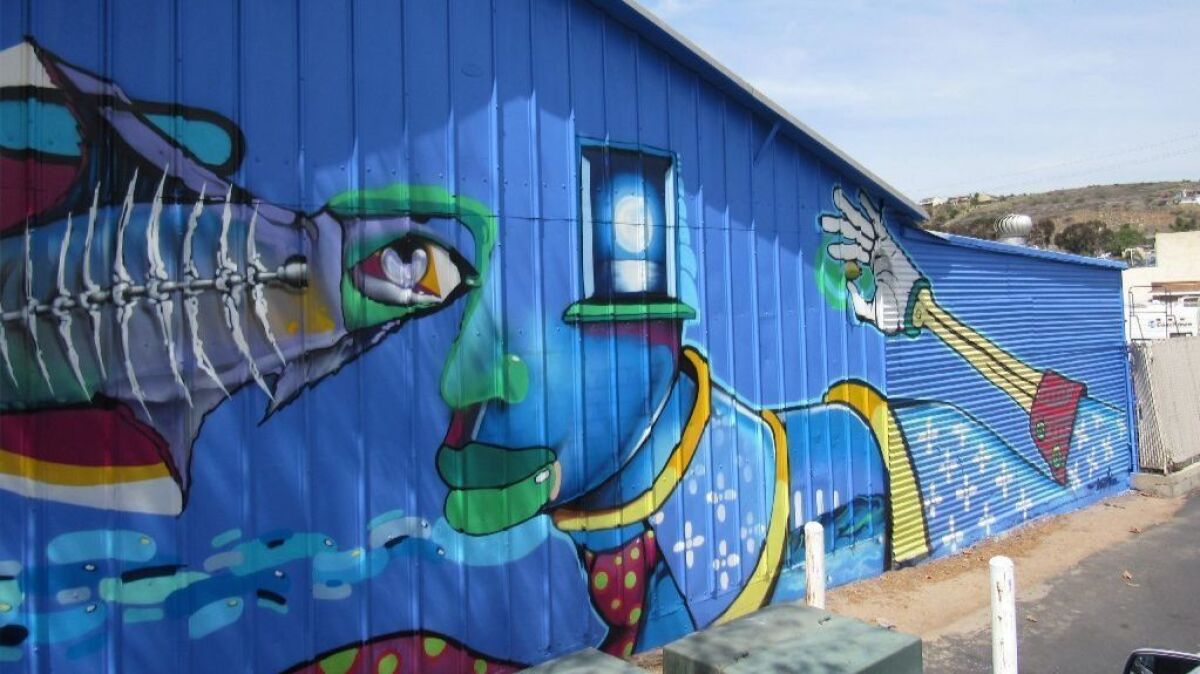 "People like to go where they feel good, to be uplifted, to be joyful, that positive energy," she said. "I would love that our customers come to us after being recommended by a doctor or friend, and then that they come back to Lemon Grove because of the feeling they got... to have them say, 'Let's to go the place with the murals.' Then to have them shop at our stores in the area and eat at one of our restaurants."
Howell said there's no reason Lemon Grove businesses can't work together to continue the work all the artists have started.
She brought up her motivating visit to the Wynwood district in Florida, which she said she learned was an area that "used to be very derelict with tagged buildings and homeless people."
"The businesses beautified the area, all these amazing restaurants and shops and art galleries opened up," Howell said. "I see no reason we can't do something like this in Lemon Grove. I hope other businesses will be inspired too and get on board. I hope this is just the tip of the iceberg and not the end."
Sign up for the Pacific Insider newsletter
PACIFIC magazine delivers the latest restaurant and bar openings, festivals and top concerts, every Tuesday.
You may occasionally receive promotional content from the Pacific San Diego.