Helping people cozy up to better manners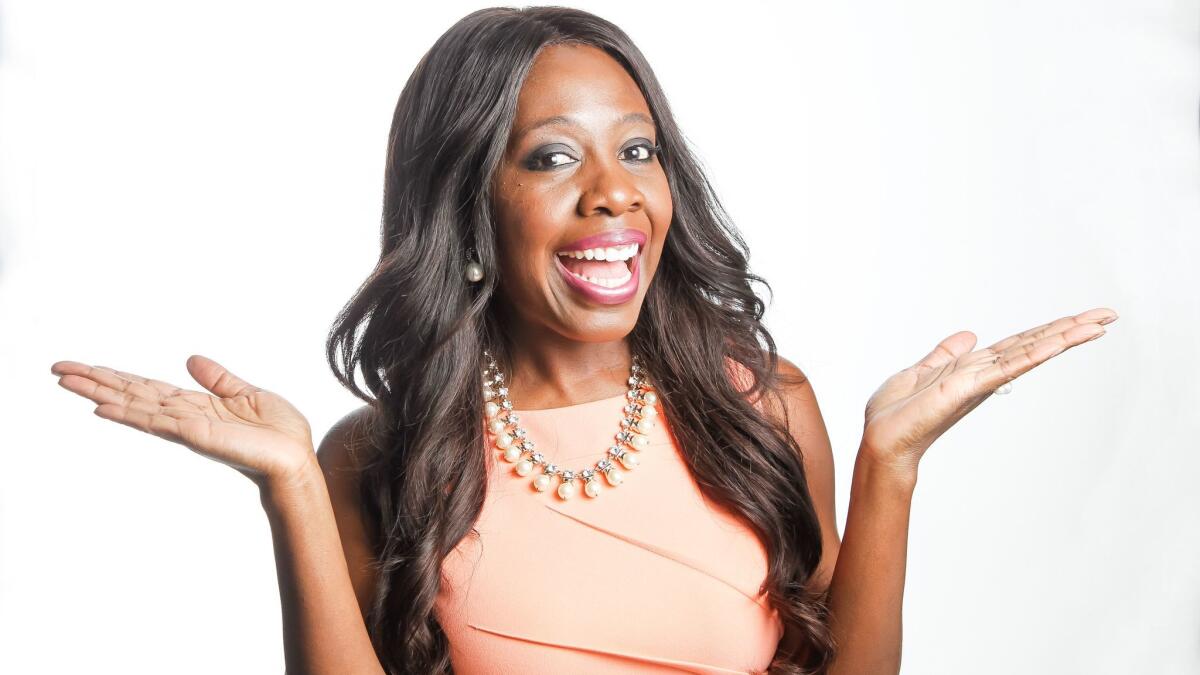 Elaine Swann's parents enrolled her in etiquette classes as a child, which resonated with her at a really young age. One of her chores was setting the table for dinner each night and her parents wanted the kids to do something in life that was different and also allowed them to be poised and respectful.
"My family emigrated here from Panama, and with that family dynamic as a child, you are told what you will be. So, what was told to me was that I was to become a nurse. When people would ask me, I would say, 'I want to be a nurse,' but it never felt quite right to me," she says. What did feel right was focusing in on image, manners and etiquette, and after taking various courses and training sessions, and continuing her work as a certified mediator, she's been working as a lifestyle and etiquette coach for more than 20 years, appearing on national television and running her Swann School of Protocol, headquartered in Carlsbad.
Swann, 50, lives in Oceanside with her husband, Christopher. She also serves as the hospitality chair of the United San Diego Region Church of God in Christ, where she works with 16 churches, offers free workshops to organizations that serve low-income communities, and has previously served on the board of directors for Girls, Inc., and for the Milestone House, which works with foster youth. She took some time to talk about her passion for manners, using her work to serve others and working in such a social field as an introvert.
Q: When you were growing up, did you want a career teaching people about etiquette?
A: As a child, I really admired my teachers. I found that, growing up, I was always teaching my siblings, cousins and friends, and I loved feeling like I did something great for someone else. Teaching is in my nature, but etiquette came later.
Q: What led you to a career in etiquette and lifestyle practices?
A: I learned very early in life that your image is everything and how you present yourself, not only physically, but behaviorally, is incredibly important. You only get to make one first impression. Later in my childhood and into my teens, I began to participate in pageants, which was perfect for me as being prim and proper was a natural thing for me.
Q: And how do you define "lifestyle practices"?
A: Lifestyle practices can be pretty subjective as far as definition goes. I like to explain it as I give clients and admirers the tools and advice to forge a sense of self and maintain their way of life and values in a way that is proper, regardless of what the individual's values or way of life are. I have clients who are in various industries and those lifestyles vary.
What I love about Oceanside ...
The thing I love about living in Oceanside is that I have the best of both worlds here: I have the diversity that the city of Oceanside offers while having a beach community vibe. There is literally something for everyone here.
Q: Why does etiquette matter?
A: Etiquette matters because it truly is part of our everyday lives. It is not so much about how you use your fork and knife at the table, but it is more about putting others at ease. The core values of etiquette are respect, honesty and consideration. Those three principles can be applied to any area and aspect of a person's life, whether it be their personal life or professional life, and applying those core values and practicing them are necessary in order to thrive and have healthy relationships.
Q: What are a few of your etiquette pet peeves?
A: I honestly do not have any pet peeves in particular, as I do not pay enough attention to people's behaviors to let it annoy me. I do have some things that individuals in everyday life can improve on: First would be cell phone usage. Individuals need to realize that the person that you are with face-to-face has the top priority, and it is quite rude to have conversations verbally or via text message while engaged with another person.
Second, people should RSVP to legitimate invitations they receive. I don't mean the random messages you receive on social media or through mass emails when you really don't have a personal connection with the individual. I'm talking about an actual invitation from someone you have a relationship with. The event host took the time to invite you to an event and regardless of the nature or size of the event, please respond and let them know if you are not going to attend. It is very difficult to plan an event as low-key as a baby shower or an event as large as a wedding when you do not know who is coming or, at minimum, how many guests to expect.
Thirdly, people really should keep to themselves more on social media. The amount of over-sharing is really bothersome.
Q: What are some areas of etiquette that you are still working on getting better at yourself?
A: I am working on sending out cards for birthdays and holidays in a timely manner. I start out ahead and buy the card, stick it in my purse and I ultimately take too long to send them out. I am working diligently in 2018 to stay on top of this.
Q: What's been challenging about your work?
A: One thing that is very challenging about my work is that I can only be in one place at a time, and I have to work really hard to serve everyone who approaches me or my business. Due to regular appearances on national news and talk shows, I receive a great deal of requests to present workshops or keynote presentations all over our nation. It pains me to have to turn people down because the information I share is so valuable.
Q: What's been rewarding about your work?
A: The most rewarding part of my work is seeing the results and getting the feedback from clients and admirers across the United States. They tell me how the advice I have shared has positively impacted them or their organization.
Q: What has it taught you about yourself?
A: My work has taught me that I really and truly have a heart to serve. In this business, I have come to realize that there are a lot of people out there who are very concerned about what they do and say, and how it can impact themselves and others.
Q: What is the best advice you've ever received?
A: The best advice I have ever received was to focus on one thing. As a person with an entrepreneurial spirit, I am a creative person and have so many ideas for various parts of my businesses. Once I focused on one thing at a time, I noticed that I gained more traction and success in that one focused area versus burning out on multiple ideas.
Q: What is one thing people would be surprised to find out about you?
A: People would be surprised to find out that I am actually a very introverted person. I am most comfortable in my own space, being alone. My circle tends to be on the smaller side, and I admittedly live in my own little bubble. My natural tendency when attending an event with lots of people is to go find a corner, get a plate of food and sit and eat and people-watch. I know I can't do that and be successful, so I practice and live by my own advice, go through the motions, and retreat back to my little bubble.
Q: Describe your ideal San Diego weekend.
A: My ideal San Diego weekend would be waking up with my husband, Christopher, and going to grab breakfast and Honeys in Encinitas. After eating breakfast, we would unload our bikes from the truck and take a nice ride down Pacific Coast Highway. Christopher and I would then load the bikes up and head to whichever surf break he fancies that day, and while he surfs, I settle in on the beach and read a good book.
Email: lisa.deaderick@sduniontribune.com
Twitter: @lisadeaderick
Sign up for the Pacific Insider newsletter
You may occasionally receive promotional content from the Pacific San Diego.