Finding the courage to follow her dream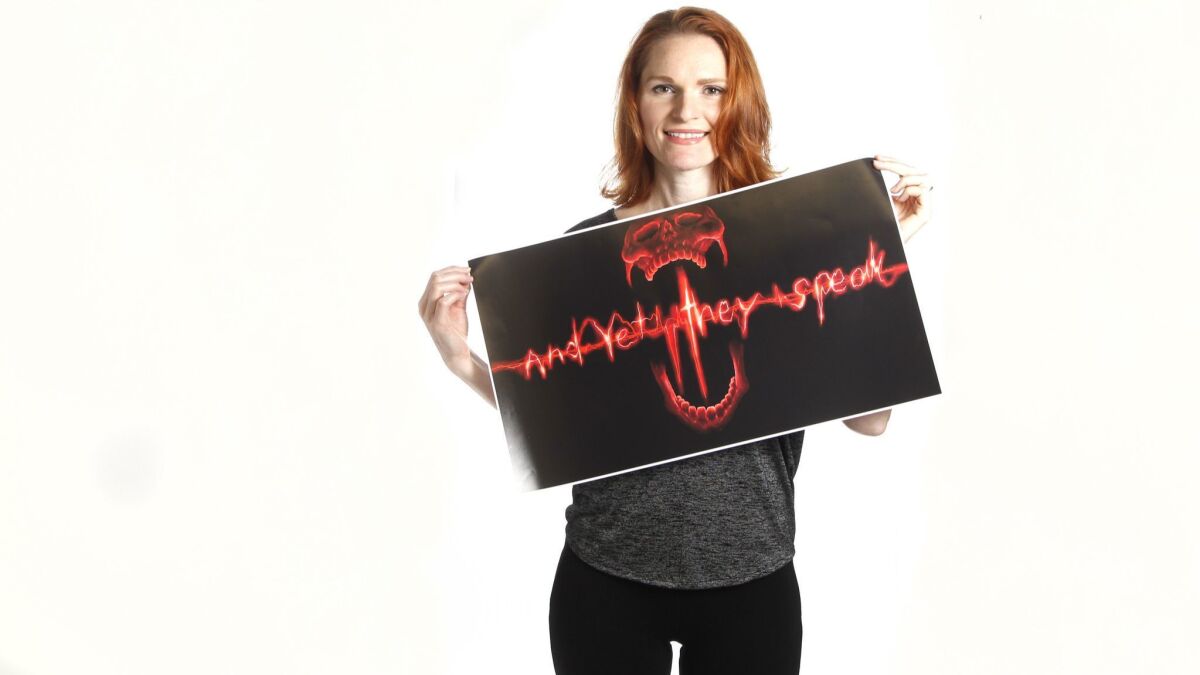 It took her a little while to build up the courage to pursue her dream of acting, but in her late 20s, Windy Marshall went for it. In the years since, she's landed roles on "Days of our Lives," BET's "The Game" opposite Tia Mowry-Hardrict, "Me and My Grandma" on YouTube Red with Rhea Perlman, and HBO's "Westworld" with Anthony Hopkins, Ed Harris and James Marsden.
Despite these roles, there are times when the work is sparse, and that's when Marshall started down the path of writing, directing and producing.
"It was never a goal of mine to get behind the camera, but after joining SAG (Screen Actors Guild) and not working for a period of time, I realized I couldn't sit back and wait to be cast, so I wrote my first, short screenplay with the goal of acting in it," she says. That led to work on four more projects, the latest being a short psychological horror film based on a short story written by her son, Skylar, called "And Yet They Speak."
Marshall, 43, lives in Carlsbad with her husband, Brad, and their two sons, Skylar and Luke. She took some time to talk about her work as an actress; writing, directing and producing; and learning what she was capable of in her field.
Q: You appeared in HBO's "Westworld." What was your part on the show?
A: I had a speaking role in episode five of season one. I was the barkeep in a key scene when Dr. Robert Ford, Teddy (Flood) and the Man in Black meet together in the park for the first time. I still don't know how I got so fortunate as to be on set with all three of them.
Q: You worked with Anthony Hopkins, Ed Harris and James Marsden in that scene. What was your experience like working with them?
A: It was an amazing day on set. We filmed in a custom-built town up in Santa Clarita. Playing a role in a western, while knowing I was a robot and looking around set watching Anthony Hopkins play the piano off to one side of the bar, and to the other were Teddy and the Man in Black, it was surreal! It was a long day, we pushed 12 hours, and I soaked up every moment of it that I could. Anthony was sweet and polite, and an amazing piano player. Ed and James were both friendly, a joy to work with. The attention to detail from everyone in each of their respective jobs on set to make the best scene possible was incredible.
Q: The premise of the show is that it's a futuristic amusement park where rich people can play out their fantasies through artificial consciousness. So, if you were a guest at a real-life "Westworld," what fantasy would you choose to experience?
A: If I were a guest in the park, I know I would wind up with a white hat. I'd probably stay close to the town, check out the saloon, and ride a horse. I'd just soak up being in the park, I don't know how much I'd let myself go. I don't know that I'd be able to separate the person from the robot. I guess that's all a part of what "Westworld" is about, people find out who they really are when they go there.
What I love about Carlsbad ...
It is a beautiful area, what's not to love? People are friendly and the schools are great, too. I can be in Los Angeles quickly if need be (well, I guess quickly is relative in that regard). I do realize how fortunate I am that my life has brought me here.
Q: At what point in your career did you know you wanted to start working behind the camera in writing, directing and producing?
A: That happened in 2014. It was never a goal of mine to get behind the camera, but after joining SAG and not working for a period of time, I realized I couldn't sit back and wait to be cast, so I wrote my first short screenplay, with the goal of acting in it. I surprised myself with how well it turned out, so I decided to produce and direct it. That way the story would be told the way I envisioned it when I wrote it. It is a psychological thriller called "Go out in Violet Waters," … the entire story takes place in a bar. I love telling people that we filmed in a custom-built set, in a warehouse in San Marcos.
Q: What led to this move?
A: After making "Go out in Violet Waters," I was pretty well hooked on filmmaking, too. I then went on to write a feature length screenplay in the horror/thriller genre called "Madison Manor," an early draft of that was a quarter-finalist in ScreenCraft's 2016 Horror Screenplay Contest. I wrote a comedy feature last summer called "Momlife Crisis," which was an official selection of the 2018 Beverly Hills Film Festival. My goal after making my next short film is to go into production on "Momlife Crisis," which I also plan to film in San Diego.
Q: You're currently working on a short horror film called "And Yet They Speak." Tell us about it.
A: "And Yet They Speak" is a 16-page, psychological short horror film. It's about a woman, Alex, who we first meet in a remote cabin in the woods. Through flashbacks, we learn what has led her to live in isolation. As a young child, she heard strange, disturbing noises that no one else seemed to notice. These sounds are "imprints" that people leave behind when they die, at the exact place of their death. Alex learns that the more painful or unpleasant a person's death, the louder the "imprint." Her unique ability leads her to uncover some things she wishes she never had. (We are currently running a Kickstarter campaign to help with some of the costs for this film.)
Q: Why did you want to tell this story?
A: "And Yet They Speak" was originally a short story my son, Skylar, wrote about two years ago. He is a talented writer himself, and after I read the story, I realized what a cool short film it would make, so I adapted it into a screenplay. I then convinced my other son, Luke, who is a talented artist, to design the movie poster. I am loving having both of my boys involved in the project.
Q: Are you a horror fan?
A: It's funny, I never really thought of myself as a horror fan, but my screenplays keep pulling me into the genre. The kind of horror I like is what I would call "smart" horror. I like things with intriguing plots and story lines, and characters with depth. For me, these are often found in the psychological horror/thriller realm. One of my all-time favorite films is "Black Swan," and who doesn't love "The Shining"?
Q: What is the best advice you've ever received?
A: Honesty is always a good policy. In the film industry, trusting yourself, and trying to stay true to your own values, those are pretty important things to remember.
Q: What is one thing people would be surprised to find out about you?
A: Those who don't know me well would be surprised to know that when I first met my husband, we lived on a barge in Baltimore's Inner Harbor for a couple of years. I also studied abroad and lived with a French family on the Champ de Mars. The Eiffel Tower was in our backyard! I adore Paris.
Q: Describe your ideal San Diego weekend.
A: My ideal San Diego weekend would be on set! I would love to do more filmmaking in San Diego.
Email: lisa.deaderick@sduniontribune.com
Twitter: @lisadeaderick
---
Sign up for the Pacific Insider newsletter
PACIFIC magazine delivers the latest restaurant and bar openings, festivals and top concerts, every Tuesday.
You may occasionally receive promotional content from the Pacific San Diego.