Promoting diverse stories on screen with an eye toward compassion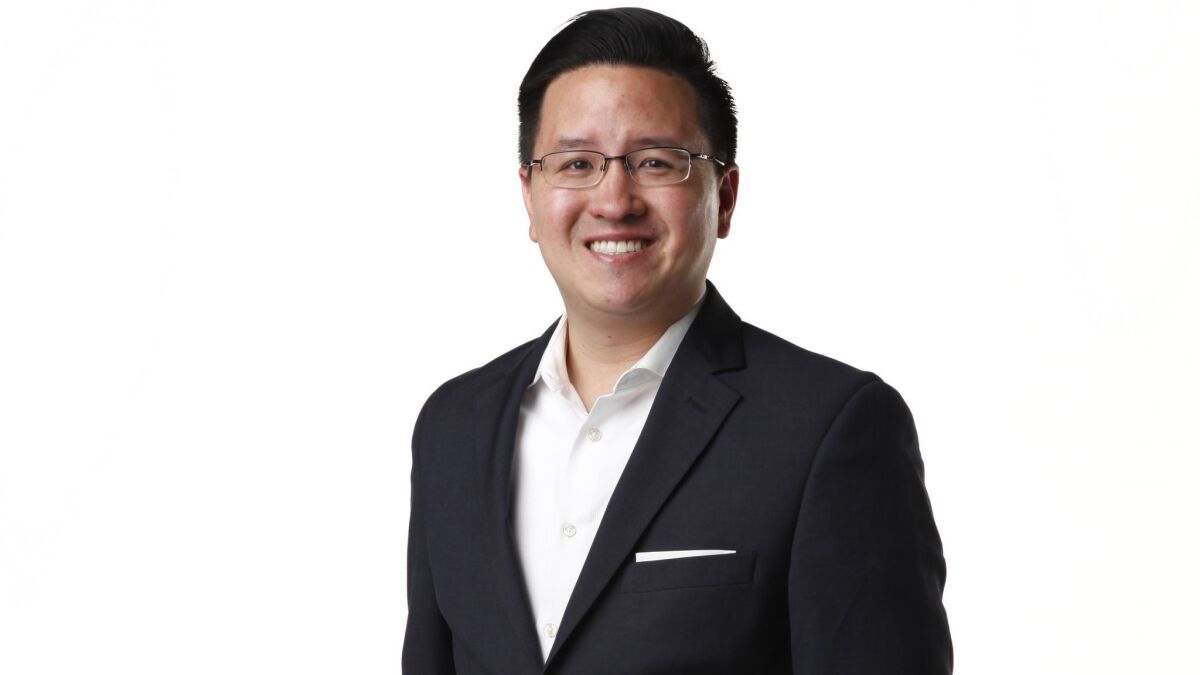 After his wife introduced him to the organization, Kent Lee began as a volunteer with Pacific Arts Movement and their annual film festival gala. He was immediately drawn to their mission to present and support telling the stories of the global Asian and Pacific Islander community.
"I was inspired by the organization's power to bring people together over stories told through film. I quickly realized that Pac Arts (Pacific Arts Movement) provided a rare space where audiences would find Asian Pacific Islanders represented on the big screen," he says.
Lee, 32, is now executive director of the organization, a local non-profit focused on presenting Pan Asian media to audiences in hopes of both entertaining and creating a more compassionate society through the inclusion of their stories. He lives in Mira Mesa with his wife, Phuong and their daughter, Alynna, and took some time to talk about the organization, the importance of Asian and Pacific Islander representation on screen, and the success of their spring showcase earlier this month.
Q: Tell us about Pacific Arts Movement.
A: Founded in 2000, Pac Arts is the proud presenter of the annual San Diego Asian Film Festival (SDAFF) each November, the SDAFF Spring Showcase each spring, as well as various screenings and other programs throughout the year. We also serve local high school youth through our Reel Voices documentary filmmaking educational program with an award-winning summer program, as well as a newly expanded year-round program serving youth impacted by homelessness at Monarch School.
Q: Why did you want to step into the role of executive director?
A: After years of serving as a volunteer, including as a member of the board of directors, I thought it would be a dream-come-true to continue my non-profit career by serving as the leader of an organization in which I felt a personal passion and excitement for. I had been impacted firsthand by Pac Arts' power to connect people and build communities and wanted to continue supporting that impact for others.
Q: Why is presenting Pan Asian media to the local community important to you?
A: Growing up, I often watched subtitled Hong Kong television dramas with my family as part of our nightly routine. However, it didn't take long to realize that outside of that environment, seeing Asian and Asian Americans on screen was more of the exception rather than the norm. Although recently, greater awareness has been raised about the lack of representation for Asian Americans in media and entertainment, the reality is that there is still such a long way to go. As an organization, we present stories through film that may never be accessible to local audiences, ranging from rare independent films from around the world, to inspiring works by Asian American and Pacific Islander storytellers. Our work shows that the local community (and not just Asian Pacific Islanders) not only crave these stories, but are ready to support them by attending, discussing and sharing.
What I love about Mira Mesa ...
Mira Mesa is a vibrant and continually growing community that has seen a recent explosion in the food scene. As a board member on the Mira Mesa Community Planning Group, I've also been inspired by the love and passion of our longtime community volunteers and leaders who seek to continuously improve our local neighborhoods, as well as plan for the future.
Q: Your organization's website says that part of your mission is to present this media in order to "… support a more compassionate society." How does presenting Pan Asian media art do that?
A: We utilize the powerful medium of film to shape hearts and minds in so many ways. Sometimes, it's through hard-hitting documentaries shedding light on social issues. At other times, it's by sharing stories from various perspectives and cultures from all around the world. Through our work, we also present films in which Asian and Asian American stories are normalized rather than just depicted in stereotypes. By opening up our minds to this vast diaspora of stories and storytellers, we believe in inspiring a world that is more understanding and compassionate — one that is focused on the power of what connects us rather than what divides us.
Q: Among your organization's numerous programs is your recent spring showcase. What can you tell us about how that event went this year?
A: This month, we presented our eighth annual San Diego Asian Film Festival's Spring Showcase with 15 films from nine countries, over eight days. Thanks to the selections of our artistic director, a majority of our films this spring featured female filmmakers, with several who were able to join us from around the world. Additionally, we presented a special screening of "ULAM: Main Dish," a Filipino food documentary. Thanks to the creativity and planning by our team, we paired the film with an epic, 300-person Filipino kamayan feast in partnership with 15 amazing Filipino-American culinary talents in San Diego.
Q: There's a focus on films in your organization, so what's your favorite film?
A: With limited screen time growing up, I somehow ended up with an unexplainable fascination with the magic of stories told on screen. As a result, I have a few picks across various genres rather than one film overall. My recent pick for a documentary film would be "Abacus: Small Enough to Jail" by Steve James, which shared the story of a family-owned bank in Chinatown, New York, as the only bank in the country to face federal charges following the economic collapse of 2008. One of my favorite romance movies is the creative South Korean film, "The Beauty Inside," telling the love story of a protagonist that wakes up each day in a different body. Finally, my favorite musical continues to be "Moulin Rouge!"
Q: What's been challenging about your current work?
A: In presenting film, one of our greatest challenges is in creating meaningful experiences that will engage our audiences beyond just watching film. In an age where so much content is available online, we must continue to provide audiences an opportunity to connect and, more importantly, to do so in person. Of course, as with any other non-profit organization, one of the greatest continual challenges remains the need to continually engage new supporters who can become members, and even donors.
Q: What's been rewarding about this work?
A: The most rewarding element of my work is connecting with all of the people that move Pac Arts forward as an organization. I am continually inspired by the generosity of time, talent, and treasure that brings the Pac Arts family together and makes all that we do, possible.
Q: What has it taught you about yourself?
A: There is always so much to learn, and often, it starts with a willingness to look within. As a leader, it is important to always have a vision and to believe in it, but even more importantly, to be willing to learn and adapt from the successes and failures all along the way.
Q: What is the best advice you've ever received?
A: One of my favorite quotes shared with me early in my career was: "No one cares how much you know, until they know how much you care."
Q: What is one thing people would be surprised to find out about you?
A: Although I do not have a background in film, I consider myself an artist through my love for music as a guitarist and singer/songwriter, as well as an amateur photographer.
Q: Describe your ideal San Diego weekend.
A: My ideal San Diego weekend would include spending quality time with my wife, Phuong, and our 6-month-old daughter, Alynna. Between work and numerous other volunteer commitments, sometimes it can be a challenge to find a quiet weekend. We love enjoying meals with friends, checking out the craft brew scene, as well as sometimes simply having no plans at all.
Email: lisa.deaderick@sduniontribune.com
Twitter: @lisadeaderick
Sign up for the Pacific Insider newsletter
PACIFIC magazine delivers the latest restaurant and bar openings, festivals and top concerts, every Tuesday.
You may occasionally receive promotional content from the Pacific San Diego.