From mentoring little sisters at home to more than 1,000 little sisters in her nonprofit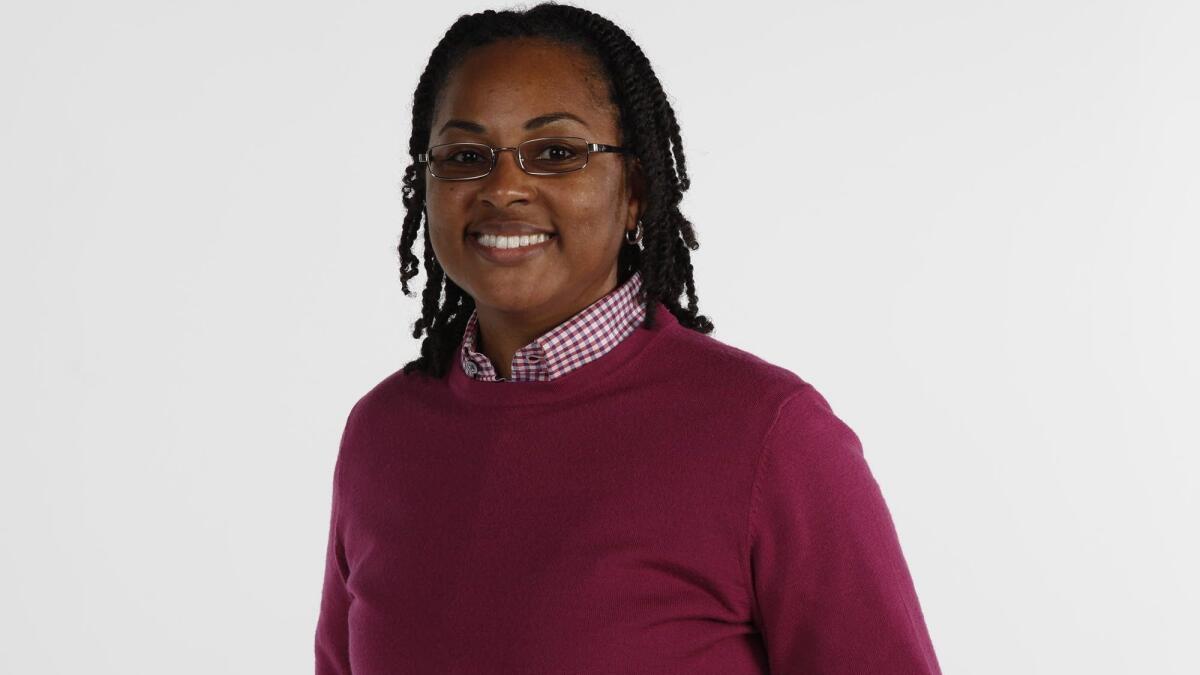 What would eventually turn into an organized mentoring program and nonprofit started out simply enough with talks over breakfast.
"DETOUR launched in 2011 after casual breakfast meetings with my little foster sister transitioned into weekly meetings at the Skyline Recreational Center," said Tinesia Conwright, founder and executive director of DETOUR (Depositing Empowerment Through Outreach & Urban Redevelopment). "The conversations we had turned into workshops and the girls began to bring their friends."
Today, it's a mentoring program for teen girls of color that provides education and employment opportunities, along with helping them navigate issues of identity, self-esteem, confidence, expressing emotions and other topics.
Conwright, 37, grew up in southeastern San Diego and currently lives in the Ocean Crest neighborhood near San Ysidro, where she's married and has a daughter. She's been active in the local black LGBT community, previously working on San Diego Pride events, and was previously named as a recipient of the San Diego Bayard Rustin Honors (named for the mentor and strategist to Martin Luther King Jr. during the civil rights movement, who was also openly gay during the 1950s and '60s). Conwright took some time to talk about her work mentoring teenagers, the importance of young people having a space to explore who they are without judgment, and getting much needed alone time on the weekends.
Q: Tell us about DETOUR and why starting this organization was something you wanted to do.
A: The purpose of the organization (was) to provide positive support and role models from the community to teen girls. Our focus now is increasing equity and inclusion for teen girls of color in education and employment. I felt the community needed a safe space for girls that was fully accepting, without fear of judgement — an environment that encouraged the girls to explore their identities and to accept and value themselves. I wanted to show the rest of the city the jewels that came out of Southeast (San Diego), versus the negative images that overpowered the messaging to those who were not from the area.
Q: What's been your goal for DETOUR?
A: My goal is for girls to have a strong foundation of self-love, self-esteem and self-confidence. With that, they can accomplish anything they set out to do and they'll know their worth. They are less likely to be involved in risky behaviors and will be more resilient. DETOUR teaches and mentors teen girls of color in sixth through 12th grade to be themselves by exploring their identities, believing in themselves through building confidence and leading themselves through participating in career exploration/employment, volunteering/service-based learning, and completing a college education.
Q: I read that you started out by mentoring your own siblings?
A: Absolutely! I am the oldest of my mother's 17 children (14 were former foster youth), and throughout college, I lived with five of my younger foster sisters and helped my mother take care of them. I would take them all to breakfast at least once a month to talk about what was going on in their lives. You'd be surprised by how much teens have going on at that age.
What I love about southeastern San Diego ...
I consider Southeast my neighborhood and I love the people who overcome odds and reach back to help others do the same thing. You just never know who we will produce next!
Q: What did you do with them? What kinds of things did you talk about?
A: I taught workshops on building confidence and held groups with them that allowed us to discuss topics they selected. It was the usual: school, boys, their bodies, boys, their minds, boys, God, boys, goals, boys, our family, the importance of working hard, and did I say boys? LOL.
Q: What kinds of results did you see from that early work?
A: One of my foster sisters and one of our first FANCY (Focused And Naturally Confident Youth) Scholarship winners in 2011, (who) both graduated from Southwestern College, are currently working for the City of San Diego and are current DETOUR program coordinators. They are working with the girls, paying it forward, just like l taught them. My youngest foster sister at that time graduated in 2016 and received a Gates Millennium Scholarship. She is now in her third year at Syracuse University, majoring in forensic science, and is currently studying abroad in London this semester.
Q: What did you learn from helping your siblings in this way that you were able to apply to DETOUR later?
A: I learned that each girl is different and you must deal with them accordingly. There is no "one size fits all" approach to working with teens. It's important to get to know them for who they are, not who you want them to be.
Q: What do you do and say to help build the girls' self-esteem?
A: We talk to them about the way they view themselves and utilize positive reinforcements and youth development lessons to make sure they have a positive self-image. We provide a nurturing environment where they feel comfortable enough to express themselves and advocate on their own behalf without being shut down by a parent or teacher. We allow them to be themselves and believe in themselves in order for them to begin displaying their unique leadership qualities and capabilities. We also provide internship opportunities.
Q: What does a nurturing environment look like in practice at DETOUR?
A: Respecting each girl's opinion, supporting their decisions, challenging them to dig deeper and think critically with their answers, being non-judgmental, coaching versus counseling, providing them with second chances to get things right rather than excluding them from activities.
Q: What are some events that DETOUR has coming up?
A: We have the FANCY Awards on March 17 at the Factory of Dreams Hall in North Park. This event will commemorate teen girls who are making a difference in our community through self-love and awareness, exceptional performance in school and extra-curricular activities, volunteer work, activism, creative efforts, and unique projects, and deserve to be recognized. These young ladies are our future leaders and we want them to continue to be uplifted and supported as we expose them to greater education opportunities.
The FANCY Teen Girls Expo is April 27 at O'Farrell Charter School and will host 200 girls from kindergarten through college as local, professional women and community advocates provide empowerment through seminars, panel discussions and entertainment. Girls will have the opportunity to engage in discussion, interact with others to share their stories, and connect with community mentors and service providers. There's also a community and STEAM resource fair.
Q: You're also active in the local LGBTQ community, specifically the local, black LGBTQ community. Why is it important to you that black members of the LGBTQ community to have a space for themselves?
A: As a young, lesbian, black girl growing up in a Christian family, I never felt like I fit. Once I became of age and gained the luxury of hanging out with people who shared these identities with me, it was as though I was "complete." We lose thousands of black LGBTQ+ youth to suicide because their families have turned their backs on them. It is for that reason — to save lives — that I believe it is important for us to have a space for ourselves.
Q: What is the best advice you've ever received?
A: Believe in God as much as he believes in you. God created you for a purpose; your job is to figure out what that purpose is.
Q: What is one thing people would be surprised to find out about you?
A: I truly enjoy spending time alone, thinking and relaxing.
Q: Describe your ideal San Diego weekend.
A: Enjoying and relaxing at a spa and resort. La Costa is my favorite!
Email: lisa.deaderick@sduniontribune.com
Twitter: @lisadeaderick
Sign up for the Pacific Insider newsletter
You may occasionally receive promotional content from the Pacific San Diego.