Column: Oscars 2018: Here are 4 reasons to watch this year's Academy Awards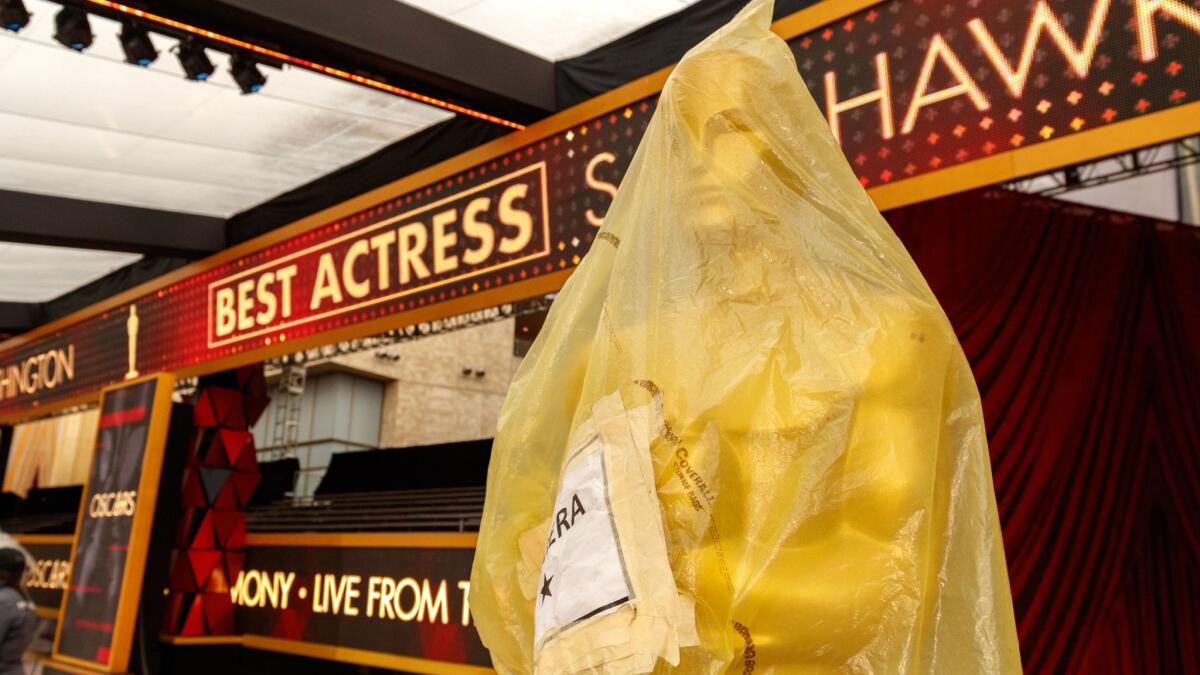 It's doubtful that someone will give the Best Picture award to the wrong movie again, but that doesn't mean this year's Academy Awards broadcast will be free of drama, shockers or #OscarUhOh moments.
Like every other awards show in our post-Harvey Weinstein climate, Sunday's Oscar bash will be operating under the shadow of the sexual harassment scandals that began rocking the entertainment industry last fall.
How to acknowledge — or not acknowledge — the elephant in the Dolby Theatre will be a big source of Oscar intrigue, but #MeToo messaging is not the only thing that will make this year's broadcast worth watching.
From red-carpet controversies to perilous punchlines, here is at look at what to watch for at the Oscars. The fun begins at 5 p.m. Sunday on ABC.
1. The Ryan Seacrest conundrum
Well, this could be awkward.
Earlier this week, Ryan Seacrest's former stylist, Suzie Hardy, did an interview with Variety detailing her allegations that the E! host groped and sexually harassed her. The E! network stands by the results of an internal investigation, which found insufficient evidence to substantiate the allegations, and Seacrest will be doing his red-carpet interviews on Oscar night as usual.
But what will everyone else do? Will celebrities — particularly our many outspoken actresses — give Seacrest the benefit of the doubt and stop by his station anyway? Or will they give him the cold designer shoulder?
If you want to see how it all goes down — or doesn't — E!'s live red-carpet coverage starts at 2 p.m. Beware of flying sequins.
2. The Time's Up Moment
At the Golden Globes, the red carpet went to the dark side, as actresses showed their solidarity with the #MeToo movement and Hollywood's Time's Up anti sexual harassment initiative by wearing black gowns. Men got with the program with Time's Up lapel pins.
There will be no color-coding at the Oscars, so the annual gown watch should be back to its usual fun and flouncy self. But that does not mean Time's Up is in a time out.
According to reports from a recent Time's Up media day, the organization is working with the Academy of Motion Picture Arts and Sciences to carve out a consciousness-raising moment during the broadcast.
While we wait to see how that plays out, let's raise a glass of our favorite celebratory beverage to the Time's Up Legal Defense Fund, which has raised $21 million in donations in just two months. Ca-Change!
3. Soapboxes and punchlines
From Natalie Portman's sly gender shout-out during the Best Director category ("And the all-male nominees are...") to Oprah Winfrey's galvanizing Cecil B. DeMille Award Acceptance speech, some of the best moments of the Golden Globe Awards broadcast were fueled by Hollywood's collective injustice awakening.
And at the Grammy Awards, performers wore white roses to support Time's Up and #MeToo, and Kesha caused a social-media meltdown with her goosebump rendition of her empowerment ballad, "Praying."
Then the Nielsen numbers came in. Ratings for the 75th Golden Globes broadcast slipped by 5 percent, and the Grammy Awards dropped by a scary 24 percent.
So you can understand why the producers of the Oscar broadcast are emphasizing fun (Jimmy Kimmel is hosting!); star-power (Gal Gadot is presenting! Mahershala Ali is presenting! Tiffany Haddish, Lupita Nyong'o and Mark Hamill are presenting!); and an impressive list of Best Song performers that includes supporting actress nominee Mary J. Blige, former San Diegan Andra Day and rapper Common.
You can also understand why Oscar watchers will be very interested in seeing how the newly politicized Kimmel walks that fine line between topical and turn-off. Here's hoping Golden Globes host Seth Meyers warned him about the mood-killing mojo of the Kevin Spacey joke. No one wants to go through that again.
4. The Best Picture Mystery
Who's going to win the Oscar for Best Picture? Who knows.
While "The Shape of Water" has the most nominations, there is no clear front runner this year. The Oscar could go to "Three Billboards Outside Ebbing, Missouri," which won best drama at the Golden Globes and Britan's BAFTA awards. But some brave souls are predicting a "Get Out" upset, and what if the Academy's tradition-minded voters swing for "Dunkirk"?
So even if the Oscar marathon has you eyeing your Netflix queue, stick around for the best picture reveal. That "American Pie" marathon will be there when you get back.
Twitter: @karla_peterson
Sign up for the Pacific Insider newsletter
You may occasionally receive promotional content from the Pacific San Diego.