Column: Netflix brings us too much of a good thing. Is that bad?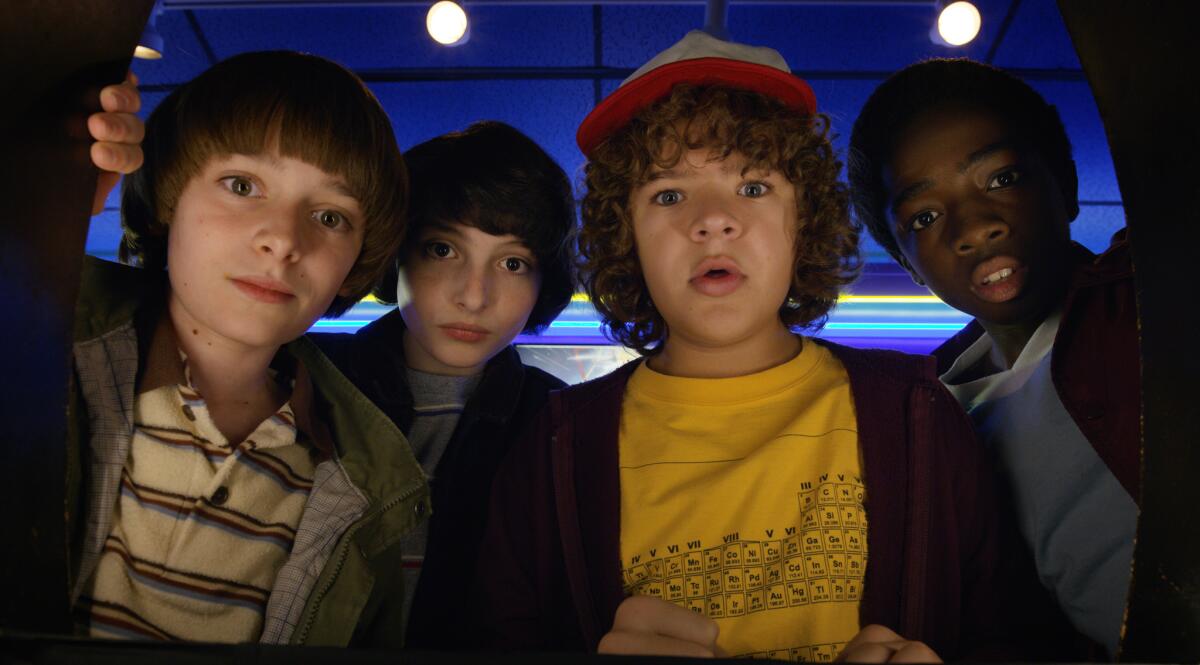 I want to talk to my doctor about "Ozark," but I'm on Season 2 and he's not there yet. My food-TV loving colleague is dying to discuss "The Great British Baking Show" reboot, but she binge-watched the whole season over the course of a few sugar-rush days, and I am still savoring the third episode. My sister-in-law can't wait to deconstruct the "Stranger Things" Season 2 finale, but she hasn't watched it yet and I've forgotten the ending already.
Welcome to the Byzantine entertainment paradise that is Netflix, which provides pop-culture lovers with more great TV than ever while also giving us fewer opportunities to share it. We may all be subscribing to the same streaming service, but we are almost never on the same page.
Not that there is anything inherently wrong with too much good TV. When the Emmy Awards air on Monday, Netflix will have the honor of being home to more nominees than HBO, which is pretty good for a service that made its name sending customers DVDs of TV shows and movies made by other people.
And the Netflix nominees are a compulsively watchable bunch. You've got "The Crown," the sumptuous, soapy drama about the life of Queen Elizabeth II and her fascinatingly flawed friends and family. There is the aforementioned "Ozark," a "Breaking Bad"-style noir starring Jason Bateman as a financial planner who probably didn't plan on a career in money laundering for a drug cartel.
Also the crazy-great "Stranger Things," the heart-tugging "Queer Eye" reboot, and "GLOW," the fiercely feminist comedy that also happens to be about lady wrestlers.
That's a lot of quality television right there. I just wish Netflix didn't make it so hard to talk about it.
The disconnect started in 2011, when Netflix made the first four seasons of AMC's "Mad Men" available all at the same time, introducing many viewers to the mixed-bag pleasures of binge-watching.
The great news was that all of the people who meant to watch "Mad Men" finally got the chance to catch up, and all of the fans of the show suddenly had plenty of company around the pop-culture water-cooler.
The bad news was, everyone was gulping the show at a different rate. Veteran watchers had to be careful about revealing too many plot points too soon, and newbies had to beware of stumbling onto online spoilers when all they wanted to do was find out why the actress playing Peggy Olson looked so familiar.
The whole experience got a lot more complicated in 2013, when Netflix debuted its first original series. It was "House of Cards," and as it did with its non-original programming, the company made all of the first season's episodes available all the same time.
Now, Netflix viewers have five seasons of "House of Cards" available for viewing at any time in any quantity. There are also six seasons of "Orange is the New Black," four seasons of "Grace and Frankie," three seasons of "Bloodline" and "Narcos"; and two seasons of "The Crown," "Stranger Things," "Ozark" and "GLOW.'
It's all there for the binging. But like online shopping sprees and YouTube cat-video marathons, binging on Netflix originals has its payoffs and its drawbacks.
The payoff comes with the rush of locking into a great story and not letting go until you're ready. And without commercials to worry about or between-episode memory-lapses to make up for, your thrill ride doesn't stop until your TV vehicle coasts into the station.
But then what?
If you're lucky, you have a viewing partner who is just as excited, flummoxed or outraged about the show's final outcome as you are and can't wait to discuss it at length. But what if you watched it on your own? Or you wrapped it up at 2 a.m.? Or everyone you know finished watching this show six months ago?
You're all amped up with nowhere to go.
While there is a lot to be said for convenience, you can't discount the importance of community. If I had been forced to deal with, say, the bewildering "Lost" finale or the mind-blowing last episode of "The Sopranos" without the immediate support and feedback of my mob of TV friends, I would have been one unhappy couch camper. I needed my people, and I'm glad we were all in the trenches at the same time, scratching our heads over what we had just seen.
I miss that. I will always miss that.
But I love TV too much to complain about too much TV, so let me end on a positive note. If you start now, you can watch all 20 hours of "The Crown" and/or all 10 hours of "GLOW' before the Emmys air on Monday night. Feel free to drop me an email and let me know what you think.
I'll have plenty to watch while I wait.
Twitter: @karla_peterson
Sign up for the Pacific Insider newsletter
You may occasionally receive promotional content from the Pacific San Diego.