Comedian Billy Eichner to launch 'lively and fun' voter participation effort in Oceanside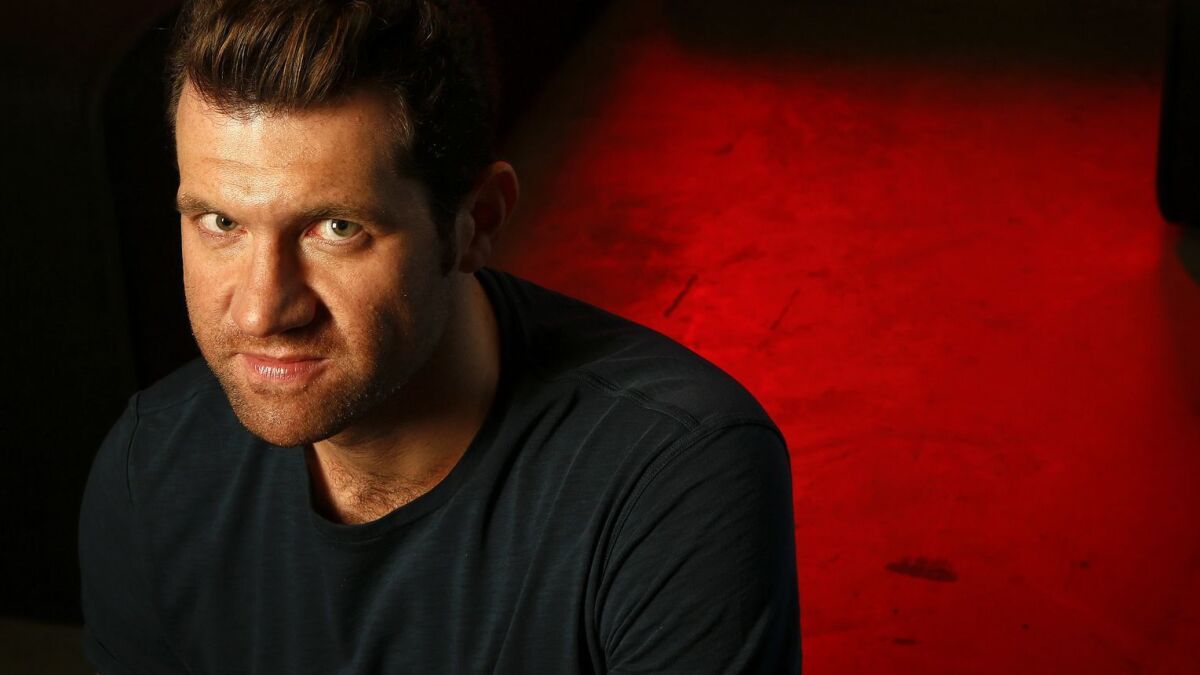 Comedians Billy Eichner and Will Ferrell are headed to Oceanside in their first live event for a young-voter outreach project ahead of this year's midterm elections.
Ferrell will appear as Ron Burgundy, his character from the 2004 movie "Anchorman." Burgundy was a wacky TV newsman from a San Diego station.
Oceanside is in the heart of the 49th Congressional district. In 2006 about 77,000 registered voters sat out of the election. Eichner is trying to increase turnout across the country, particularly with young people.
Like a legislative whip trying to wrangle support for a bill, comedian Billy Eichner is keeping track of who has voted and who hasn't.
He's known for his game show "Billy on the Street" and his work with the Funny or Die comedy website and production company, but on Thursday Eichner is headed to Oceanside to muster up some votes in the first live event for his latest project, Glam Up The Midterms.
Eichner is bringing along Funny-or-Die co-founder Will Ferrell — in character as Ron Burgundy, the obliviously misogynistic newscaster from "Anchorman" who somehow thought "San Diego" was the German word for a certain whale organ, among other vacuous theories.
"We want to keep it lively and fun," Eichner said in a telephone interview. "And I realize that there is nothing that sounds more boring and dry or less sexy than the midterm election."
He's trying to connect with young people who have not yet registered to vote or just recently joined the voter rolls. While millennials are expected to be the largest voting bloc in this year's elections, people in their late teens through their twenties are notoriously difficult to convince to cast a ballot. To nudge them toward the polls, tickets to the event will only be given to people who register to vote for the first time or who sign up to receive Glam Up The Midterm's election alerts if they had previously registered.
"I saw statistics about how many millennials voted in 2016. It was between 12 or 20 percent. Either way, it's a very low and disappointing number. And I have a lot of really young fans that have been watching me and watching my career grow over the years, and they're really motivated and smart kids and they're smarter than I was at that age, especially with what's happening in the news, and they want to engage now," he said.
Midterm elections rarely capture the civic imagination. Without presidential candidates at the top of the ticket, turnout is dismally low, especially in the primaries. But Eichner sees opportunity in that.
"I have skipped many a midterm election in my day because Election Day comes around and the daily grind of life or school or work gets in the way," Eichner said. "I am trying to get ahead of all that and make sure that people know that those excuses are legitimate but are no longer enough. You have to plan ahead, you have to go vote, and you can't complain about what's happening in our country or our state or our town if you don't take the steps."
So about a month before the county registrar starts to ship vote-by-mail ballots, he and Ferrell are going to Oceanside in the heart of the 49th Congressional district, a coastal California seat stretching from La Jolla through Camp Pendleton to Dana Point. The district, combined with California's top-two primary and 16 candidates, make it a good setting for the event, Eichner said.
Two years ago incumbent Rep. Darrell Issa, R-Vista, beat Democratic challenger Doug Applegate there by 1,621 votes, the closest congressional race in the country. As Eichner noted, about 77,000 people that were registered to vote stayed on the sidelines.
"All the protests, all the marches, all the tweets in the world don't matter if you don't go vote," he said.
Besides getting more people registered, Glam Up The Midterms will also repeatedly remind young people they have to go to the polls.
"There are many voter registration efforts like ours, and they are all pretty successful," Eichner said. "But then when you look at the statistics, even people who have registered to vote recently don't go out to vote."
To help keep them motivated between when they register and Election Day, Eichner said he'll connect with them through direct and straightforward messages as well as with humor and entertainment. Glam Up The Midterms will talk about how they have to still vote even if they believe that their favorite candidate will win, or if they don't completely like one candidate but believe one flawed choice is better than another.
An uptick in young-voter turnout, even a modest one, could have a significant impact on elections since young people tend to vote Democratic.
Eichner said that as a "liberal-gay-Jew from New York City," he would like that outcome, but he's focused on increasing voter turnout. He said that Glam-Up The Midterms is non-partisan and won't endorse any campaign, but he said he might, on his own, back a candidate publicly.
Sara Jacobs, 29, a Democrat and the youngest candidate running in the 49th District, said that young people won't go to the polls merely for an anti-Trump or anti-Republican candidate.
"We have to give them something forward-looking to vote for," said Jacobs, a former non-profit executive, in a statement. "Young people are demanding universal health care, stronger gun laws, bans on corporate money — and we see that the same old boys club hasn't gotten the job done."
Ammar Campa-Najjar, a Democrat running in the neighboring 50th District and also 29, agreed that millennials are tough to get to the polls. He said the investment of energy pays off. His campaign was part of an effort to register thousands of high schoolers who will be old enough to vote by Election Day.
"The reason that's awesome is that if you can conceivably get them out to vote, you're not just getting them, they're going to bring their families," he said by phone. "It's definitely not low-hanging fruit, but if you can capture it, you get more than just one vote."
Young people need steady reminders to get them to cast a ballot make sure that other young volunteers are talking to young voters, and show that voting isn't just a civic duty but makes someone a part of a community.
"Fast food and our short-term memories, that's just how we are," he said. "We need constant follow-up and reminders."
To attend the Oceanside event, people can register at glamupthemidterms.com. Ticket winners will receive an email by 4 p.m. Thursday telling them of the event's time and location.
After Oceanside, Glam Up The Midterms is headed to Los Angeles for an event at RuPaul's DragCon in May.
Twitter: @jptstewart
joshua.stewart@sduniontribune.com
(619) 293-1841
Sign up for the Pacific Insider newsletter
PACIFIC magazine delivers the latest restaurant and bar openings, festivals and top concerts, every Tuesday.
You may occasionally receive promotional content from the Pacific San Diego.