Column: How does an L.A. English teacher from San Diego end up with an Oscar?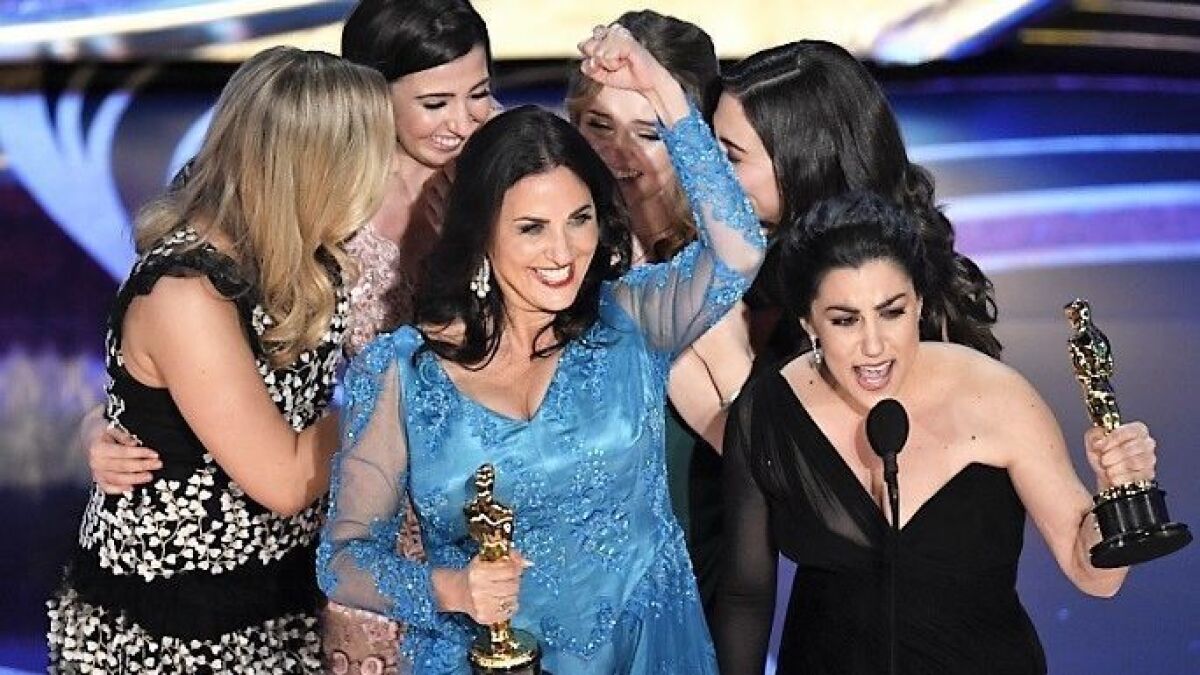 San Diegan Robert Berton was extremely proud of his daughter's Oscar acceptance for best documentary short film. Producer Melissa Berton's opening words were: "A period should end a sentence, not a girl's education."
In fact, she and the documentary's director, Rayka Zehtabchi, were credited with perhaps the most powerful acceptance speeches of the evening. Their 26-minute film, "Period. End of Sentence," focuses on girls in a village in rural India which gets a machine to cheaply manufacture biodegradable sanitary pads, allowing them to combat the marginalizing stigma of menstruation.
"I can't believe a film about menstruation just won an Oscar!" a tearful Zehtabchi announced to the Dolby Theatre's audience of celebrities and VIPs.
Robert Berton watched the Oscars unfold at a viewing party with about 50 others at the Del Cerro home of another of his four daughters, Jennifer Handler.
They almost didn't get to see Melissa's victory speech. Her category — documentary shorts — was one of four that the Academy had considered presenting during commercial breaks to shorten a ceremony traditionally running long enough for a man to grow a beard.
"I would have paid any price to be there with my daughter," said Berton, 81. "They only gave her one extra seat and that went to my granddaughter." He was referring to Melissa's daughter, Helen Yenser, 23, who had worked with her mother on the film and stood behind her on stage as the Oscar was presented.
She is one of six students from North Hollywood's Oakwood School, where Berton teaches secondary school English, credited as documentary co-executive producers. The film explores The Pad Project, a nonprofit organization which the L.A. students started to help the young girls in a rural India village with sanitary pads. Without them, the girls frequently dropped out of school and curtailed public activities after reaching puberty. Some were pushed into early marriages.
Creating the documentary was a five-year journey, explains Melissa's father. The idea arose from a presentation at the annual United Nations' women's conference to which Melissa takes some of her students every year.
Afterward, the students discussed finding a way to get sanitary products to young girls in rural India and Africa. Melissa challenged them to come up with a project. They learned of a machine developed by a man in India that makes biodegradable pads inexpensively.
They drew upon the knowledge of families in the entertainment industry whose children attend their school and decided it would be easier to raise funds if they first made a documentary to draw attention to the problem. They set up an online Kickstarter campaign to buy the machine, set it up in rural India and finance the documentary.
In some ways, you could call Berton an accidental documentary producer. The Patrick Henry High graduate wasn't into making films during high school, but she did pursue theater arts later at UCLA.
When the documentary was completed, they decided to enter it in film festivals to increase exposure to their cause. It did so well in the festivals last year, winning several awards, that it became one of more than 100 candidates for an Oscar nomination in the short subject category.
Robert Berton, whose wife died several years ago, said he hoped and prayed his daughter would win an Academy Award. When the announcement came, "we all jumped up, and screamed, and hugged and kissed. It was pretty amazing.
"I was so proud to see my daughter up there, and she gave a real good punch line," Berton said.
Despite the sudden Oscar fame, however, her dad says she remains an English school teacher, not a filmmaker, at heart. He doesn't know if she will ever get involved in another documentary project.
"Now she will be able to raise a lot more money to get those machines to villages in India and also to Africa." he said.
(619) 293-1518
Twitter: @dianebellSD
Facebook: dianebell.news
---
Sign up for the Pacific Insider newsletter
PACIFIC magazine delivers the latest restaurant and bar openings, festivals and top concerts, every Tuesday.
You may occasionally receive promotional content from the Pacific San Diego.