Who killed Normal Heights' iconic book store? There's a rogue's gallery of suspects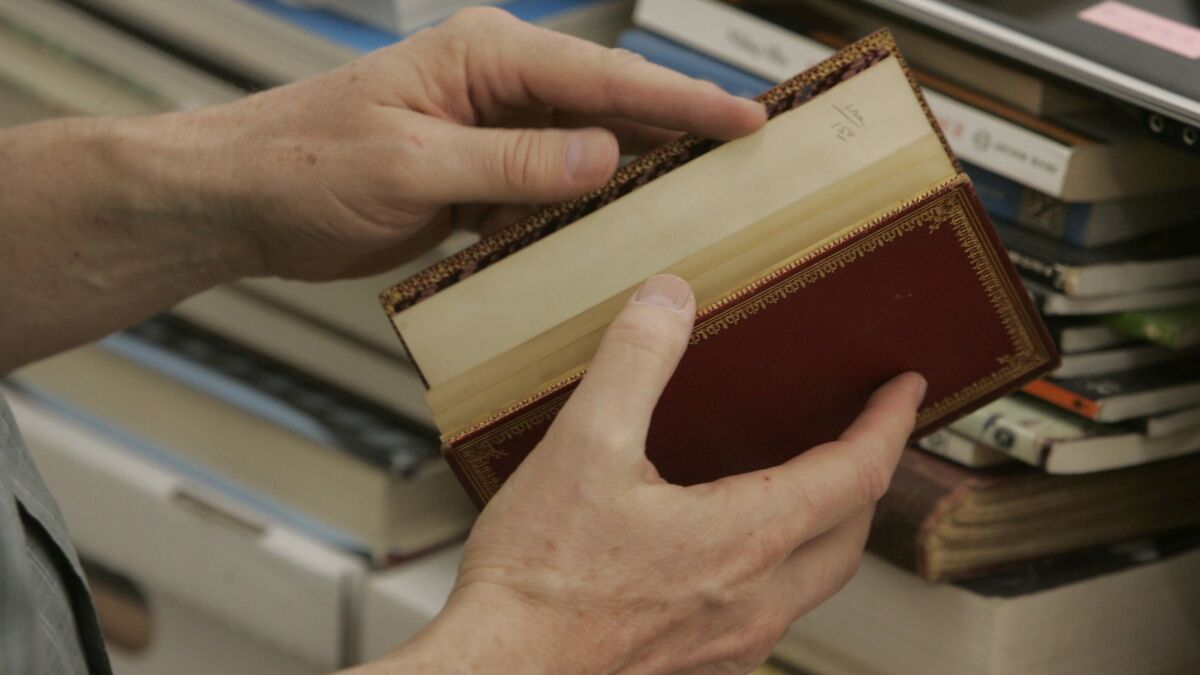 Even Hercule Poirot might be stumped by the death of Normal Heights' most fabled book store. Like an Agatha Christie mystery, there's no shortage of suspects.
Was the culprit Amazon?
Fading interest in the printed word?
Or was the Adams Avenue Book Store's fate sealed by the disappearance of a shadowy figure, the book scout?
"Assigning blame is a tough game," said Brian Lucas, 70, the store's owner, citing rising costs and falling revenues. "It's not lining up any more."
From coast to coast, established vendors of used collectible volumes have died. The casualties included some prominent names: Gotham Book Mart in Manhattan, Dutton's in Los Angeles, Shakespeare & Co. in Berkeley. Downtown San Diego once boasted seven or eight shops, led by Wahrenbrock's Book House on Broadway. Today, they're all gone.
Downtown, though, couldn't compete with Normal Heights' main thoroughfare. Two decades ago, Adams Avenue had 11 book stores, peddling cook books, children's books, mysteries, philosophy, history, theology, science fiction, classic literature and paperback thrillers.
"We had people all the time who would fly into San Diego from Boston, say, for a conference and they'd get in a taxi, blow off the conference and spend all day in the stores," Lucas said. "You don't see that any more."
On this bookish boulevard, this literary lane, this scholarly street, Adams Avenue Book Store is one of the last survivors — and its days are numbered. The shop's going-out-of-business sale, which starts Monday, will continue until mid-July.
Then? The End.
Watering hole
Like many mysteries, this one has an obvious suspect. But as whodunnit fans know, the real villain usually isn't readily apparent.
Lucas and his long-time manager, Michael Smythe, admit they've lost some business to Amazon and its Internet ilk. With a click of a mouse, virtual stores can provide countless books, in either ink-on-paper and electronic varieties.
But…
"I've never felt that Amazon or — what was the other big retailer, the one that went out of business? Borders? — or Barnes & Noble are responsible," said Smythe.
And while streaming cable TV shows, movies on demand and podcasts provide increasing competition for Americans' attention, brick-and-mortar book stores are far from doomed. Across the country, sales at walk-in shops rose 2.3 percent in February compared to February 2017, and 3.5 percent in March over March 2017. There was a steep January-over-January drop, true, but this vibrant industry still logged $2.74 billion in sales during 2018's first quarter.
Adult hardcover sales were up 11.2 percent in this quarter, Publisher's Weekly reported, while e-book sales dropped 7.1 percent.
In San Diego, the 2016 opening of Verbatim in North Park and the 2017 debut of The Book Catapult in South Park gladdened veteran dealer Dennis Wills.
"It's encouraging to see those two attempts," said Wills, who runs D.G. Wills Books in La Jolla. "But Adams Avenue was an anchor and in the right location, it seemed to me. I never saw this coming."
Anchoring the corner of Adams and 35th Street, Adams Avenue Books opened in 1965. The business passed through two sets of owners before Lucas, a Presbyterian minister without a flock, bought it in 1988. A decade later, he acquired the two-story, 3,400-square-foot building.
This literary outpost is equipped with a mellow cat — the incumbent, Bartleby, succeeded Mr. Mulliner — tables and easy chairs, plus 60,000 volumes. Paperback Stephen Kings and Danielle Steels can be snapped up for a few bucks, while that first edition of Nathaniel Hawthorne's "The Scarlet Letter," published in 1850, lists for $2,500.
Lucas and Smythe maintain extensive theology and philosophy sections, and the world history nook spans every era and all corners of the globe.
By sheer numbers, Amazon has a far greater reach, offering close to 2 million titles. But Adams Avenue offers something that the Internet can't quite match.
"It's like a watering hole," Smythe said. "This is where people can gather and discuss books and current events and ideas."
Fewer and fewer, though, seek refreshment at this oasis.
To Leonard Woolf
Soon after Lucas bought Adams Avenue, he became acquainted with a rare breed: the book scout.
In the 1980s and '90s, these nomads still prowled book stores. Looking for treasures at junkyard prices, they bought volumes in volume, then sold them at a profit to antiquarian shops or eager collectors. Some scouts, alerted by catalogs published by large book dealers, flew cross-country for the chance to score a rare first edition or a signed classic.
This was part of the romance of the trade, Lucas said, which was closer to a medieval guild than a bottom-line, dollars-and-cents enterprise.
"There was an etiquette," he said. A fellow bookseller could be ensured of a warm welcome and a hefty discount when visiting shops at home or abroad.
The store also catered to collectors intent on building up personal libraries.
"They were carefully put together over years in a certain area," Smythe said. "Assembling that kind of specialized collection over time, you don't see that any more."
Today, book collectors and scouts are more apt to scan offerings via the Internet, rather than browse the stacks in the flesh.
There are still finds to be unearthed by patient experts. Smythe is occasionally called by estate agents, asking him to check the dearly departed's library. In 2011, one such calls sent Smythe to a storage unit in Chula Vista, where he bought 20 to 30 hastily selected books for a few thousand dollars.
Back at the store, staffers sorted this haul. At the bottom of the pile was a 1931 book, "The Four Gospels," printed on parchment with etchings by Eric Gill.
"Only 12 copies were ever made," Lucas said.
And only one — this one — was inscribed by Gill to his friend, Leonard Woolf, the husband of novelist Virginia Woolf.
At New York's Swann Auction Galleries, "The Four Gospels" fetched $132,000.
That was a rare win for the Adams Avenue Book Store. With the shop's profit margins thinning, the ranks of collectors dwindling, the pressures from Amazon growing, Lucas decided that the occasional coup isn't enough.
Fifteen years ago, the county had about 90 book stores.
"Now," Smythe said, "you can't find more than 10."
That's a small number. Soon, it will be smaller by one.
Sign up for the Pacific Insider newsletter
PACIFIC magazine delivers the latest restaurant and bar openings, festivals and top concerts, every Tuesday.
You may occasionally receive promotional content from the Pacific San Diego.