Company creates furniture from felled trees
As San Diego's trees fall victim to drought and development, Dan Herbst and Jessica Van Arsdale see potential in the destruction.
"We're a foster home for wood," said Van Arsdale, who with Herbst owns Urban Timber. The company, which has a workshop in Chula Vista, mills and creates furniture and other "functional art" from felled trees.
The idea started more than 10 years ago, when Herbst saw Caltrans cutting up eucalyptus trees as he was driving down the freeway. He stopped and asked the crew what they do with the wood and learned that it will end up in the landfill. While he didn't pick up those trees, he found others that could be repurposed. Lots of them.
At the time, Herbst, who has a degree in fine arts from UCLA, was working with alternative materials. "Trash to treasure was a definite draw," he said.
Herbst, 37, had grown up in San Diego and had returned to the area for a master's degree with a full scholarship from UC San Diego. But he soon realized the program was not a good fit. Instead, he helped an uncle, a demolition contractor, remodel his house using recycled material.
After milling his first eucalyptus tree in 2007, Herbst said, "I knew that's what I wanted to pursue. It was so beautiful." Eucalyptus got a bad rap, he said, with the failed attempt to use them as railroad ties around turn of the 20th century. They were harvested immaturely at about 20 years, causing them to crack; eucalyptus need to be at least 60 years old before they are usable, he said.
Herbst started milling all the trees he could get his hands on. "I started hoarding wood," he said.
Rina Moceri, owner of Kettle & Stone and Studio 25 in Mission Hills, heard about Urban Timber through a friend 10 years ago. She called Herbst when an 80-year-old eucalyptus fell in the canyon behind her home.
She went back to Urban Timber four years later to have the company help her create a coffee bar, salon stations and a barn door for the studio with wood from the eucalyptus.
"Dan knew which one was my tree. They had it marked," she said. "They also built a display unit for my coffee shop from the last piece of the tree, so that was really special. It's a sweet story."
While lumber should be milled as soon as possible, it takes one to two years to properly dry before it can be used. The milled wood is air dried for at least a year, and then dried in a kiln for a few weeks to kill the bugs.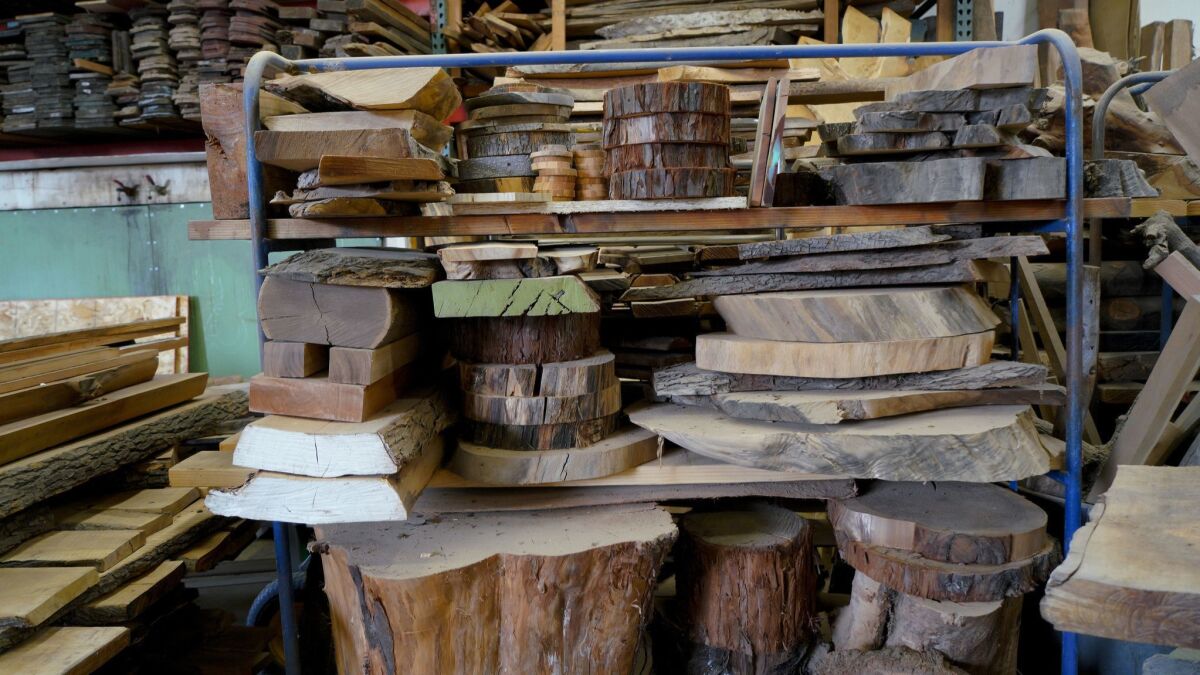 Urban wood is different from commercially grown wood because it comes with lots of imperfections. The pieces from Urban Timber celebrate the trees' flaws, such as scars from trimming and holes from bugs.
That's where Van Arsdale comes in.
She fills cracks, holes and missing edges with colored resin. Originally a holistic health pracitioner, Van Arsdale, who is 47, joined the company five years ago.
"It totally takes on another dimension," Van Arsdale said of the resin. "It brings in the element of color."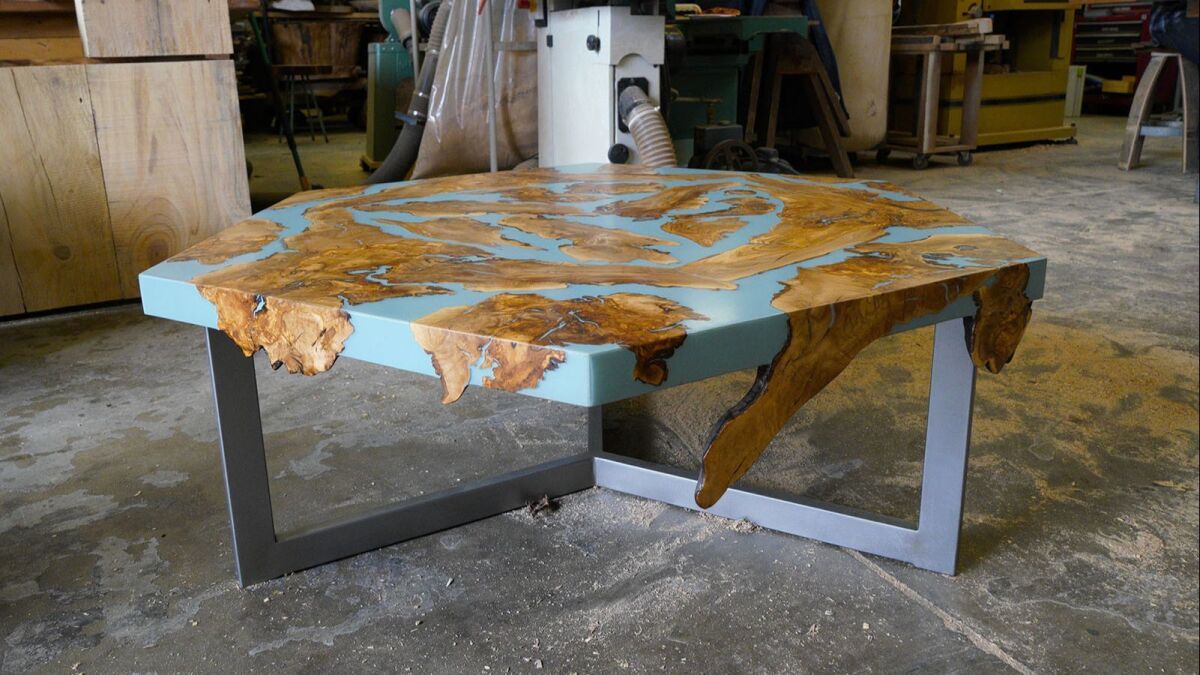 Tables, stools and benches make up most of the furniture the company creates, but "We do whatever people ask us to do with wood and steel. We only say no if it's not in tune with our values and aesthetics," Herbst said.
Mostly, they like to collaborate with their clients.
"The come in with a vision, we do a sketch and by the time they get a table, they get an immaculate piece of art," Van Arsdale said. "We make sure it's want they wanted," Herbst added. "I don't want to pour my heart and soul into something and it not be right."
Pieces are priced by the square foot, starting at $110 and topping out at $150 for a resin cast. A dining room table will, on average, cost $3,000 to $5,000.
About 60 percent of their business is residential. "A lot of the time it was their tree, so it's very sentimental. A lot of people value that," Van Arsdale said.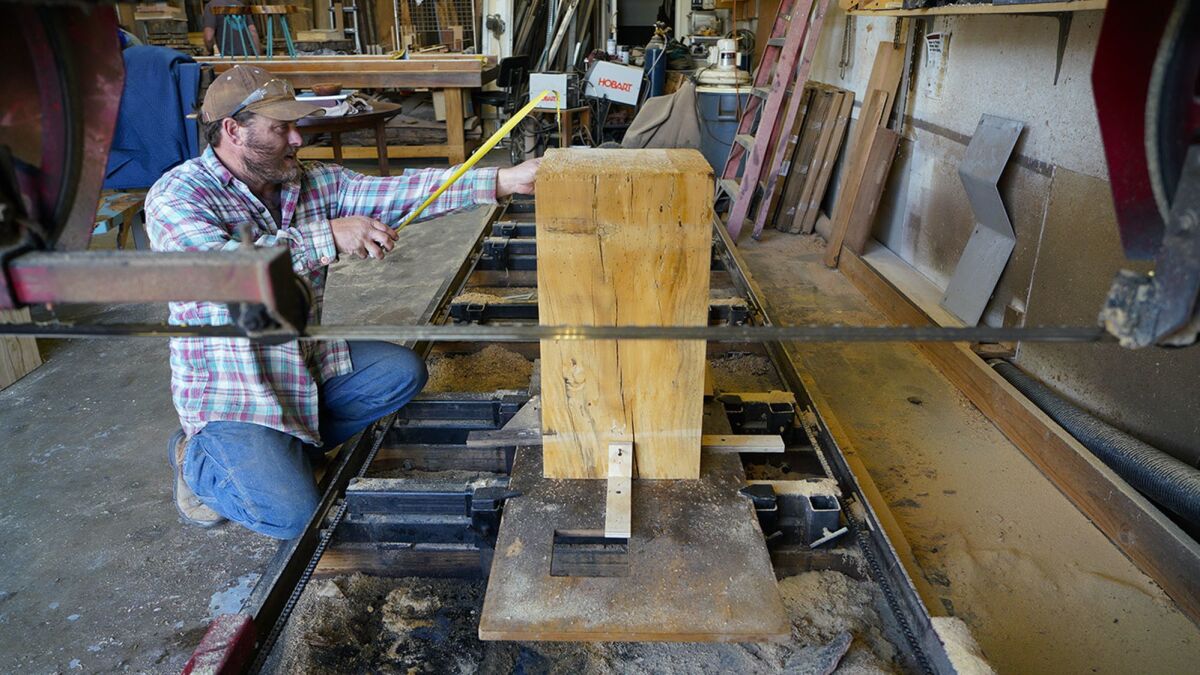 Mike McConkey turned to Urban Timber when he and his wife, Shawn, needed a counter for a breakfast bar at the Lakeside home they built with used shipping containers. He bought the completed piece, which was made out of Torrey Pine for a home and garden show, 1½ years ago. He also bought a redwood slab for a bathroom counter and redwood planks for a barn door.
Herbst "builds amazing furniture. I would love to have some of that, too," McConkey said.
Commercial projects include everything from décor for restaurants, such as Karl Strauss, Juniper & Ivy and Raglan Public House, and the interior design for Gracie James, a boutique in La Jolla that sells handcrafted items, to collaborations with UC San Diego and The Park, an office complex in Sorrento Valley with a 7-acre open space.
When UC San Diego needed to remove 60 eucalyptus trees for new infrastructure two years ago, Urban Timber created benches for the area. They also made speaker boxes, stools and benches for "The Wind Garden," a musical installation in a eucalyptus grove on campus, which was completed last summer.
The company has now partnered with Friends of Balboa Park to remove dead and dying trees in the park, many of them redwoods.
"The drought is taking a toll on redwoods throughout San Diego," Herbst said. "There's just not enough water to sustain their canopy."
The crew — which includes sawyer and furniture maker Salvatore Devito, furniture maker Edward Storer and graphic designer and shop technician Matthew Phelan — also sees a lot of acacia and olive trees, but the sugar gum eucalyptus is the company's "bread and butter," Herbst said. "It's a crowd pleaser — strong and beautiful."
"People are starting to see trees differently," Van Arsdale said. "This is starting to catch momentum. We're so excited about moving forward and doing right by the trees."
Schimitschek is a San Diego freelance writer.
Sign up for the Pacific Insider newsletter
PACIFIC magazine delivers the latest restaurant and bar openings, festivals and top concerts, every Tuesday.
You may occasionally receive promotional content from the Pacific San Diego.