His name is Edred Utomi — but you can call this San Diego-sprung actor Alexander Hamilton
When last seen in San Diego, Edred Utomi was rocking a bright-red wig and an ungainly, podlike costume as a somewhat anonymous ensemble member in "Dr. Seuss's How the Grinch Stole Christmas!" at the Old Globe.
Now comes the natural follow-up: A role in the mega-hit musical "Hamilton."
As Alexander Hamilton.
Wait … what?
It's true: Less than four months after wrapping "Grinch" and then heading off to New York City in hopes of finding work in theater, the University of San Diego-trained Utomi is living a stage actor's dream.
He is traveling the country as the standby for the title character in the "Angelica" tour of "Hamilton" — one of the Broadway show's two U.S. road companies, and the same one that came through San Diego in January.
Utomi didn't see the show at that time because he had already left for New York days before it arrived here. In fact, he had never seen "Hamilton" at all until catching a performance on Broadway in the second week of February (although he had long since memorized its hip-hop-driven score).
By that time, Utomi had already known for a week that he'd be joining the touring version of the Pulitzer Prize- and Tony Award-winning show, after an extraordinarily fast audition process that began with a call from his agent in mid-January.
"It's crazy to say that I get to play Hamilton in 'Hamilton,' " Utomi says with an amazed laugh, talking on the phone from St. Louis, where the musical closes a three-week run Sunday before heading to Houston.
"It's my dream show; it's the dream role. It's really been such a blessing."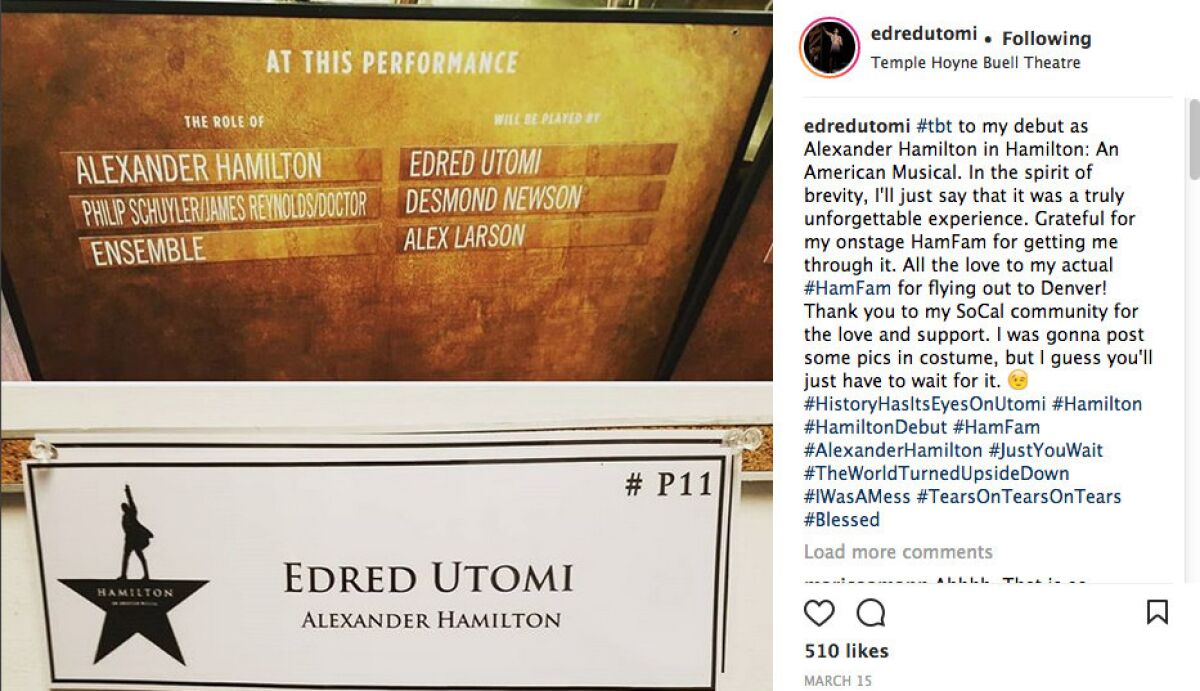 His casting also seems perfectly in tune with the musical's meaning and message: Utomi, a gifted and hard-working son of Nigerian immigrants, is now playing a gifted and hard-working immigrant, one who became an American founding father and the first U.S. treasury secretary.
As the standby for "Hamilton" principal Austin Scott (who also played the title character in San Diego), Utomi generally steps into the top role on the first Thursday of the show's run in a new city. After that, he plays the part on Tuesdays.
"And I'm also always at the theater if (Scott) calls out or gets sick or hurts himself," Utomi says.
Scott, he adds, "is incredible. He's a tank." Still he's human: "Denver's altitude was an issue, so a couple of times he had me go in so he could take a day of rest," says Utomi, who went on in Denver — his first city — a total of five times.
His very first performance as Hamilton was there on March 13.
"My family got to fly out, which was amazing," Utomi recalls.
Promising path
If Utomi's chorus-to-stardom story sounds like something out of a Broadway fable, it probably comes as less of a surprise to those who had been following his career in San Diego.
While Utomi never really had what you'd call a big, breakout role in his five years of stage work here since graduating from USD, the way he stood out in ensemble roles was a clear sign of his talent.
Among his top recent roles in town were turns in San Diego Rep's "My Mañana Comes," New Village Arts' "The Nutcracker" and Moonlight Stage Productions' "Sister Act."
When the Union-Tribune spotlighted Utomi last fall as "a top San Diego-trained actor with Broadway in his sights," he was just going into "The Grinch" after a run in San Diego Musical Theatre's new musical revue "Pump Up the Volume."
Utomi credits that show's director-choreographer and co-creator, Colleen Kollar Smith (now managing director of Moonlight), as a key mentor, starting when she guest-directed a show at USD.
"I remember one day instead of rehearsing, we just sat there and asked her all these questions," Utomi says. "And she really was just so informative."
Not long after that, she recruited Utomi for his first musical role, in Intrepid Theatre's 2013 production of "A Midsummer Night's Dream," co-directed by Kollar Smith and Christy Yael-Cox.
"That was the beginning," Utomi says. "I think back to that time, and I was so scared, and I was so untrained. And I still am!
"But over the past five years I've gotten to work with such great talent, and the Southern California community was such a training ground for me.
"I didn't grow up tapping at the age of 2 or 3 – which, when you talk to a lot of musical-theater people, they did. I always felt like I was playing catch-up.
"(But) the San Diego theater community helped me learn. And in those five years, I was saturated with such talent, and was able to learn from such talented people. It was such a blessing, it really was."
One other huge inspiration came from the creator of "Hamilton" himself: composer-writer-lyricist and original star Lin-Manuel Miranda.
In 2009, unsure about his path in theater, Utomi went to see Miranda's first Broadway hit, "In the Heights," on its tour stop in San Diego.
That experience was to become "a major part of why I continued to act," Utomi says.
"I was a freshman in college. I really wanted to act but was I like, I don't know if I can — if financially I can stick with it.
"And I saw that production, and it was that moment in my life where I knew I had to do it. It was more of a calling now.
"I saw it with one of my brothers and my sister. And they said, 'You were smiling the entire time!' I was so in awe.
"I remember the song 'Breathe.' I didn't breathe through the entire song."
Now Utomi is breathing in what it's like "to be able to be a part of a show like that for hundreds and thousands of other people. And how telling that story is important to all those people.
"You go to the stage door and the fans are crying, or are so happy they can't speak. It's just a range of emotions. And they're all so thankful to be there.
"I've heard so many times, 'This is my favorite show; I've been listening to the album for two years, and I never thought I'd be able to see it.' "
Utomi, who is contracted to be with "Hamilton" for a year (and is also learning the roles of George Washington and Aaron Burr), can't help but think back to an evening last December when his sister won the ticket lottery to see the musical in Los Angeles.
She invited him to go, but "I had a show that night," Utomi says. "I remember at the time I was so bummed. But I was in 'The Grinch,' and I was loving it. I was just like: 'Go — it's fine!'
"But I was always talking about speaking things into the universe, so I was like, 'It's fine, I'll be IN it someday, so it's cool.'
"And then fast-forward a few months. And I'm actually in it."
RELATED
Review: 'Hamilton' captures thrillingly the triumphs — and trials — of a patriot and a nation
'Hamilton' educational program inspires students with artful history
At long last, 'Hamilton': Megahit musical lands in San Diego this weekend
Twitter: @jimhebert
Sign up for the Pacific Insider newsletter
PACIFIC magazine delivers the latest restaurant and bar openings, festivals and top concerts, every Tuesday.
You may occasionally receive promotional content from the Pacific San Diego.