New York critics not having a (disco) ball at Broadway premiere of La Jolla Playhouse-bred Donna Summer musical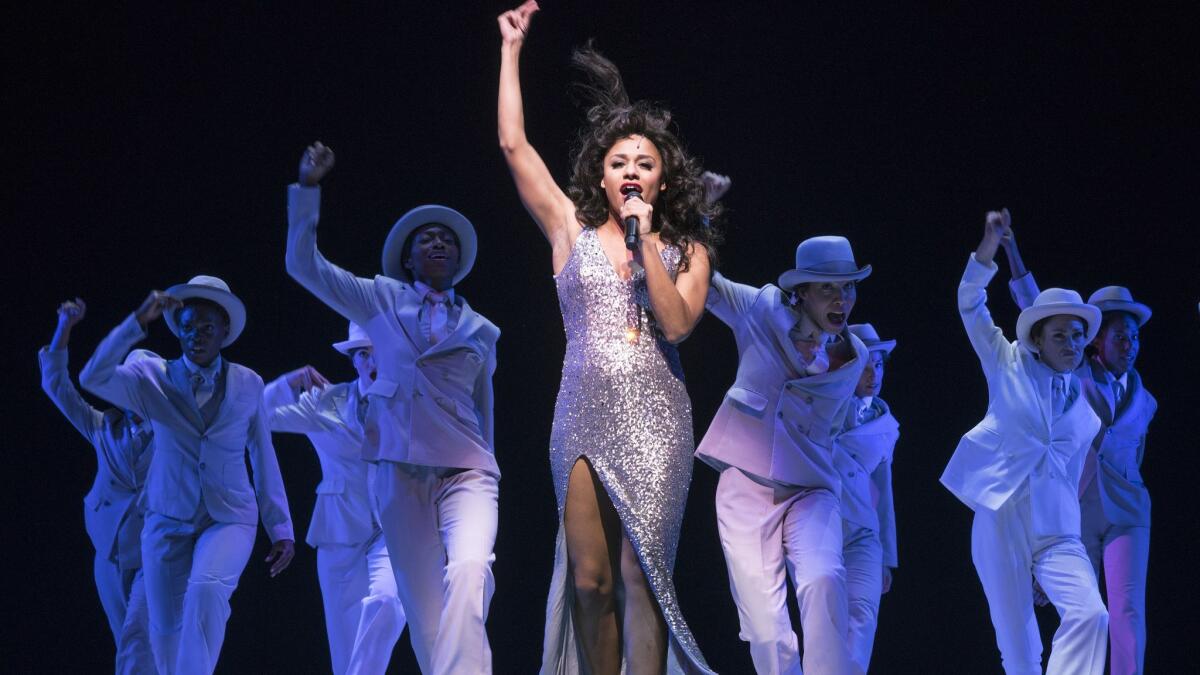 New York critics have some things to say about the La Jolla Playhouse-bred musical "Summer: The Donna Summer Musical," whose Broadway production opened Monday.
And few of those things appear to be "I feel love."
The show, which transferred to Broadway extraordinarily quickly after its world premiere at the Playhouse last summer (full disclosure: I didn't think it was so hot here either), tells the story of Summer, the late Queen of Disco whose sound helped define an era.
As it did in San Diego, the show stars LaChanze, Ariana DeBose and Storm Lever as three separate incarnations of the pop star.
While that trio deservedly earned positive mentions in many reviews, the musical itself — directed by Tony Award-winner and former Playhouse artistic chief Des McAnuff — is one that the New York critics seem to be taking particular delight in skewering.
In the New York Times, Jesse Green begins his review by also taking a little dig at another Playhouse-bred, McAnuff-directed musical, "Jersey Boys." He writes:
"The biographical jukebox musical — of which 'Jersey Boys' provides a shining example, thanks to all the Brylcreem — is the cockroach of Broadway. It has a small head, a primitive nervous system and will probably outlast the apocalypse.
"Even by that standard, 'Summer: The Donna Summer Musical,' which opened on Monday at the Lunt-Fontanne Theater, is a blight. Despite the exciting vocalism of a cast led by the formidable LaChanze, it reduces the late Queen of Disco and pioneer of electronica to a few factoids and song samples that make her seem profoundly inconsequential."
Green observes later that while the triple-casting concept helps, "the script is otherwise appallingly banal, taking as its format the line of least resistance: a 'concert of a lifetime' in which Ms. Summer recalls her highs and lows."
Writing in the Chicago Tribune, Chris Jones says that "what you get here is what you usually get" in a biographical jukebox musical: "a valedictory experience, not an honest story, only tolerable for diehard fans.
"About the only two permissible conflicts that ever make it into these shows are (a), the suits in the record business were wrong when they kept trying to define and thus limit me, and (b), there were just so many sides of me that I barely could define my own talent. That's it. Otherwise, cue the lessons learned about the power of love and forgiveness."
Adam Feldman of TimeOut New York doesn't sound much more impressed:
"Heaven knows what the creators of 'Summer' are thinking, if any thought at all has gone into this disco dud of a show. Three talented and blameless women—LaChanze, Ariana DeBose and Storm Lever—play the late Donna Summer at different stages of her life in a tacky, sub-Vegas jukebox biomusical that draws from the singer's groovy catalog of hits, including 'I Feel Love,' 'MacArthur Park,' 'On the Radio' and 'Last Dance.'
"At its most watchable, the show plays like a barely dramatized adaptation of Summer's Spotify and Wikipedia pages. But when it's bad, it's so, so bad."
There are dissenting opinions, if not necessarily raves. In Vulture, Sara Holdren writes:
"Whatever your personal taste, being surrounded by genuine excitement — by middle-aged women wearing sequined blouses actually standing up in a Broadway theater and joyfully shaking their booties during multiple slinky disco numbers — does a body good. That's what's currently happening in the Lunt-Fontanne, and thanks to the swift, smart construction of 'Summer,' which neither overburdens its material nor overstays its welcome, it's a pretty damn good time."
Holdren adds that while the musical's book "is sometimes predictable, sometimes sentimental, and every so often pushes unsubtly on its central image (the idea of 'fragments' of a life, which influences both scenic design and storytelling)," it's also "up-tempo, fluently interwoven with the show's more than 20 songs, and often genuinely funny."
And in Entertainment Weekly, Breanne L. Heldman writes: "As a jukebox musical, 'Summer: The Donna Summer Musical' checks virtually all the boxes: toe-tappingly familiar songs, stellar performances, shiny costumes, and a reminder of the impact of its subject on the music industry at large."
"It just doesn't also bring a whole lotta depth."
For more reviews, check out Broadway World's roundup.
Twitter: @jimhebert
Sign up for the Pacific Insider newsletter
You may occasionally receive promotional content from the Pacific San Diego.