La Jolla Playhouse going out on a limb with world-premiere Robert Askins comedy 'The Squirrels'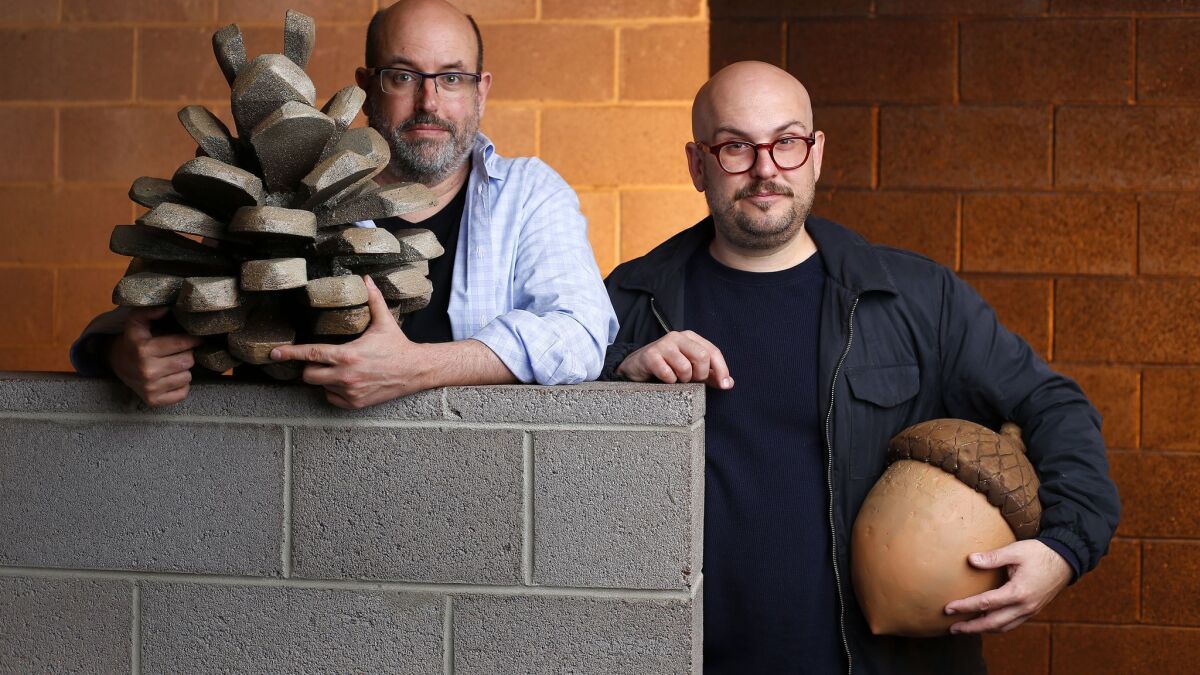 Sometimes, a squirrel is just a squirrel.
And sometimes, a play called "The Squirrels" is about just what it sounds as if it's about.
That is the case, insists the playwright Robert Askins — sort of — with the comedy by that title that's about to have its world premiere at La Jolla Playhouse.
In fact, the allegedly rodent-focused nature of his play is a kind of conversational mantra for Askins, the renegade writer whose button-pushing, puppet-gone-wrong saga "Hand to God" became a sleeper Broadway hit in 2015.
And yet something about the way he says so suggests otherwise.
It might be the slight smile; it might be his track record of sociopolitically confrontational material; or, it might be the fact that everything else Askins says directly and gleefully contradicts the idea there's nothing bigger going on here beyond fur and acorns.
Unlike "Hand to God," this new play certainly "is not about religion," says Askins, chatting alongside director and Playhouse artistic chief Christopher Ashley before rehearsal on a recent weekday.
"It has to do with sound, and gathering, and animal behavior that we can't seem to break out of. But also, it's just about squirrels.
"It's just about squirrels. But there's a war going on under your feet that you never see, right? These animals are fighting on this landscape that we think is ours, but absolutely isn't.
"Just think about how many things we (overlook): The lives of the underclass, or the angry. The trailer parks that you drive by. The channels that you skip over. The states that you fly over.
"There is a war going on that you are not paying attention to. And one might want to wake up and participate in it, as the defining conflict of our time."
Those last few phrases are enunciated in a fierce staccato, each syllable sounding a bit like a fresh indictment in a litany of accusations.
Then, that mantra:
"It's just about squirrels."
(Alrighty then.)
In person, Askins is affable and gently witty. On the page, he can be fiery and punk-rock provocative — writing with what he describes as "an aggressive aesthetic."
When San Diego Rep staged the local premiere of "Hand to God" last fall, the scattering of opening-night walkouts seemed more like sprint-outs.
And Ashley — who won a Tony Award last year for directing the still-running Broadway hit "Come From Away" — says "The Squirrels" ought to keep Askins' rep intact.
"I think you can reliably say that this play is fully in the wildness of Rob's imagination," says Ashley. "There's nothing everyday and pedestrian about this play. It is all the way out on its limb."
The tree allusion is apt, because Ashley and Co. are going full squirrel with this production.
"We've done squirrel movement workshops," the director says. "Right after this (chat), we're going back into some squirrel physical exploration. And we've done a lot of looking online at, what kinds of sounds do squirrels make?"
It turns out "they chitter and they bark – they actually have this huge range of vocal expression that is totally interwoven with speaking in English in this play."
In at least that sense of allegiance to species, then, "it is a play about squirrels. (The actors) move like squirrels and they sound like squirrels, and they hopefully will look like squirrels – there are costuming aspects of both squirrels and people.
"As the play goes on, you discover that maybe it's also about us. But it also really is a play about squirrels."
To which Askins responds again, with a sense of the contrary that seems almost perversely playful: "I would maintain that it is just a play about squirrels. There is no deeper meaning."
Ashley laughs: "I think my job is maybe to tease out the deeper meanings, but you stick with that."
And Askins parries with a smile and a bit of Oscar Wilde: "You do so at your peril."
Tree-conomics
If the play allegedly is not about anything humans might be grappling with as we make our own way on the planet, Askins still obviously does a lot of thinking on what drives and vexes mankind.
Things such as "how much is enough — and what are food sources or value sources for, once you're past the point where you can support yourself?"
Hoarding such resources is just "an expression of just naked pride," he says. "And I find that supremely uncomfortable and disgusting, because we don't curb it in any way, and it always presages the fall.
"That's one of things that religion pretended to be good at," adds Askins, a Texas native who grew up in the church, and whose mother ran a puppet ministry that helped inspire "Hand to God."
"At least you would go in and every week and somebody would say something, even if it wasn't listened to — about checking your gluttony, checking your avarice. But we don't even say that anymore. The pulpits are preoccupied with the doctrine of wealth."
Along those lines, Ashley says that "I do like how in this play, the idea of hoarding your nuts completely resonates with so many different ideas of income equality and resource allocation. This play doesn't line up cleanly along those lines, but it's on that subject."
"The Squirrels" has its origins in a combination of the philosopical and the pastoral. Askins, who's a student of the satires by the ancient Greek playwright Aristophanes, says one of his pet theories "is that comedy gets to mean more at the end of an empire. Aristophanes happens at the end, Moliere happens at the end.
"When an empire is on the rise or cresting," on the other hand, "it's generally (preoccupied with) very sincere things."
And then, of course, "you can't go anywhere in Brooklyn (Askins' adopted home turf) without hearing a squirrel. Now I can't stop seeing squirrels! So it seems that once the idea occurred, the universe wanted me to write about it."
Ashley says that when the Playhouse first held an in-house reading of "The Squirrels" — well before he and Askins ever met — "it kind of jumped off the page. Everyone said, 'What is this play?,' and started making squirrel noises.
"The really amazing and wonderful surprise of working with Rob is he's got this completely wild and untethered imagination, and such a disciplined rewrite and work process."
Askins says that in the first burst of writing a new work, "I'm super-excited and thrilled, and I'm holding onto something that's a bucking bronco.
"But then, of course, the rewrite process is the opposite of that. Now you're no longer Sid Vicious; now you have to be Bach, right? You have to go in and check on contrapuntal textures, and the rhythm of this mode."
Comedy is Askins' go-to mode, but he sounds skeptical of the attempts he sees these days to confront social strife and political posturing.
"Aristophanes is fascinating, because he spends his entire career railing against the political climate of Athens at the time, but he's ineffective. And I think there's a really interesting question about the emotional temperature of our comedy.
"We love to claim that things like 'Saturday Night Live' or Samantha Bee or 'The Daily Show' are a sort of activistm — comedic activism.
"And I think some of the places where this play lives is in a frustration with that. Like, these are noises, these are chatterings we make to bolster our tribalism. And what we probably need is a more active engagement with what's going on.
"Yes, (the play) is comic. But I think that we who have experienced a garden spot in western civilization have forgotten how aggressive and angry the world is."
It's worth noting that Aristophanes wrote three famous satires named for living creatures: "The Birds," "The Wasps" and "The Frogs."
The latter, while it doesn't actually have much to do with frogs, does involve a playwright who saves the world.
Is that kind of what Askins has in mind?
"Yeah — I mean I would love to, if we could figure out how to do that," he says, poker-faced.
Adds Ashley: "It needs some saving, actually."
'The Squirrels'
When: Previews begin Tuesday. Opens June 13. 7:30 p.m. Tuesdays-Wednesdays; 8 p.m. Thursdays-Fridays; 2 and 8 p.m. Saturdays; 2 and 7 p.m. Sundays. Through July 8.
Where: La Jolla Playhouse's Mandell Weiss Forum, 2910 La Jolla Village Drive, Playhouse/UCSD Theatre District.
Tickets: $25 and up
Phone: (858) 550-1010
Online: lajollaplayhouse.org
Twitter: @jimhebert
Sign up for the Pacific Insider newsletter
PACIFIC magazine delivers the latest restaurant and bar openings, festivals and top concerts, every Tuesday.
You may occasionally receive promotional content from the Pacific San Diego.