At La Jolla Playhouse, Pulitzer winner Martyna Majok's 'Queens' probes working-class lives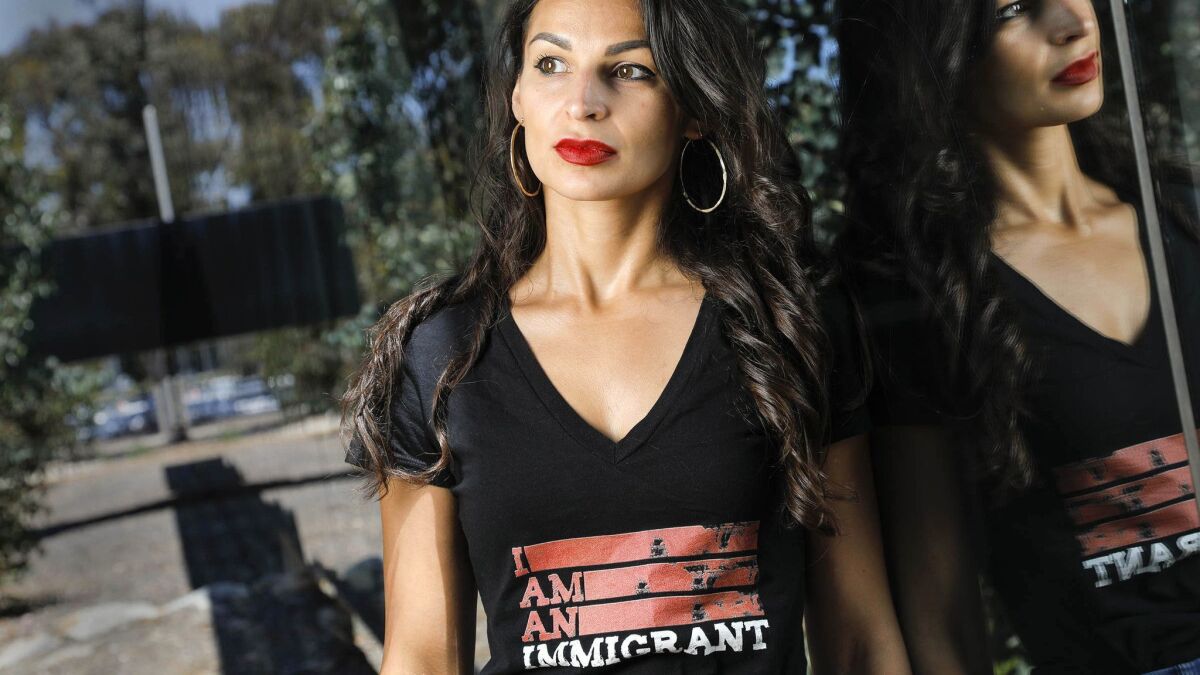 As tales of theatrical baptism go, Martyna Majok's is pretty hard to top: She saw her first play, "Cabaret" on Broadway, with money she won playing pool while still a teen-ager.
Actually, the story gets better than that: The Polish-born, New Jersey-bred playwright had sparked to the power of theater in the first place by going rogue during a high-school job.
"I worked for an adult literacy program that taught immigrant parents and their preschool-age children English together," Majok (pronounced MY-oak) is explaining, as she chats before a rehearsal for the West Coast premiere of her play "Queens" at La Jolla Playhouse.
"We'd write these skits for situations they might find themselves in, like going to the bank, or ordering at a cafe. It was supposed to give them muscle-memory language to pull from, just to help them along.
"And as I kept writing and working in this program, my skits got more and more elaborate" — until at some point in her ever-deepening narratives, "there was a murder heist at the bank."
She laughs boisterously at the memory — something this quick-talking live wire of a playwright does often, sometimes punctuating it with a staccato affirmation: "Yeah, yeah, yeah."
It's no accident that the story sounds almost as if it could be something from one of her plays, because the resourceful, resilient, take-no-b.s. Majok writes what she has lived.
Like her other recent works, "Queens" is peopled with characters living on the fringes — in this case, mostly immigrant women who've found refuge in a basement apartment in the New York City borough of Queens.
Majok's breakthrough 2016 play "Ironbound" focuses on a Polish immigrant who cleans houses; that piece was inspired by the experiences of the playwright's own mom.
And her work "Cost of Living," which ran off-Broadway last year, revolves largely around a pair of characters with physical disabilities.
As Majok chats at the Playhouse, it's been barely two months since "Cost of Living" won the 2018 Pulitzer Prize for Drama — a development that catapulted the already fast-rising playwright into the forefront of American drama.
Winning the Pulitzer was a turn of events that Majok found hard to believe — more or less literally. She remembers that she was working on her taxes that afternoon in April when her agent called.
"I heard screaming from the other end of the phone," Majok recalls. "And he said, 'Martyna, you won the Pulitzer!'
"And I said, 'How dare you! You know how much this means to me. This is not funny!'
"It was 9 minutes and 48 seconds that I was, 'This is not the truth — how dare you!" (The duration of her disbelief was immortalized by the call log on her phone.)
Finally, when the truth became clear, "I postponed doing my taxes," she adds with a smile.
Politics made personal
From the outside, Majok's plays might seem centered on some of the biggest issues of our time — immigration, economic struggle, inequality.
From Majok's perspective, the plays are anything but thesis statements: They're stories about what she has lived through and witnessed, and about those she has come to know.
"When I started writing, I wrote about the people who were in my life," she says. "And then other people around me said I was writing about class and immigration. And I said, 'Oh, huh — yeah, sure.'
"You cannot divorce that there are issues of immigration and class in these stories, political issues," she acknowledges.
"But I've always been more interested in the people the policy is made about, as opposed to the people in suits who are making it."
Not that Majok is unaware of the debates that rage around those topics — far from it.
"I obviously consume this news and am infuriated by it," she says. "But I'm able to access it in a way that's not, 'I read an article and I'm infuriated,' but, 'I have five people I grew up who this article is about.'
"Setting out to write a play about an issue, I think, always has this result where it's one-sided and kind of impersonal. You have to know the people. Otherwise, write an essay. You have to write these people and their experience, and have them be complicated and multilayered."
"Queens," she says, "started from a personal place that is very much an aspect of being an immigrant, and then fused with (what's) happening politically.
"Same thing with 'Ironbound': It was a personal thing that was fused with economics. It's interesting, people call that an immigration play. Well, yes, she happens to be an immigrant.
"Same with 'Cost of Living': They call it a play about disabilities. Well, yes, there are characters who are disabled, and there are characters who are immigrants. But both of those plays to me are about class. Because you can be an immigrant and still come from means. There are so many variations on the immigrant story."
Majok, who immigrated with her mom at age 5, was the first person in her family to go to college, attending the University of Chicago. (She has a sister who's now a nurse in New Jersey.)
It took longer, though, to muster the courage to give theater a try.
"My mother cleaned houses for wealthier people, (so) whether this is true or not, I felt like an outsider when I first ventured into theater," Majok says. "Because the stories I was interested in weren't the ones being told, at least at larger theaters. And then I felt like all these stories might not have meaning for other people."
But after earning her graduate degree at the Yale School of Drama — which she was able to attend only because she received a full scholarship — that Majok decided: "Aw, (stuff) it, do the things that you want to do."
"And then I got out, and was reminded of how difficult it is to just survive. And I asked myself, if I never wrote another play again — because this life is so difficult — what would I regret not having said? Well, do that. And that became 'Ironbound.'
"I wrote that in a week. I had this urgency: Go, go go. Because this might be your last chance. There's no guarantee this is something you can do with the rest of your life, coming where you come from.
"It's a thing that a lot of artists who come from the working class are in constant conversation with: Like, what gives me the right? There are people for whom it is easier to take larger risks, because when they fail, there's somebody who's going to be there to catch them — financially, emotionally, whatever.
"And that is not the case for everybody. The cost is higher.
"Yeah. Yeah."
Revisiting 'Queens'
Although 'Queens' technically had its first production last year at New York's Lincoln Center Theater, "I don't know that there has been an original production, (because) this play is so much in process," Majok says.
The La Jolla production is directed by Carey Perloff, who just staged "A Thousand Splendid Suns" at the Old Globe and recently concluded a 25-year stint as artistic chief of San Francisco's American Conservatory Theater.
Even at 11 characters, the New York production was a pared-down version of what Majok had in mind while writing: "People just kept coming out of places, and there was more to people's stories," she says.
"But we didn't have time to do a seven-hour epic, so it ended up being a 3 1/2-hour epic that I had to cut down to 2 hours 40. And now I've distilled it down even more, to focus on one of the woman's stories — at least more so."
"I've retained as much as I can that doesn't feel as if it's diverting people's attention. It's primarily one woman's story, but hopefully the other women are balanced enough. And then I think from here, I'm going to expand it, or have companion plays that can stand alone. Who knows?"
It's a balance, Majok says, between her aim to make "Queens" reasonably produceable and her desire to "fill the world" of her characters — in a way that only a play can.
"Whenever I see a play, I feel like I've had that experience," Majok says.
And "accessing stories is the only way that's going to change anybody's perspective, I think. Because as soon as you have a conversation with someone who has a different opinion than you, you freeze. You get defensive and you go into battle.
"Or not talk at all. We've put ourselves into bubbles.
"The only other way is to be disarming, through warmth and generosity and humor and beauty. Telling these stories in as truthful a way as possible, while still welcoming (others) in — this is not the thing that's going to change everything, but it helps, I think.
"This is what I can do."
Yeah. Yeah.
"Queens"
When: 7:30 p.m. Tuesdays-Wednesdays; 8 p.m. Thursdays-Fridays; 2 and 8 p.m. Saturdays; 2 and 7 p.m. Sundays. Through July 29.
Where: La Jolla Playhouse's Potiker Theatre, 2910 La Jolla Village Drive (Playhouse/UCSD Theatre District)
Tickets: $25 and up
Phone: (858) 550-1010
Online: lajollaplayhouse.org
Twitter: @jimhebert
---
Sign up for the Pacific Insider newsletter
PACIFIC magazine delivers the latest restaurant and bar openings, festivals and top concerts, every Tuesday.
You may occasionally receive promotional content from the Pacific San Diego.