At Old Globe, director Kathleen Marshall explores the push and pull of Shakespeare's 'Much Ado'
For more than 400 years, theater people have been trying to get a bead on the volatile bond between Beatrice and Benedick, the epic frenemies from Shakespeare's "Much Ado About Nothing."
But for Kathleen Marshall, who's staging a new production of the thorny comedy for the Old Globe's Shakespeare Festival, it all comes down to a little bit of physics.
As the Tony Award-winning director says she has been telling her cast: "It's like when two magnets of the same polarity get too close, and they just can't quite join, because they're the same.
"I mean, it's wonderful that the play has these characters who are so smart, so witty, so verbal, and who have met their match in each other. But they are their own obstacles, because they're so proud.
"And whatever history is there, they're not going to make themselves vulnerable — until they're tricked into making themselves vulnerable."
Of course, Marshall is well aware the magnet analogy doesn't quite capture all the complexities of the play, last staged at the Globe in 2011.
The great contrasts of "Much Ado" — between lightness and dark, between humor and heartache (or even horror) — are part of what has made the piece not only a Shakespeare favorite but one whose influence has echoed down through the centuries.
As Marshall points out, " 'Much Ado About Nothing' is kind of the first romantic comedy" — the prototype for "any comedy in which you have two characters who have a complicated relationship, in which they're adversarial but there's also some attraction there.
"From 'Pride and Prejudice' to Astaire and Rogers to Hepburn and Tracy, to 'When Harry Met Sally' — it feels as if all of these romantic comedies whose main characters are combative but eventually fall in love are descendants of Beatrice and Benedick."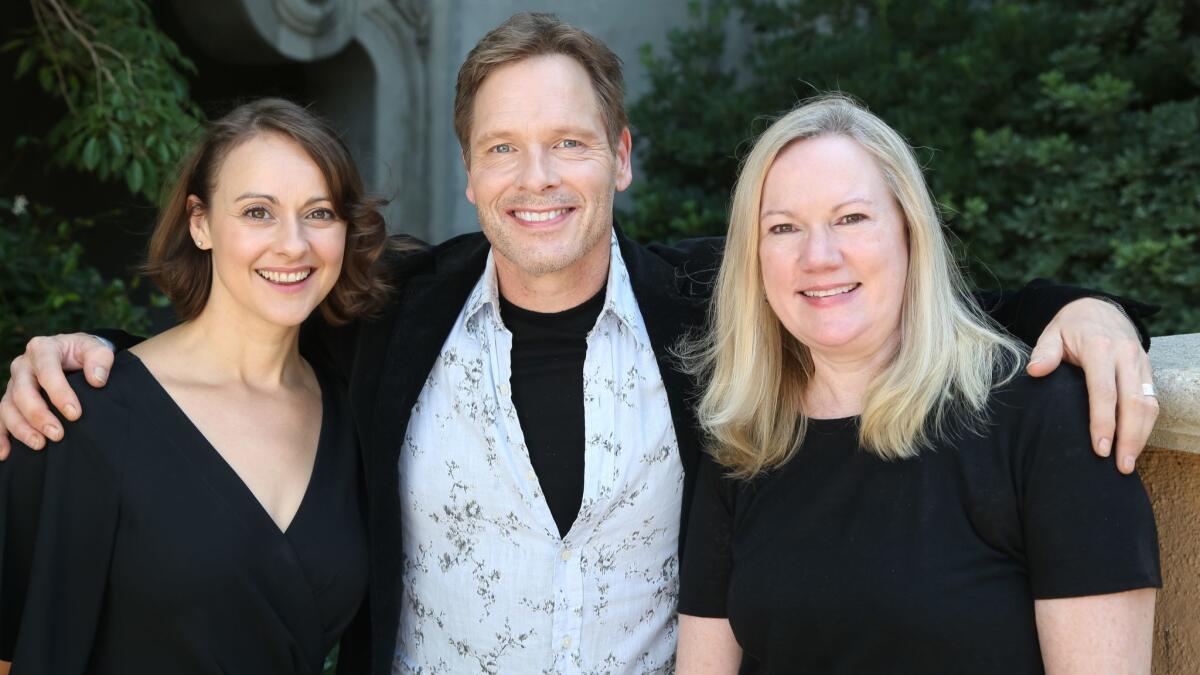 To bring that pair to life, Marshall — last at the Globe two years ago with the Bard's early comedy "Love's Labor's Lost" — has cast a couple of Broadway regulars and Globe returnees: Sara Topham and Michael Hayden.
Both are Shakespeare veterans: Topham played Olivia in the Globe's 2015 "Twelfth Night," and has had key roles in numerous Bard works at the Stratford Festival in her native Canada; Hayden's credits include former Globe artistic chief Jack O'Brien's 2004 Broadway production of "Henry IV" as well as the Globe's "Double Indemnity" in 2013.
The two have never worked together before, but as they sat down for a chat during a rehearsal break in mid-July, it seemed clear they were already working up some of the comic friction that so animates their characters' relationship onstage.
Topham spoke generously of how she and Hayden share an approach to the Bard: "I think we both go in (to the play) through the words, rather than having external ideas about it," she said. "It's nice when you work with someone who works the way you do."
Hayden's rejoinder (spoken, of course, in jest): "It's very easy to be irritated with her, so I have no problem with that part of it. She's a got a good personality. She's not very attractive, but ..."
Later, asked about any professional history they had together, Hayden cracked: "I turned down a number of projects when I heard she was in it. I was told she wasn't in this."
For her part, the ever-gracious Topham kept to the high road — mostly.
"I tried to find out who was playing Benedick before I took this," she said. "Because they're not a pair of roles you want to do with someone where you can't be a good dance partner.
"But they hadn't yet found you, or been smart enough to grab you," she added, turning to Hayden. "So I had a quick word with the theater gods and signed on, and could not have been more delighted."
Then she added playfully: "We still have several weeks to go."
Getting in tune with the Bard
For Marshall, taking on "Much Ado" is the latest turn in an ongoing dance with Shakespeare that has included not just "Love's Labor's Lost" but a musical version of "Two Gentlemen of Verona" in New York more than a decade ago.
Doing nonmusical Shakespeare productions would seem a whole different kind of endeavor for an artist who's best-known on Broadway as a dance specialist: She won Tony Awards for choreographing "Wonderful Town," "The Pajama Game" and "Anything Goes."
But there are more similarities than might be apparent, Marshall says.
"What's wonderful is that Shakespeare does behave like a musical in a lot of ways," she says. "There are multiple plots going on that you have to keep track of, and multiple scenes and transitions between scenes, unlike a lot of plays that take place in real time with no break in the action.
"Just like in a musical, you have to figure out transitioning between one scene and another, physically and musically and emotionally. And with all these various plot strands and characters, it's like a carousel: 'Oh, here they come around again; now they've disappeared, and someone else has come around.'
"And there's a lot of physicality. Besides the choreography (during a masque and other scenes), there's a lot of physical humor. So that's fun."
For Hayden, a Tony nominee in 2001 for "Judgment at Nuremberg," musicals and Shakespeare are also similar in that "you've got a very heightened and firm structure. When you sing a song, it's rhythm, pitch, phrasing. If you're doing it well, you can't just go off on your own" — you have to "make it seem, in its own chaotic way, very human."
Beyond that, Hayden adds, there's also a parallel in "the scope of humanity and desire."
Topham, for her part, admires how Marshall has approached the "Much Ado" masque scene in particular: "For most directors of Shakespeare, a scene like that is really hard work, a bit of a nightmare to get everything right. It takes a long time to get everything to click into place.
"But of course because that's her bread and butter, and it's a beautiful thing to watch her stage this scene with incredible élan and skill. She's not knocked off-kilter by it at all. And normally in this play, that's the scene that's going to cause problems."
There's actually plenty of music in this "Much Ado," with a violinist and guitarist onstage, and a song — "Sigh No More" — written by the top Broadway composer Stephen Flaherty and set to Shakespeare's lyrics.
Marshall says the song shares some Cole Porter DNA with the setting of the production, which has been transplanted from the 16th century to the early 1930s on the Italian Riviera.
"The idea is of a place of leisure where people of privilege are (indulging in) recreation and have time on their hands. And if you're in a place of privilege and luxury and have time on your hands, you end up finding ways to fill the time — and they fill the time with mischief.
"In some cases, it's kind of benevolent mischief, in the way (other characters) trick Beatrice and Benedick into thinking each is in love with the other."
But there's also "malevolent mischief, which is what Don John does to Hero and Claudio, and really causes something very dramatic and seemingly tragic to happen."
About all that: While Beatrice and Benedick are the natural focus of "Much Ado," there's a second, more fraught relationship between the engaged Hero and Claudio, whom the spiteful "bastard prince" Don John tries to break apart by setting Hero up to seem unfaithful.
That proves a traumatic episode, one that casts stark tonal shadows over the play. And it gets at a theme that not only runs deep in "Much Ado" but might shed light on some issues from our own time.
"A lot of this play is about deception and self-deception, and people who completely believe what they've been told or what they see," Marshall says. "And they may be wrong, but they believe it 100 percent. That's sort of where the tragic part comes in.
"And how do you find your way out of that? When people have completely been duped, how are we going to find out what really happened?"
For Topham, the elusive nature of truth in "Much Ado" — and the way the audience becomes privy to realities that the characters are sometimes clueless to — is part of what can keep playgoers deeply invested in the story, even if they know what's to come.
"There are so many moments in this play where if someone had told the truth," everything would've been different, she says.
"But we have to work our way through all the deceptions before we get to the truth. And if we're doing it right, hopefully the audience doesn't sit back comfortably and say, 'We know how this goes.' Hopefully they begin to feel, 'No, this can be avoided.'
"I think the best thing that could happen in a production of any Shakespeare play is if someone in the house would stand up and say: "I object!"
'Much Ado About Nothing'
When: In previews. Opens Saturday. 8 p.m. Tuesdays-Sundays, through Sept. 1. Starting Sept 2: 7 p.m. Sundays, Tuesdays and Wednesdays; 8 p.m. Thursdays-Saturdays. Closes Sept. 16.
Where: Lowell Davies Festival Theatre, Balboa Park.
Tickets: $30 and up
Phone: (619) 234-5623
Online: theoldglobe.org
Twitter: @jimhebert
Sign up for the Pacific Insider newsletter
You may occasionally receive promotional content from the Pacific San Diego.