'The Lorax' arrives in the land of Seuss for musical adaptation's U.S. premiere at Old Globe Theatre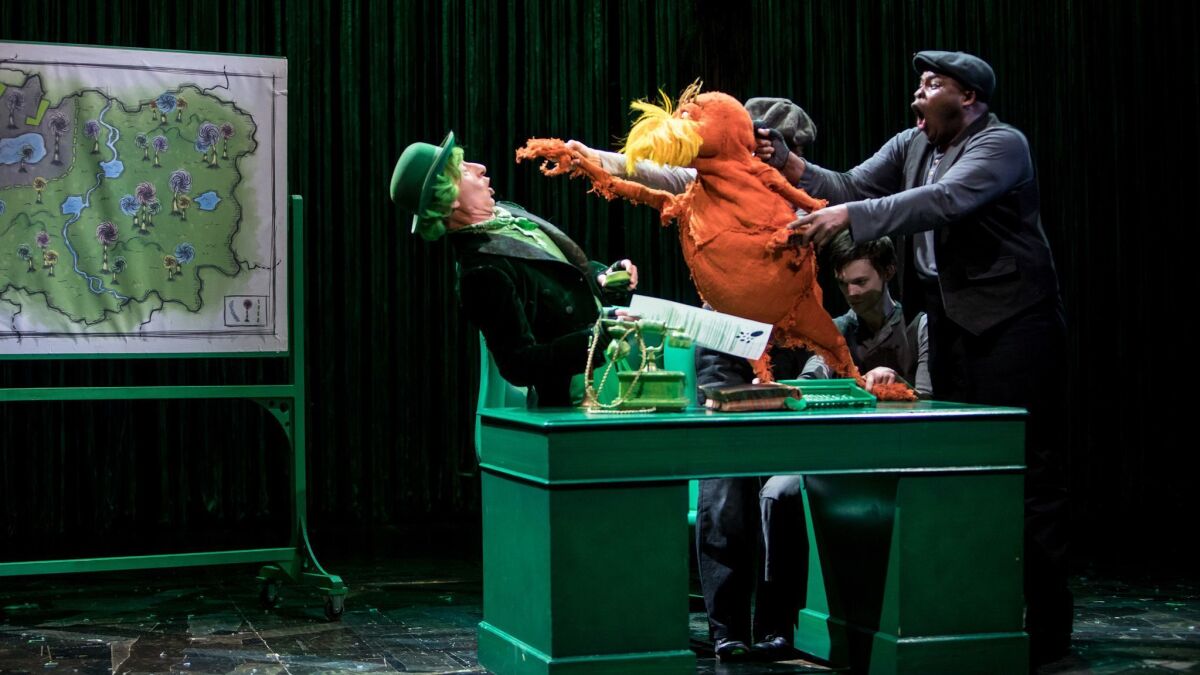 The exotic Truffula tree may not exactly be native to San Diego — its natural habitat being books instead of back yards.
But the story that surrounds the tree is very much of our town: It was first told in "The Lorax," one of dozens of beloved children's books that Theodor "Dr. Seuss" Geisel wrote while a longtime resident of La Jolla.
The Truffula is even said to have been inspired by a real tree — a lone Monterey cypress — whose tufted top still rises above Ellen Browning Scripps Park near La Jolla Cove, just down the hill from Geisel's former home.
So a new, family-minded musical at San Diego's Old Globe Theatre that's based on the 1971 Seuss story about a fuzzy environmental hero sounds like the ultimate in locally sourced entertainment.
Which is why the idea was dreamed up in … England?
Yes, when "Dr. Seuss's The Lorax" lands at the Balboa Park theater next week for the second of its two U.S.-premiere engagements, it will be as a British import.
The musical was first staged in 2015 at The Old Vic theater on London's West End, and reprised there in an updated version in 2017. The Globe staging is a co-production with Children's Theatre Co. of Minneapolis (where it wrapped a run last month), in partnership with The Old Vic.
The show's creative team also is composed largely of British theater all-stars, with a cast mostly from Minneapolis.
Clearly "The Lorax" is a different beast from "Dr. Seuss's How the Grinch Stole Christmas!," the local musical institution that was shepherded to the Globe by director and former artistic chief Jack O'Brien in 1998, and has taken up residence there every holiday season since, while also spawning a Broadway production.
So how to explain the British connection to "The Lorax"? The simplest answer is: They got there first.
But original "Lorax" director Max Webster, an associate director at The Old Vic, does promise this of the show: "We made it especially for America."
Tuning into environmentalism
The show definitely has an American vibe to its score, composed by Charlie Fink, former frontman of the popular indie-folk act Noah and the Whale.
Fink says his music for the piece essentially "charts the 20th century through music. So it starts off with a chain-gang work song, through rootsy folk, into sort of Motown, into punk and then into pop.
"It sort of visits all these different worlds, as (the story's antihero) the Once-ler changes, and the world he's building changes."
"But the sound of the Lorax is quite consistent. He doesn't change — he just continues to fight against what's happening."
A primer on the Seuss story: The Lorax was once the curmudgeonly protector of a town where Truffula trees grew in abundance. And they are amazing trees: As the book has it, "The touch of their tufts was much softer than silk / And they had the sweet smell of fresh butterfly milk."
Enter the Once-ler, an industrious sort who starts chopping down the trees and turning their tufts into Thneeds — miracle do-it-all items that sound like the kinds of thing peddled on TV infomercials.
Pretty soon, the whole town becomes one big Thneed factory — and then falls into smoggy ruin when the last Truffula tree is toppled.
As the defiant Lorax had told the Once-ler early on: "I speak for the trees." By story's end, all that's left of the Lorax is a pile of rocks spelling out the word, "Unless."
And after years of regret, the Once-ler, still living in the remnants of the town, understands what the Lorax meant: "Unless someone like you cares a whole awful lot," he tells a young visitor, "nothing is going to get better. It's not."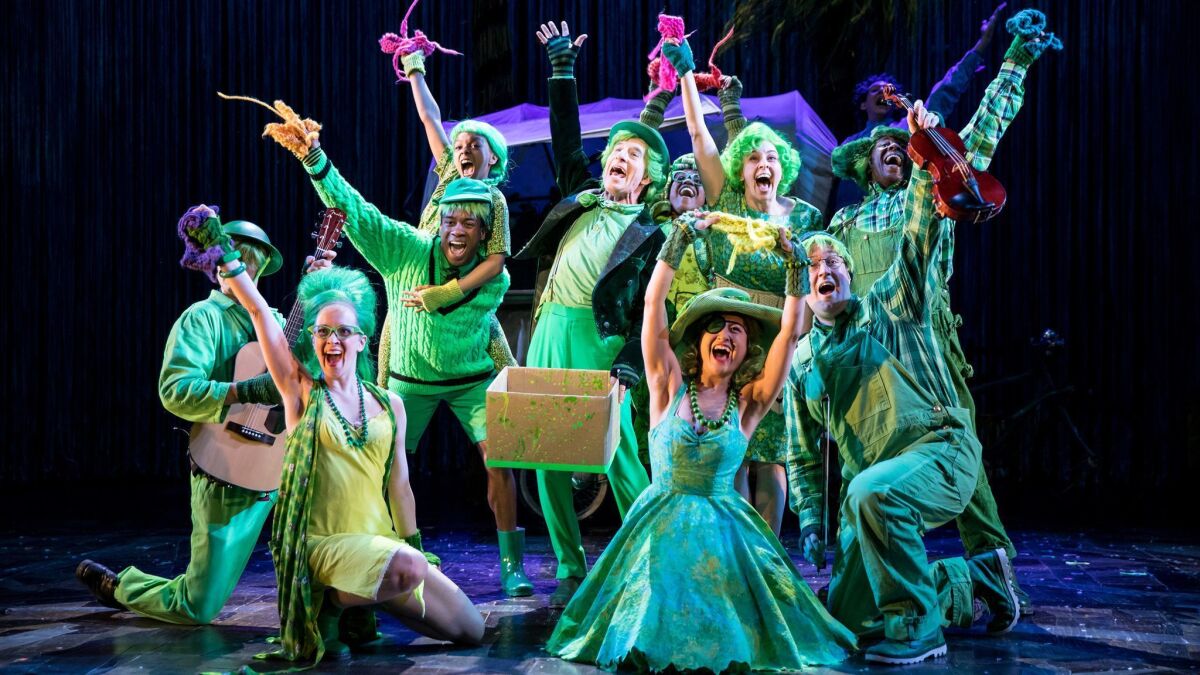 That kind of message likely resounds no matter what side of the pond you're on, and Fink and Webster both say Geisel's interest in issues of the environment was prescient.
"He noticed a trend in environmental issues very early on, in the 1970s," Fink says. "But you can dig into those themes in a very fun and silly way (in "The Lorax"), and speak to the people who are going to be most affected by it — young people.
"That really excited me about this show — an opportunity to tell that story in a way that's fun and silly, and where you don't feel you're being lectured to at any point.
"A young audience can tell when you're patronizing them," Fink adds. "I think kids can smell it when they're tricked or manipulated."
Director Webster says one challenge in creating the piece was finding a way to flesh out a slim picture book for kids into a full-length musical.
Focusing on the fact the Once-ler is never actually seen in the book, Webster and writer David Greig (artistic director of England's Royal Lyceum Theatre) decided to make that character a strong onstage presence and find ways to humanize him.
"He's not just a baddie who's destroying the environment," as Webster puts it. "He's kind of an everyman."
To help create the show's visual world, Webster and Co. brought aboard Finn Caldwell as puppetry director; he and his company, Gyre and Gimble, are known for their work on such productions as Broadway's "War Horse" and "Angels in America."
Caldwell says he had never read "The Lorax" until Webster asked him to consider the project. But "it was a really exciting stimulus for the puppetry; the drawings are wonderfully simplistic," he says of the Seussian artwork.
Much of Caldwell's puppetry is inspired by a Japanese form called bunraku, which typically involves multiple puppeteers manipulating a given figure.
At first, the thought was that the Lorax would be played by an actor in a costume, playing "a grumpy old janitor of the trees," as Caldwell puts it.
But when that idea didn't seem to be working, the team did "a second R&D process" and came up with a Lorax puppet operated by three onstage puppeteers, in way somewhat similar to (but more elaborate-sounding than) the Broadway show "Avenue Q."
Part of what Caldwell loves about bunraku, and what he hopes has been accomplished with the Lorax, is that "you're seeing the emotional narrative of the character through the expression of the puppet. It's at least 50 percent in his body."
It's a markedly different approach from the "Grinch" musical, which is performed by actors in elaborate, whimsical costumes. But what counts is if it does justice to the sensibility of Dr. Seuss, who was all about breaking boundaries and appealing to a childlike wonder.
Though Theodor Geisel died in 1991, his widow, the philanthropist Audrey Geisel — who still lives in town — keeps his legacy alive and protected.
As she said of her husband in a 2000 Union-Tribune interview: "(Each character) was in his head, and he had to get it out of his head, in order to go on with the next thing that was going to be in his head.
"He just put it out there, and for some crazy reason, kids loved it. Understood. Became part of it. (But) one thing he never did was talk down.
'Course, when you look at the whole of his work, he isn't talking up; he isn't talking down. He's talking sideways."
That lovably skewed way of looking at the world has long appealed both to kids and those who have long since graduated from kidhood. And the people behind "The Lorax" hope the same is true of their show.
"We want it to speak primarily to a young audience, because those are the people who are going to be most affected by the themes in the story," says Fink. "And it's written by Dr. Seuss for young people.
"But there's no reason it shouldn't appeal to me, too — or to anyone else who goes to it."
'Dr. Seuss's The Lorax'
When: Previews begin Monday. Opens July 6. 7 p.m. Tuesdays-Fridays; 12 and 5 p.m. Saturdays-Sundays; plus 7 p.m. Monday (July 2). No performance July 4. Sensory-friendly performance, 12 p.m. July 28. Through Aug. 12.
Where: Old Globe Theatre's Donald and Darlene Shiley Stage, Balboa Park.
Tickets: $30 and up.
Phone: (619) 234-5623
Online: theoldglobe.org
Seuss onstage
A glance at other Seuss-ian theater adaptations:
"Dr. Seuss's How the Grinch Stole Christmas!": The Old Globe's holiday favorite, originally directed by former artistic chief Jack O'Brien, celebrates its 20th anniversary this year. It tells the tale of the preternaturally nasty Green One who learns the meaning of the season. Longtime "Grinch" director James Vásquez is associate director of "The Lorax."
"Seussical": This musical, which landed on Broadway in 2000, is based mostly on Seuss' "Horton Hears a Who!," but takes in lots of other characters and stories, including the Cat in the Hat.
"Dr. Seuss's The Cat in the Hat": Katie Mitchell's adaptation of the classic book was originally produced by the National Theatre of Great Britain. It's a strictly faithful, nonmusical take on the story of two kids who encounter a mischievous visitor.
Twitter: @jimhebert
Sign up for the Pacific Insider newsletter
PACIFIC magazine delivers the latest restaurant and bar openings, festivals and top concerts, every Tuesday.
You may occasionally receive promotional content from the Pacific San Diego.