Kathy Griffin's long, strange trip brings her back to San Diego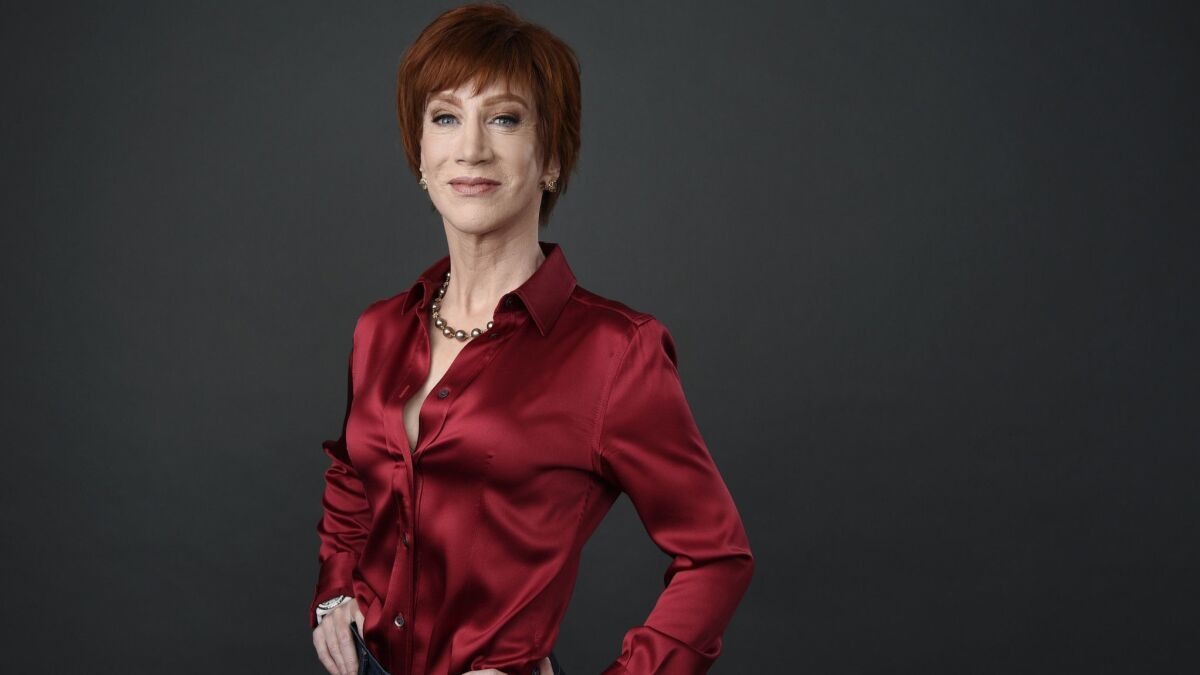 Plenty of entertainers court controversy; Kathy Griffin, though, has been in something like a long-term relationship with it.
And yet maybe nothing could have quite prepared the Emmy- and Grammy Award-winning actor and comedian for the fallout from The Picture.
You might have heard about that little incident: In May 2017, Griffin posed during a photo shoot with a bloody effigy bearing the distinct likeness of Donald Trump's head.
The condemnation of the image was immediate and widespread — not only from the expected quarters (including the president and several members of his family) but from many of Griffin's colleagues in entertainment and the media.
Griffin says the blowback went beyond that, to government investigation and intimidation — she says she was detained at every airport she passed through while on a subsequent overseas tour.
Now, though, Griffin is back on the road in America, and bringing her cheekily titled "Laugh Your Head Off World Tour" to the San Diego Civic Theatre on July 28.
"I was just like, 'I need to hunker down in my house and start writing — and start turning this frown upside down, and making it funny,'" she says of how the episode motivated her to launch a new show.
"And honestly, that's been the gratifying part. Because it's been so insane, and I feel like we're living in The Upside Down from the show 'Stranger Things.' But at least once again I've had comedy to sort of fall back on.
"And while everybody else ditched me, left, right and center — and obviously the administration made it clear they didn't ever want me to be able to make a living again, at least in my own country — that started the process of figuring out if there's a way to make this whole experience accessible to people, and make it funny.
"And honestly, I've never been more proud of the material."
For Griffin, the show also is intended to strike a blow for free expression: As she puts it, "You can hate that picture all day, but as you know, it's very well-covered by the First Amendment. And one of my missions on this tour is to say that."
Some excerpts from a recent conversation with Griffin, edited somewhat for length:
Q: Where are you right now?
A: I'm in my Bel Air mansion, which I paid for in cash, $10.5 million. One (penis) joke at a time! Show after show, got my hustle going. And that's one thing — I don't mean to sound cheesy, but I'm so grateful to be able to do this tour. I happen to love my job. And you think about the prospect of having multiple entities, including the president, go "Oh, by the way, you can't do that anymore. You can't be you."
My joke is, I've gotten worse. So if they thought I was going to kind of fade away or start being like a botanist or something, or start a handbag line — no, that's not my thing. So it made me want to make it funny as soon as possible and get out there.
And I'm also throwing in stories about what it's like to go visit Kim (Kardashian) and Kanye (West). So that part is just funny. The way I can weave in my conversations — and the word "conversations" is in quotes — with Kanye. And I describe them in detail in the show, because I don't care how high and mighty you are, sir, anybody coming to that show wants to know a little "tea," as the kids say, about what it's really like to live next door to Kimye. So I serve it up.
They moved out two months ago, and I have to say I'm actually (upset), because as much as I make fun of them, they were actually great neighbors. They had so many bigger problems. The Kardashians hated me for years … and now they realize I'm just this annoying little redhead trying to do my thing, and they're over there printing money.
So I've actually now become a Kardashian fan, and here's why: Sure, they're shallow and materialistic. But at least they're not mean and trying to kill me. (Given that), I can put up with Kim talking about her eye shadow for half an hour.
But I'm always going to get to the heart of the Trump stuff, because people actually do want to hear it. I take the audience inside the (government) interrogation room. I'd say there's about a 10-minute serious section.
It's a story that needs to be told. But I just want your readers to know: Don't worry, I'm not going to be lecturing. I'm going to be making you laugh your head off! Get it?
On losing her long-running New Year's Eve co-hosting gig on CNN with Anderson Cooper:
Yeah, that one was rough. That one I don't even have a joke for. Everybody can relate to the feeling of, "Oh no, not that friend." Like, I never thought that friend would join the dogpile. And yeah, he joined the dogpile.
On how the aftermath of the Trump photo unfolded:
When I took the photo — and honestly, I really mean this, I had no idea anyone would associate a ketchup-y mask with ISIS — I actually had a journalist friend call me and say, "Hey, this thing is taking off." I said, "Oh, great!" That picture actually was part of a series, I had taken like five photos that day.
When you're not on a television show anymore, and you're a 57-year-old woman, you're like, "Oh cool, some of those funny pictures getting around is a good thing," and maybe people thought the Trump one was shocking or fun, whatever.
And even when my friend said, "I think it's turning into something where people aren't taking it well," I honestly went back to bed, because I thought, I've been through this so many times in my career — people get over (stuff), the news cycle is four seconds.
But when you get a call from Rosie O'Donnell, who is the pre-eminent expert on being trolled by Donald Trump for 10 years, and she says, "You don't understand, the machine has been activated" — now I know what she meant by that.
On rediscovering who her audience is:
You're gonna laugh at this part: So now that I'm so dangerous and controversial, I can no longer just blanket a city like San Diego with ads. Because it's not the regular Kathy Griffin — if I may speak about myself in the third person — audience anymore. I don't know who's had the Kool-Aid. I don't know who came to see me in San Diego last time and thought I was hilarious, and today thinks I'm a member of ISIS.
So believe it or not, I started a good old-fashioned mailing list, and that's really how I sold out Carnegie Hall in less than 24 hours. That's how I've been selling out shows, because I know I have to find the people who genuinely either support me in what I'm going through, and really want to hear the nitty-gritty of the story, or they just really want to come see a night of laughter, and they didn't think the picture was that big of a deal, and they didn't like it and now they're over it. Or they liked it and they want to come see me.
I don't care, as long as they know they're coming for a night of laughs. Hopefully people will need their laughter medicine that night, and that's one thing I know how to dole out.
Kathy Griffin: Laugh Your Head Off World Tour
When: 8 p.m. July 28
Where: San Diego Civic Theatre, 1100 Third Ave., downtown
Tickets: About $39-$125
Phone: (619/858/760) 570-1100
Online: ticketmaster.com
Twitter: @jimhebert
---
Sign up for the Pacific Insider newsletter
PACIFIC magazine delivers the latest restaurant and bar openings, festivals and top concerts, every Tuesday.
You may occasionally receive promotional content from the Pacific San Diego.