Audience gets on board in San Diego Rep's interactive world premiere of 'Beachtown'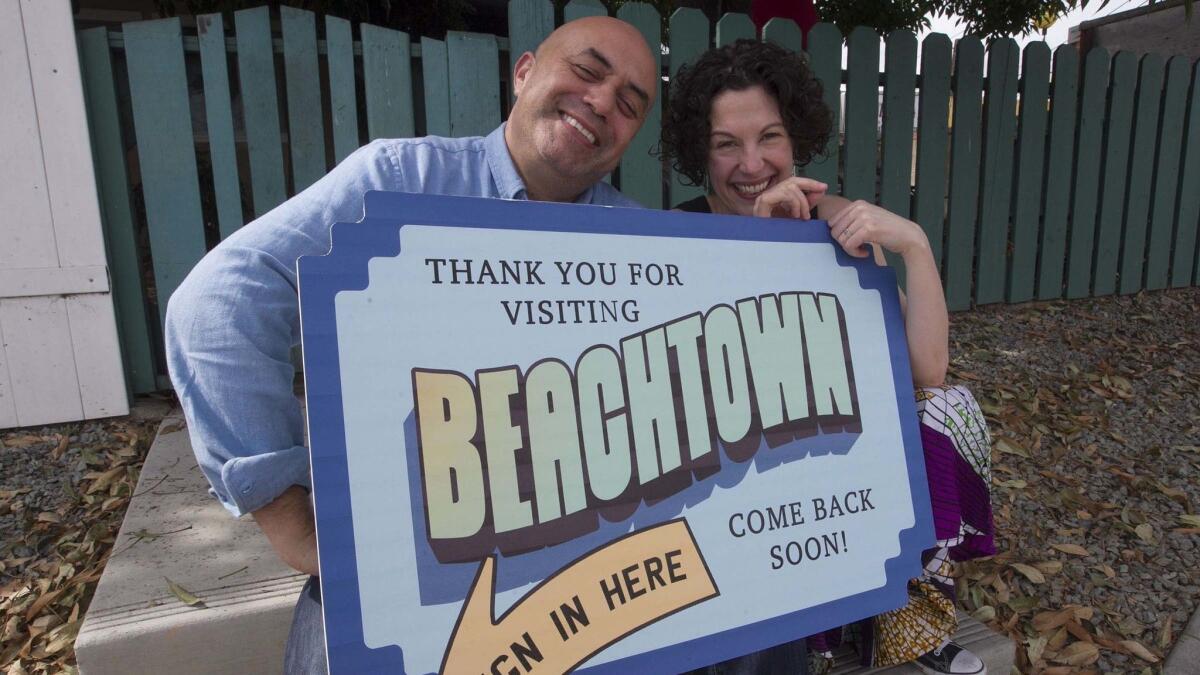 Tearing down the fourth wall, torching the script, tossing theatrical convention both hither and (quite possibly) yon.
All well and good. But maybe the most daring ambition of San Diego Rep's world-premiere work "Beachtown" is this: To get people to sit down and talk civics together — and then to vote.
And not only that, to keep it all (reasonably) civil.
Casting ballots and participating in a public give-and-take with fellow citizens may not be everyone's idea of a jolly good time at the theater, in this era of seriously fraught politics.
But Herbert Siguenza and Rachel Grossman, the creators of "Beachtown," hope that blending civic engagement with the imaginative possibilities of theater will in some ways bring out the best in both.
"I don't know that this play is really that earth-shattering — not that edgy in the grander scheme of things," insists Grossman, co-founder and ensemble director of dog & pony dc, an innovative troupe based in the nation's capital.
"But to allow an audience to have a voice in a play is actually pretty risky, and I believe that the Rep, as basically the first regional theater of its scale to take it on, is really to be commended."
RELATED
San Diego Rep announces its 2018-18 season
"Beachtown" is inspired by an earlier dog & pony piece called "Beertown," which began in Washington and was subsequently produced in other cities.
As with that show, "Beachtown" centers on an official town meeting called so that citizens and politicians can reach some consensus on what should be placed in a time capsule for the community's 100th anniversary.
Actors play city officials and other interested parties — but the audience is in a real sense also part of the cast, participating in the proceedings through votes and debates.
"The invitation at the heart of the show is for the audience to join in the action of the play, and to invest in the make-believe," as Grossman puts it.
Artists meet audiences
"Beachtown" incorporates a mode of performance that falls roughly into the category of "immersive" theater.
Grossman's D.C. troupe, she says, uses the term "audience integration" to describe a type of theater that's "about the intentional interweaving of the audience in the narrative and the experiential arc of the show. The show integrates the audience at really every level of the journey.
"Our work, and this show in particular, is really about allowing the audience to control their level of engagement."
The piece, directed by Rep artistic chief Sam Woodhouse, is so participatory that attendees are even invited to bring an item for a community pot luck to be held right on the stage of the Rep's Lyceum Theatre.
For Siguenza, the Rep's resident playwright and co-founder of the influential Chicano performance trio Culture Clash, exploding conventional notions of theater has been something of a career mission, both in his Culture Clash work and his solo ventures.
His political, comic and artistic sensibilities reached something of an apotheosis with his wildly imaginative 2014 Shakespeare riff "El Henry," produced by La Jolla Playhouse (in association with the Rep) and staged outdoors on a gritty industrial lot downtown.
That production actually proved a major inspiration for the development of "Beachtown," although Grossman and Siguenza already had known each other for some 20 years.
"I'm always conscious of the audience as a playwright or as a performer," Siguenza says. "But I never integrate them (into the work); that's a totally different thing."
"Beachtown," as he puts it, "is a world that we're creating together" as artists and audience.
As was his custom with such documentary-based works as "Culture Clash in Bordertown," Siguenza did copious research for "Beachtown," and says the show's characters are based on real people, or composites of them.
"The community ('Beachtown') resembles the most is Imperial Beach," he says, citing that South Bay city's diversity and relative affordability.
In fact, he adds, Beachtown's mayor, Steve Novak — played by Jason Heil — is inspired by I.B.'s real-life surfing mayor, Serge Dedina.
A surfboard fin is among the objects attendees will vote on at each performance, as they decide what to keep in the time capsule. Other items include a type of traditional clay pot made by the Kumeyaay people, who once inhabited the San Diego region.
The voting and debating is interspersed with vignettes performed by cast members as part of the town celebration.
Grossman says of the cast that "they have to be fearless and they have to be pliable. We're not telling them to improvise, necessarily. We're telling them to listen and respond truthfully."
And the truth is, bringing the audience more deeply into the work that artists do is, to Grossman's mind, something that addresses a dire need.
"I just feel right now that American theater is being produced in spite of its audiences, at the regional-theater level," she says.
"Beachtown" thus becomes one answer to the question: "How can we evolve the form just a little bit? And how can theater serve as a place where people can come together and commune?"
'Beachtown'
When: Previews begin March 22. Opens March 28. 7 p.m. Tuesdays-Wednesdays; 8 p.m. Thursdays-Fridays; 2 and 8 p.m. Saturdays; 2 and 7 p.m. Sundays. (Some exceptions; check with theater.) Through April 15.
Where: San Diego Rep's Lyceum Space, 79 Horton Plaza, downtown.
Tickets: $20-$65 (discounts available)
Phone: (619) 544-1000
Online: sdrep.org
Who's who in "Beachtown"
Jason Heil: Steve Novak, mayor of Beachtown
Lee Ann Kim: Susan Suhiro, town archivist
Salomon Maya: Benny Ramos-Leibowitz, councilman
Antonio T.J. Johnson: Damon Haynes, journalist
William "B.J." Robinson: Bob Ruby, music teacher
Sandra Ruiz: Gloria Ramirez, citizen
Marci Anne Wuebben: Donna French, citizen
Twitter: @jimhebert
Sign up for the Pacific Insider newsletter
You may occasionally receive promotional content from the Pacific San Diego.