Cheech Marin of Cheech & Chong talks about pot, comedy, music, golf and his Chicano art museum
There can be a fine, if sometimes hazy, line between art, comedy and marijuana. Except, that is, for Cheech Marin, who makes no such distinction.
"It's all one category!" said the veteran comedian, film actor, author, art collector and founder/namesake of Cheech's Private Stash marijuana line.
How so?
"Well, one thing leads to another," he replied. "Smoke some pot, make art and then laugh about it!"
Marin has been laughing all the way to the bank since the early 1970s, when — with Tommy Chong — he began to achieve fame and fortune as one half of the hippie comedy duo Cheech & Chong.
Their series of hit albums and movies, which included "Up in Smoke" and "Still Smokin'," made them stars. The two quickly became the most successful American comedy duo since Dean Martin and Jerry Lewis, albeit armed with over-sized joints, rather than cigarettes and martinis.
That may be why, at the age of 71, Marin's public persona is still largely that of a perpetually stoned proto-slacker from East L.A. Yet, as he demonstrated in a recent phone interview from Los Angeles, the insightful Marin is earnest, articulate, and devoted to broadening the public's appreciation of the Chicano art he has been collecting for the past four decades.
He will soon have a permanent home for his collection.
The Cheech Marin Center for Chicano Art, Culture and Industry, scheduled to open in 2020 in Riverside, will feature 700 of the paintings, sculptures and drawings he's collected. The $139 billion California state budget signed June 27 by outgoing Gov. Jerry Brown includes $9.7 million for Marin's museum.
"I'm really excited," said Marin, who will turn 72 on Friday and performs a sold-out show with Chong Saturday at Pala Casino Spa & Resort.
The seeds for what will become "the Cheech," as Marin refers to the museum that will house his art, were planted here nearly 20 years ago. The Museum of Contemporary Art San Diego was the first anywhere to show works from Marin's collection, which in turn led — in 2001 — to his 13-city "Chicano Visions: American Painters on the Verge" exhibit.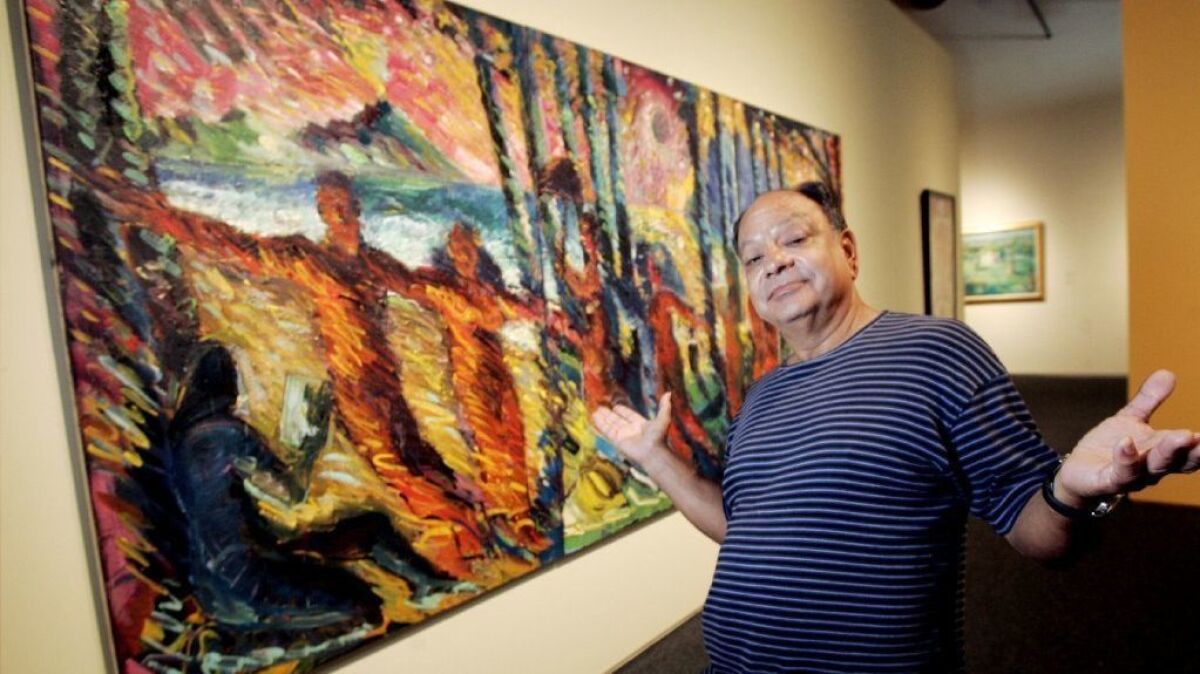 "It was a time when recognition of minority art was shamefully slow," said San Diego Museum of Contemporary Art Director Emeritus Hugh Davies via email from London. He regards Marin as "the first and most significant collector of Chicano art" and is a member of the advisory committee of "the Cheech" and a donor to the new museum.
"Cheech approaches collecting with the same intensity and professionalism that he brings to acting, music and advocacy," Davies noted. "As a former ceramicist, he has a fine eye and deep appreciation for craft. And this natural ability is fortified by constant research — visiting exhibitions, making studio visits and maintaining relations with artists, gallerists, curators and other collectors.
"Cheech has introduced me to far more artists than I have introduced to him. And he is dogged in following up on any and all leads to secure significant work by both emerging and established artists. 'The Cheech' in Riverside is a most fortuitous and logical conclusion to his search for a significant permanent home for his unprecedented collection."
The museum will be located in downtown Riverside, next door to The Mission Inn, the historic, 86-year-old hotel where Marin's cousin, Louis, used to work at the front desk.
"I started collecting in the mid-1980s, when I was established enough (as a performer) to have some discretionary income," Marin said. "I had a long history of learning about art, in general, from an early age. So I started to apply that when I discovered these Chicano painters. There was a point where I started putting together a serious collection. I knew that because my fellow collectors and gallery directors started telling me: 'You have a serious collection; you should start to show it.' And I was like: 'OK, how do you start?' "
Marin now has several art books to his credit. His authoritative writing on Chicano artists and their work speaks for itself, however at odds it might seem with his prevailing image.
"I was able to know a lot about art work and nobody guessed I would, because I had this stoner image," Marin recalled. "And that was fine with me. I wanted to redefine the stoner image as learning by accomplishing."
He laughed when asked if the perceived disconnect between being a stoner and a serious art collector was akin to apples and oranges.
"I think they're apples and apple sauce!" Marin replied. "Because that image also applies to accumulating knowledge. And the love of learning covers everything. So, once you cover that, everything is interesting."
A Los Angeles native, Marin is third generation Mexican-American. In 1999, he received the ALMA Community Service Award from the National Council of La Raza and Kraft Foods. In 2005, he directed the Broadway production of "Latinologues," a collection of monologues about Latino life in the United States. In 2007, he received the inaugural Legacy Award for Arts Advocacy from the Smithsonian Latino Center.
Marin has co-starred in a number of hit movies and TV series, although he stressed that acting now holds little allure for him. His focus is on art, his marijuana line and the novella he is writing.
"It's serous and humorous," Marin said of his upcoming book. "It's the story of a young Chicano boy named Hector, who belongs to the world's smallest minority. He's a Mexican vegetarian!"
Cheech Marin Q&A
Q: How would you have reacted if, just a year ago, someone told you the state of California would enlist your help in late 2017 to narrate a video instructing Californians who grow, sell or distribute marijuana to register their business with the state?
A: (Laughs uproariously) Just like I'm reacting now. It's (expletive) funny, man. You live long enough and anything can happen. It cracks me up.
Q: Your comedy partner, Tommy Chong, has his own marijuana line, Tommy's Choice, and you and have your Cheech's Private Stash line. Are you friendly business competitors?
A: Not really. He's been in the business longer than I have and he wants to do it his way. We have two different paths.
Q: Do you and Tommy ever get together with Willie Nelson and Snoop Dogg to talk shop and compare your marijuana products?
Q: We do it all the time. As a matter of fact, we were just with Snoop (on an episode) of his TV re-make of "The Joker's Wild," and we smoked all his weed. And Willie, every time I see him, gives me a bag of weed. It's the best golf weed.
Q: How so?
A: Well, you can smoke it and still play golf! You get into the Zen of it. Snoop, Willie, all those guys, we try to exchange products as much as we can.
Q: Who wins when you and Willie golf together?
A: I have not golfed with him, although I have golfed at the same time. Willie has an interesting technique — he leans on one club and then swings another club, like a cane, with his other arm. He plays all the time and he has his own golf course.
Q: Do you personally do quality-control for your marijuana line?
A: I do. I check on every single strain. My son, Joe, is our chief curator. He finds the strains and brings them in. Our motto is: 'It will always be good.' It will not always be the same, but it will be good.
Q: You are a big jazz fan. Did you ever meet Miles Davis?
A: I did once. He was married to Cicely Tyson at the time and was living in Malibu, and I was living there there as well. There was little corner sushi bar and I was in it late one night when he came in to pick up a to-go order. He had dark black glasses on. He saw me at the bar — I had never met him — and he took off his glasses, and said: "Hey, Weed!" That was cool. Miles Davis said "Hey, Weed!" to me. I love Miles and Coltrane.
Q: You and Tommy Chong are both jazz fans. His family used to own a jazz club in Vancouver and, in your early days as a comedy duo in Los Angeles, you opened a number of times for Cannonball Adderley and Nancy Wilson. Did jazz inform your comedy?
A: Absolutely. I was always a jazz fan, from a very early age. And Tommy was a big jazz fan, so we both had all that kind of improvisational approach to comedy, which we still have. Our comedy was based on the beatnik influence, which was the greatest influence on us when we first started, because of people like Ken Nordine, Lenny Bruce and Del Close. All those guys had a very jazz-like aspect. As far as us opening for jazz acts, that was just fortuitous and all those guys became our friends. We took Airto (Moreira) and Flora Purim out on tour with us and John McLaughlin opened for us. I wrote a description of Carlos Almaraz for a museum show recently, and I described him as being the John Coltrane of contemporary painters.
Q: When Cheech & Chong perform now, is it mostly greatest hits or do you riff, too?
A: Yeah, greatest hits, but things in between change all the time. It's always very improvisational, because we listen to each other and we approach comedy like music. There's a beat, different time signatures, places to come in, places to stay out. I'm really looking forward to the end of July, because we are playing at the Newport Folk Festival for first time. I grew up knowing about the festival and I'll sing "Subterranean Homesick Blues" on same stage at Newport that (Bob) Dylan went electric on (in 1965).
Q: Hopefully, without the ghost of an outraged Pete Seeger brandishing an ax and threatening to sever the power cables.
A: We hope not!
Q: Got a favorite musical joke?
A: Never be sharp. Never be flat. Always be natural.
Cheech & Chong
When: 7:30 p.m. Saturday
Where: Pala Casino Spa & Resort's Starlight Theater, 11154 Highway 76, Pala
Tickets: Sold out
Phone: (877) 946-7252
Online: palacasino.com
george.varga@sduniontribune.com
Twitter @georgevarga
---
Sign up for the Pacific Insider newsletter
PACIFIC magazine delivers the latest restaurant and bar openings, festivals and top concerts, every Tuesday.
You may occasionally receive promotional content from the Pacific San Diego.