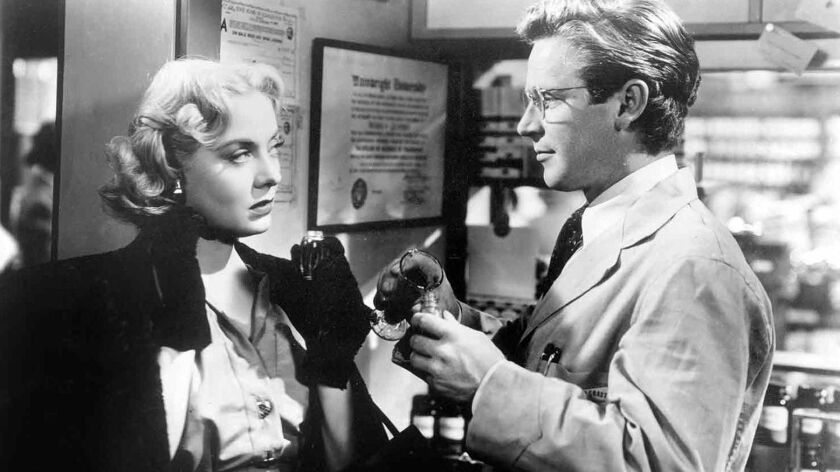 It's not summer in San Diego without outdoor movies, and the outdoor patio at the Athenaeum Music & Arts Library in La Jolla has proved to be a popular venue in years past.
This year, the Flicks on the Bricks series presents what the Athenaeum is billing as "the first ever showcase of film noir in America's Finest City."
The series — curated by KPBS film critic and host Beth Accomando and noir aficionado D. A. Kolodenko — kicked off last week with a double bill of "Devil Thumbs a Ride" (1947) and "The Clay Pigeon" (1949). Today's featured movie is 1949's "Tension" — "set in Culver City, California, where mild-mannered drugstore manager and ex-sailor Warren Quimby (a young Richard Basehart) tries to convince his restless wife Claire (Audrey Totter) to accept a life of domestic suburban tranquility — a notion that bores Claire."
Each film in the series has a San Diego connection, and even though the city doesn't make an appearance in "Tension," it's featured in one of the film's most memorable lines.
The series continues with "The Brothers Rico" (1957) on Aug. 16 and "The Grifters" (1990) on Aug. 23.
Flicks on the Bricks at the Athenaeum: 7:30 p.m. Thursdays through Aug. 23. Athenaeum Music & Arts Library's outdoor patio, 1008 Wall St., La Jolla. 4-movie series: $32 members, $52 nonmembers. Individual screenings: $10 members, $15 nonmembers. ljathenaeum.org/flicks-on-the-bricks
Twitter: @outdoorlivingsd
---