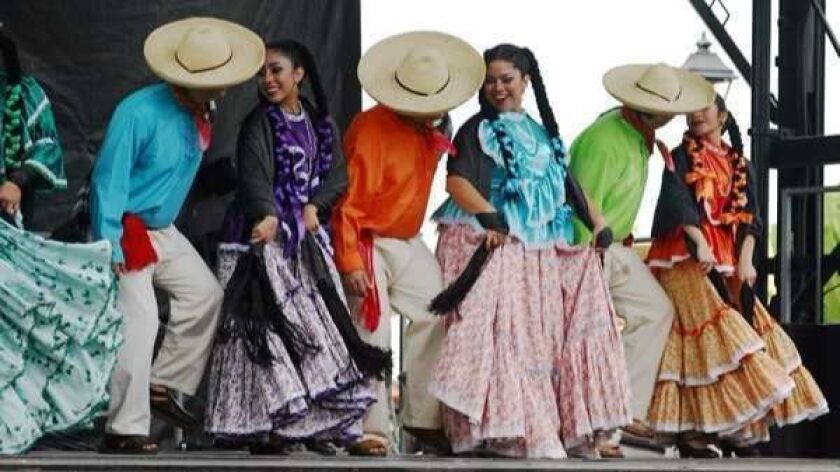 Dozens of dancers from Southern California and Baja will celebrate Cinco de Mayo in Old Town State Park this weekend at the annual Fiesta de Reyes Folklórico Competition.
Thousands of spectators are anticipated to watch and learn about the essence of folklorico — traditional Latin American dances that emphasize local folk culture with ballet characteristics.
"Visitors will have the opportunity to view traditional costumes and performances that represent regional culture," said Chuck Ross, president of Fiesta de Reyes, the festival's organizer. "Where many Cinco de Mayo celebrations take the form of street fairs with hundreds of vendors, entertainers, bars and restaurants, the Folklorico Festival provides a more family-friendly, culturally oriented educational environment."
In addition to top-notch traditional dancing there will be children's activities all weekend, including historic games, crafts, displays and demonstrations, as well as street performers.
Singer-songwriter and Grammy winner Lupillo Rivera will perform a free concert with his father, Don Pedro Rivera, from 6 to 8:30 p.m. on the main stage Saturday. Rivera won a Grammy in 2010 for his album "Tu Esclavo y Amo."
The competition has grown every year, according to organizers. Last year was the first time the event featured a competing school from Tijuana.
"The very first year was a small one-day event with just three or four groups held on our small stage inside the Fiesta de Reyes plaza," Ross said. "Despite its size, we quickly realized that it generated significant interest in the community and there was a need for events for the teams to showcase their art. Today, it has grown into a two-day, professionally judged competition that sees as many as 18 groups competing for cash prizes for their folklorico schools.
"Teams come to compete from all over the region. It is a real competition that gives them an opportunity to measure their mastery of the art form against other groups who have the same passion for folklorico and dance as they do."
There are two basic divisions of Mexican Ballet Folklórico dance: traditional and theatrical.
"Theatrical Folklórico dance and costuming began in the mid-20th century and makes use of flare, flamboyance and showmanship," said Luis Oceguera, director of the Fiesta de Reyes Folklórico Festival for the past four years. "Traditional Folklórico dance styles and costuming have maintained much of their folk origins. Some of the regional dance styles that will be represented at this year's festival are Yucatan, Sinaloa, Nueva Leon, Jalisco, Campeche, Nayarit, Chihuahua, Baja and Michoacan."
Three renowned folklorico dance judges, each recognized as leaders in the ballet folklorico profession, will be selecting the winners of the competition. The judges are: Humberto Olivera Caballero (Actopan, Hidalgo, Mexico), a dance teacher and creator of the folklórico dance group "Cochimi"; Jorge Luis Miramontes (Tuxpan, Nayarit, Mexico), a professional teacher of Mexican dance and culture; and Cecilio Cordero Loaiza (Sinaloa, Mexico), who has performed internationally for 39 years and is the recipient of numerous awards.
Fiesta de Reyes has been an active participant for the past nine years in forwarding the park's mission in educating and bringing the rich history of San Diego to the community.
"We continue organizing and growing this event year after year mostly because we love doing it," Ross said. "Of all the events we do in the state park, this one is my personal favorite. I love seeing the art of their dance, the excitement of the teams and the gathering of families for the competition. It's truly what Old Town San Diego State Historic Park is about – art, culture, history and family."
9th annual Fiesta de Reyes Cinco de Mayo Folklorico Festival
When: 9 a.m. to 8:30 p.m. (9 am. to 3:30 p.m. dance competition) Saturday; 10 a.m. to 7:30 p.m. (10 a.m. to 1:30 p.m. dance competition) Sunday.
Where: In the central plaza of Old Town San Diego State Historic Park, near the intersection of Wallace and Calhoun streets
Cost: Free
Phone: (619) 297-3100
Online: fiestadereyes.com
Other festivities around San Diego County
Cinco de Mayo (Spanish for 5th of May) is recognized worldwide to pay tribute to the Mexican victory over the French at the Battle of Puebla 1862. Throughout San Diego, there will be parties that feature traditional Mexican dance and food, music and other cultural events. Here's a look at some of San Diego's favorite family-friendly celebrations.
Kid's Kitchen: Cinco de Mayo Tamales!: Kids 5 to 11 can celebrate Cinco de Mayo by learning the age-old art of tamale-making — from mixing and kneading the masa to lining your husk with the mixture and layering your fillings on top. Flan and made-from-scratch guacamole served with chips will be a part of the menu. 3:30 to 4:30 p.m. Friday. Lazy Acres, 150 Encinitas Blvd., Encinitas. $20 to $25. bit.ly/2r0y0js
35th annual Fiesta Old Town Cinco de Mayo: One of Old Town's most popular events will have 40 Latin bands, food vendors, a lowrider show, Lucha Libre wrestling, a kids area, stagecoach rides and the new Lucha Libre Cantina featuring Baja-inspired beverages. 4 to 10 p.m. Friday; 11 a.m. to 10 p.m. Saturday; 11 a.m. to 5 p.m. Sunday. Throughout Old Town. Free. cincodemayooldtown.com
Cinco de Mayo Trail Run: The challenging and unique courses will take you out on the Lake Poway Trail through the foothills around the lake near Blue Sky Ecological Reserve. Saturday at 7:30 a.m. for 10K; 8:30 a.m. for 5K; 9:30 a.m. for kids race. Lake Poway, 14644 Lake Poway Road. $15 to $45. cincodemayotrailrun.org
Cinco de Meow: This Mexican-themed adoption event will offer a Mexican buffet, shelter tours, games, a cat boutique and an opportunity drawing for handmade quilts, baskets and lots of furry cuteness. 11 a.m. to 2 p.m. Saturday. Friends of Cats, 15587 Olde Highway 80, El Cajon. Free. (619) 561-0361.friendsofcats.org
Cinco de Burro: The festivities include food and drink specials like $9 margaritas, $8 shots and $4 tinga gordita sliders. Los Juevos Blancos modern mariachi group will perform traditional Mexican cantas from 3 to 7:30 p.m. There's also raffles and giveaways throughout the day. 11 a.m. to close Saturday. The Blind Burro, 639 J St., San Diego. Free admission. theblindburro.com
Cinco de Mayo Piñata Workshop + Fiesta: Celebrate Cinco de Mayo with an afternoon of crafting. Learn to make your own piñata in the shape of a cactus, Frida Kahlo or llama. There will be a "Pajamas and Piñatas" donation drive for children in Tijuana. Donation boxes will be placed around Flower Hill Promenade at 2670 Via del la Valle, Suite A170 in Del Mar, or bring your new pajama donation to the event. All sizes are appreciated. 2 to 4 p.m. Saturday. Mint Studio, 5965 Village Way, Suite 105, San Diego. $30. mintstudiosd.com
Cinco de Mayo Concert in the Park: This family-friendly concert showcases regional Mexican music by Jarabe Mexicano, the SDSU School of Music Percussion Ensemble and the SDSU Marching Aztec Drum Line. 5 p.m. Saturday. Spreckels Organ Pavilion, 2125 Pan American Road E., Balboa Park. Free. kiwanisclubsandiego.org
Fiesta de los Peñasquitos & Parade: This community fiesta celebrates its 23rd anniversary with a parade on Carmel Mountain Road. The festival features 150 booths, two food courts, food trucks, carnival rides and a car show. Parade is at 10 a.m.; festival is at 11 a.m. Sunday. Fiesta is along Black Mountain Road, Rancho Peñasquitos. Free. (858) 324-1881. rpcouncil.com/fiesta
---