San Diego Dance Theater's 'Janus II' is a new collection of works about life's transitions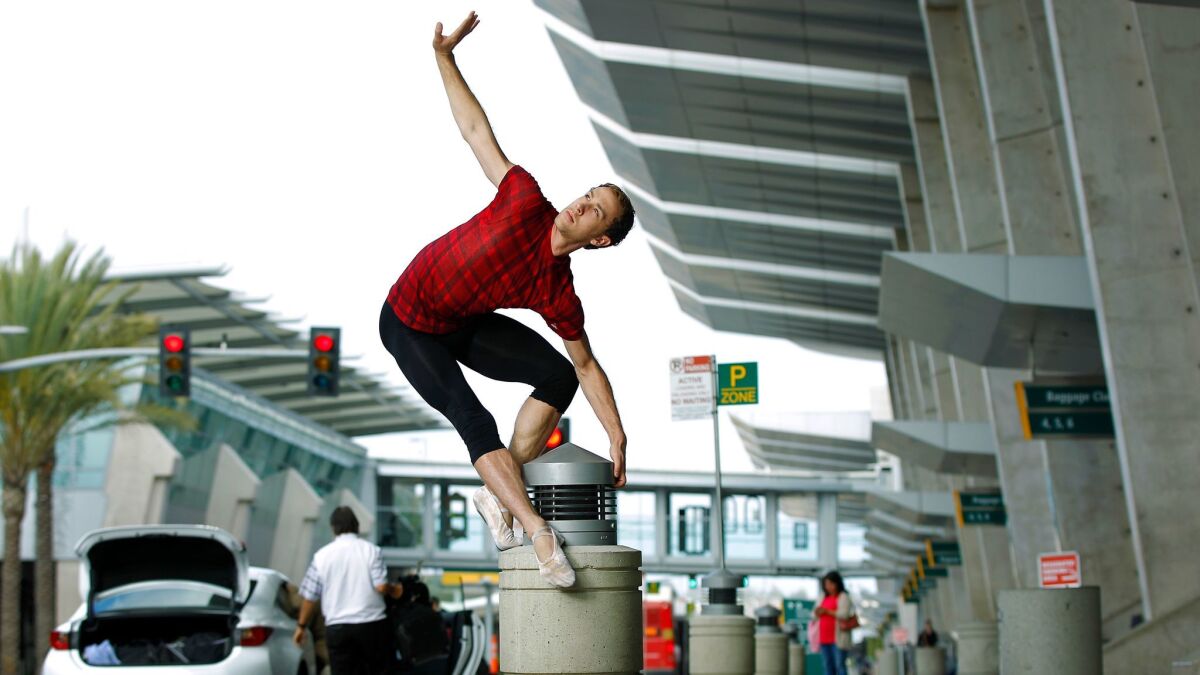 In the first month of the year, when many of us ponder our past and make future resolutions, choreographer Jean Isaacs takes her inspiration from Janus, the Roman god who presided over beginnings and endings.
Ancient archways, coins and shrines bore his image, depicting two opposing faces, one looking forward, the other looking back.
Isaacs embraced the themes of past and future last year with the first installment of "Janus," and she continues that effort with "Janus II and Other Dances of Beginnings, Transitions, and Endings," staged this weekend at San Diego City College's Saville Theatre.
The new collection of dances, performed by Isaacs' San Diego Dance Theater, explore old and new ways of relating, creating and finding our place in life.
In "Songs From the Family Album," for instance, Isaacs pays homage to the past with a movement vocabulary that speaks to photographs representing multiple generations.
And a remake of Isaacs' "The Rite of Spring" is included, along with new works by Kyle Sorensen and Gina Bolles Sorensen and emerging choreographer Trystan Merrick.
Merrick has two roles in "Janus II." He's performing as The Chosen One in Isaacs' version of "The Rite of Spring," set to Igor Stravinsky's ballet score and first performed in 1913 at the Théâtre des Champs-Elysées in Paris.
A groundbreaking masterpiece, "The Rite of Spring's" story encompasses dancing maidens and pagan rituals, and at the climax a young girl (The Chosen One) dances to death in front of the elders as a sacrifice to appease the god of spring.
Isaacs has flipped the gender role and modernized the work, choosing Merrick to perform the sacrificial dance in a nightclub setting.
"In Jean's version, it's pseudo-futuristic," Merrick says. "And I'm having a lot of fun with it."
Merrick also will premiere "Four Squares," choreography featuring a quartet of dancers who perform to a lush, exotic score by Turkish composer Fazil Say.
"It's the first time I've worked with a modern company," says Merrick, who also has choreographed for California Ballet Company.
"With modern dancers, you can explain an idea or a feeling or give a direction and it's more conversational."
"Four Squares" is based on the way friends relate to one another, and how one individual can influence the group dynamic. Merrick considered the way presentation can exclude or include others, even when a group shares similar feelings.
"We develop relationships based on things that are unique about us," he says. "As a society, we often choose to disregard people who aren't relatable to ourselves. My whole point is relatability. I want people to watch this and see themselves in every scenario as it unfolds."
Kyle Sorensen and Gina Bolles Sorensen, founders of somebodies dance theater, participated in last year's "Janus" and have been invited back to introduce "Seekers," a new work performed by six dancers.
"The work draws from a lot of images related to home," Bolles Sorensen explains. "As a married couple raising a family, we feel integrated in the community and we teach in different schools and create works for many different groups of dancers. But both of us still feel that we are in search of a place where we really belong. We approached the idea of where we fit in with three sections that answer the question differently."
Accompanied by an atmospheric sound collage that incorporates jazz and electronica, "Seekers" begins with a trio of duets that portray the idea of space as one's primal territory and as a way to find where one can fit, either by collaboration or by abusing others.
In the last section, "Seekers" offers a happy ending.
"All six dancers represent the feeling of coming to a sense of peace with space," Sorensen says. "There is room enough at the table for everyone, or room enough for everyone to find their fit."
Issacs said that "Janus II" brings more strength to the theme of looking forward and backward simultaneously, by reworking a classic such as "The Rite of Spring" and by introducing a new choreographer.
"I'm so grateful to have been invited by Jean, not only to dance the role of The Chosen One, but also to make original work alongside her," Merrick said. "In this show about past, future and transitions, I feel honored that she is interested in what I would create using her dancers."
"Janus II and Other Dances of Beginnings, Transitions and Endings"
When: 7:30 p.m. Jan. 19-20, 2:30 p.m. Jan. 21
Where: Saville Theatre, San Diego City College, 1313 Park Blvd., San Diego
Tickets: $15-$40
Online: sandiegodancetheater.org
Manna is a freelance writer.
Twitter: @outdoorlivingsd
---
Sign up for the Pacific Insider newsletter
PACIFIC magazine delivers the latest restaurant and bar openings, festivals and top concerts, every Tuesday.
You may occasionally receive promotional content from the Pacific San Diego.