Author Kevin Kwan didn't have to venture far for inspiration for 'Crazy Rich Asians' — real life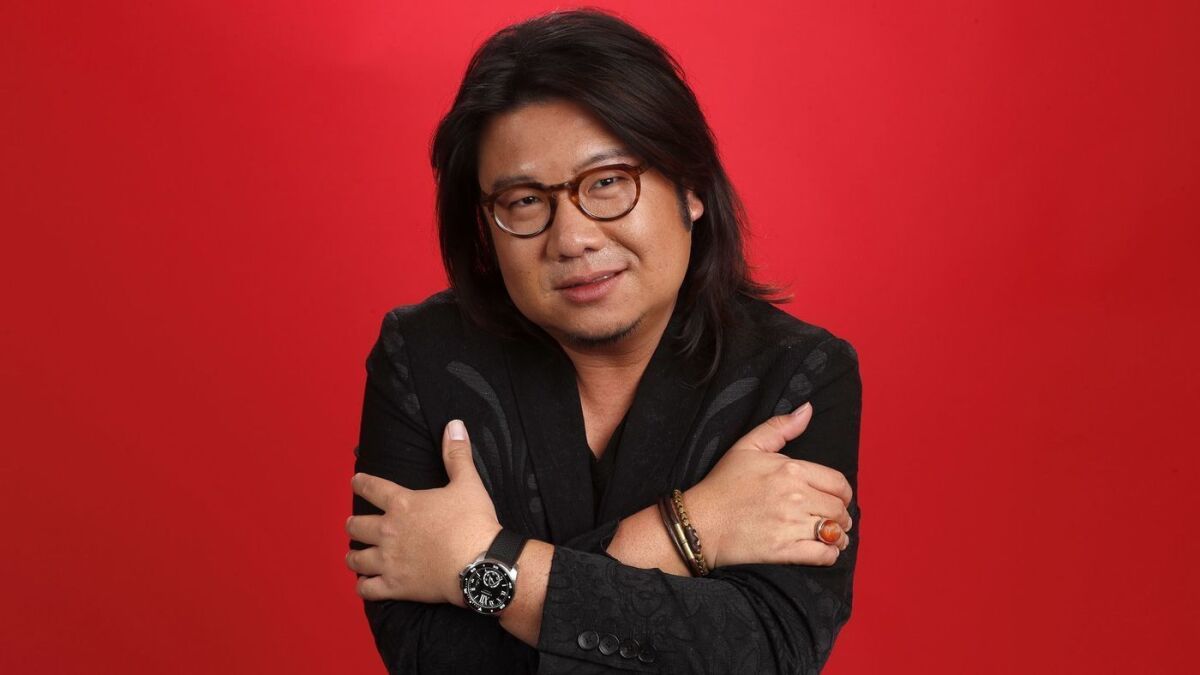 Author Kevin Kwan's "Crazy Rich Asians" series was inspired by his childhood experiences in Singapore and years of travel throughout Asia. It's a world where family dynamics, status and wealth collide with fashion, culture and food.
The glitz, glamour and romance of the first book in the trilogy, "Crazy Rich Asians," landed on the big screen this past summer. With 3.7 million copies currently in print, the series has been a bestseller across the globe and has been translated into 20 languages.
The movie? Well, it's been a blockbuster, too. So far, it's grossed just a little over $188 million worldwide and nearly $150 million domestically.
"It was both thrilling and surreal, sitting in a screening room and watching my book come alive on the big screen for the first time," Kwan said. "I felt tremendously lucky."
Kwan visits San Diego for two appearances. On Wednesday evening, he will be at Warwick's for a book discussion, and on Thursday, for a reservation-only lunch with, as of press time, limited ticket availability.
Q: How would you describe your books for a reader who has never read them?
A: They're like a modern-day "Downton Abbey" set in Asia — fun romps full of family drama, romance, food, gorgeous settings and idiosyncratic characters.
Q: What was your inspiration for your first novel, "Crazy Rich Asians?" Do family members recognize themselves in your books?
A: I was really inspired by my childhood growing up in Singapore and by trips to other cities in Asia over the past 30 years. My family members do not recognize themselves at all because none of the characters are based on them. Trust me, I still want to get invited to the reunions!
Q: Do you consider Singapore a character in your book?
A: Singapore absolutely is a character in "Crazy Rich Asians." It's like no other place on Earth, and its settings, culture and the spirit of its people are an essential part of the story.
Q: Many of your characters obsess about the latest fashion trend and designers. Why is this so important to them?
A: Many of the characters use fashion to express themselves. The culture they live in ascribes values to wearable goods and so you are speaking for yourself via what you are wearing. This being said, there are characters in my books that couldn't care less about fashion — often they're the wealthiest ones of all.
Q: One of your plot themes covers the societal difference between "mainland China" versus "overseas Chinese." What does it mean? How does old money versus new money factor in to the thinking?
A: The overseas Chinese refers to the large diaspora of Chinese families that left mainland China starting many centuries ago and went on to populate the countries of Southeast Asia and beyond. The mainland Chinese are the present day people who live in China, and their cultures have marked differences. They share common roots, but they diverged up to 300 years ago. The mainlanders are coming out of a century of communism that the overseas Chinese never had to deal with, and all the mainlanders are considered to be new money by the overseas, many of whom made their money generations ago.
Q: Why do your characters argue about the best places or restaurants to eat certain foods?
A: It's a Singaporean national pastime. Singaporeans are the original foodies and have been passionately debating where the best places are to eat for the last 50 years or more.
Q: Why did your dad move the family to Houston, Texas, when you were 11 years old? What was your biggest transition after you moved?
A: My father spent his formative years in boarding school in Australia and always felt that there would be more opportunities for his children in the United States. I still to this day don't know why he chose Houston. I would have much preferred La Jolla, Calif. In Houston, I had to learn to be incredibly independent and self-sufficient, which is exactly what I think my father wanted.
Q: What part did you have in the movie adaptation? How did you like working in Hollywood?
A: I was an executive producer on the film but was also intimately involved in the entire creative process from start to finish. I worked with the screenwriters, I worked with Jon Chu, our amazing director, and I worked with our set and costume designers to ensure the authenticity of the film. I love Hollywood, but it took a while for me to adjust to the peculiarities of its culture. I've never met so many junior agents whose assistants have assistants.
Q: Do you have restaurants or food places that you always go to when you are visiting Singapore? What tourist spot would you recommend to a first time visitor to Singapore or even Hong Kong?
A: I've heard from so many readers who have used my novels as guidebooks when they visit the many Asian cities featured in the stories. In Singapore, I think visitors should go to all the places mentioned in my books, such as Lau Pa Sat hawker center for the amazing street food, or the Botanic Gardens, which has become a UNESCO World Heritage site. In Hong Kong, nothing beats afternoon tea at the Mandarin Hotel, riding the Star Ferry across Victoria Harbor at sunset or having wonton noodles at my favorite noodle joint, Mak's on Wellington Street.
"Crazy Rich Asians" by Kevin Kwan, Anchor Books, 544 pages.
Conversation with Kevin Kwan
When: 7:30 p.m. Wednesday, Sept. 26
Where: Warwick's, 7812 Girard Ave., La Jolla
Phone: (858) 454-0347 (reserved seating)
Online: warwicks.com
Booked for Lunch with Kevin Kwan
When: 11:45 a.m. Thursday, Sept. 27
Where: Will be disclosed on purchase of ticket
Tickets: $65 (includes lunch and book; limited availability)
Phone: (858) 454-0347
Online: warwicks.com
Davidson is a freelance writer.
Sign up for the Pacific Insider newsletter
PACIFIC magazine delivers the latest restaurant and bar openings, festivals and top concerts, every Tuesday.
You may occasionally receive promotional content from the Pacific San Diego.