Due to a talented cast, a terrific, high-energy production of the musical "Hairspray" is playing in downtown San Diego through Sept. 2.
San Diego Musical Theatre's version features Bethany Slomka as Tracy Turnblad, the optimistic teenager who is determined to not let anything — including her rather plump size — deter her dream of dancing on "The Corny Collins Show" as a cast member.
But her dream could be derailed by more than just the snooty teens on the show and its equally stuck-up, openly racist producer Velma Von Tussle (Eileen Bowman) once Tracy decides that living her dream is less important that bringing racial equality to the teen-centered television show filmed in her hometown of Baltimore, circa 1962.
Slomka — who has played the role of Tracy in previous productions throughout San Diego County — oozes exuberance, evident in the opening number "Good Morning Baltimore," and her enthusiasm does not wane throughout the nearly three-hour show. She not only can act, but sing and dance — a true triple threat. But what makes "Hairspray" is not just the pep in the many ensemble dance numbers. Rather it is the more soul-searching scenes that have Tracy, her friends and parents deciding what they are willing to risk — including love, dreams, careers, fame and freedom — to bring racial equality to their little part of the world in the midst of the United States' civil rights movement.
The stage show is based on a 1988 film of the same name and led to a 2007 film adaptation. For its Broadway debut it won eight Tony Awards out of its 13 nominations in 2003, including Best Musical. It closed after more than six years.
Per the SDMT director J. Scott Lapp's program message, its desegregation theme is based on events during early 1960s America and its fictional "The Corny Collins Show" was inspired by "The Buddy Deane Show," a television program shut down in 1964 for its refusal to integrate. Thematically-related scenes were inspired by events of that era.
Much like the hairdos plumped up by liberal use of hairspray, the musical is buoyed up by the 24-member cast and 15 musicians led by director Lapp, choreographer Jill Gorrie, musical director Don Le Master and conductor Andrew Orbison. On stage there is not a weak member of the cast, but some clearly stood out.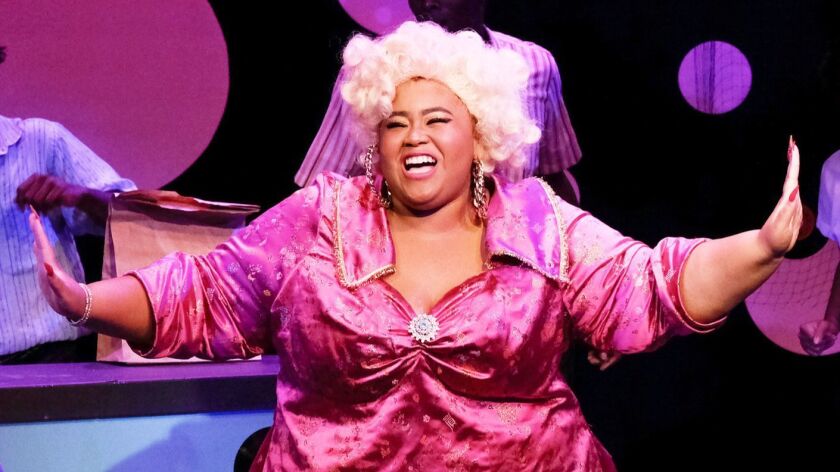 Stealing the show is Eboni Muse as Motormouth Maybelle, whose powerful, soulful voice brought down the house in applause after she sang "I Know Where I've Been" in Act II. A hint of her vocal talent was previewed in "Big, Blonde & Beautiful," near the end of Act I. Her emotion was also very convincing while telling the teens about the racial discrimination struggles she fought to overcome.
John Massey in the traditional cross-dressing role of Tracy's mother Edna was also a crowd favorite. Paired with Steve Gunderson (Tracy's father, Wilbur) the duo was wonderful in the very funny and cute "Timeless to Me" that showed the affection shared by the couple.
Kenneth Mosley as Seaweed J. Stubbs — who encourages Tracy's dance dreams — is a talented singer and dancer. It also takes a lot of talent to make the villain role sufficiently villainous and Bowman rose to the challenge, accompanied by Lauren King Thompson, who played Tracy's rival Amber Von Tussle (Velma's daughter). The duo worked well together as they combined villainy with comedic timing and Bowman's performance of "(The Legend of) Miss Baltimore Crabs" was enjoyable.
The ensemble numbers were fun and overall the production was enjoyable, with only occasional suggestive comments and actions that would most likely go over the heads of young audience members, making it primarily a PG-rated show.
"Hairspray" can be seen in evening performances (Wednesdays through Saturdays) plus Sunday matinees through Sept. 2 at the Horton Grand Theatre, 444 Fourth Ave. in downtown San Diego's Gaslamp District. Tickets are $30 to $70, available at sdmt.org, 858-560-5740 or at SDMT's administrative office at 4650 Mercury St. in San Diego. There is a link for patron-priced pre-purchased parking across from the theater on the website.
email: rbnews@pomeradonews.com
---