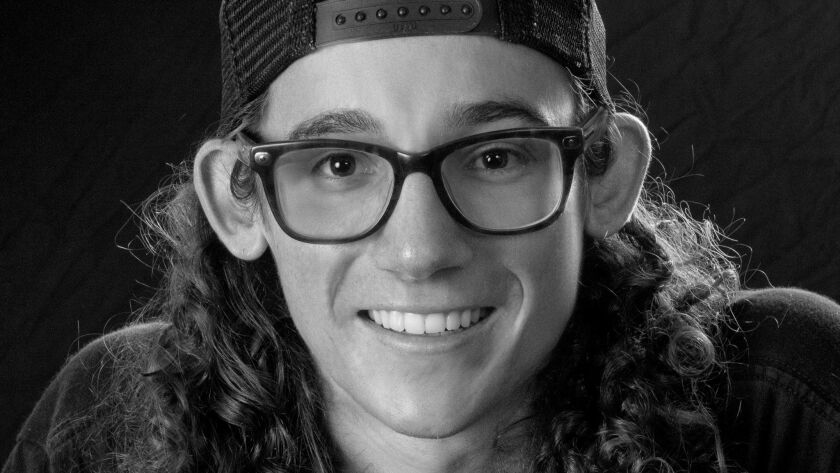 See a Poway High School graduate in action with the touring production of "Stomp," which arrives for five shows March 2 through March 4 at the Balboa Theatre, 868 Fourth Ave. in downtown San Diego.
Cade Slattery, who graduated from PHS in 2014, joined the off-Broadway production of the show in late 2015 and has been touring with the show for about two years.
"Touring (with 'Stomp') is a lot different (from performing it off-Broadway)," Slattery said. "There's inherently a lot of travel days with touring."
Slattery said that depending on the touring schedule, he can be performing in up to four different cities a week. "It's cool to see all these different venues," he said. "Each venue has its own quirks. They sound different."
Some places are also more appreciative of the street performance style of "Stomp" than New York, as they do not see it all the time on the streets and get annoyed by it, he said.
Touring the country and performing in larger venues also allows the show to change up some performances, Slattery said. A number that is performed with plungers, due to how close the audience sits to the stage in the off-Broadway theater, is performed with paint cans in larger theaters on the road. "The number (with paint cans) is a lot of fun."
Slattery has performed with "Stomp" on its last three tours.
What drew him to the show was how it is a show without words, Slattery said. "It's a show where music is the language. I think it's been so successful the past 20 years around the world because it's not tied down by any language."
The show uses everything from brooms to garbage cans to create music and rhythm and is heavily improvised by its performers, said Slattery. "It's different every night. The cast chooses the mood, the dialogue with other characters. It's really cool to have that freedom."
He said watching the audience members anticipate a certain moment or smile while watching also fuels his loves for performing. "It's a really great feeling."
Slattery began his journey in "Stomp" playing the role of Ringo, a character who is somewhat awkward and does not fit in. He now is portraying the role of Mozzie, the comic relief of the show. "Mozzie is someone who doesn't fit in with everyone else. He's blatantly different. He breaks the ice when things get too serious. He's the one the audience sides with."
Slattery joined a percussive performance group, Arts in Motion in El Cajon, when he was 9 years old. The group was started by "Stomp" veteran Chris Rubio.
He said he plans to remain with "Stomp" for at least a few more years, "while my body can handle it." Slattery also produces electronic music on the side, which is something he would like to grow into a possible career in the future, he said. "Right now, I'm just riding the wave."
Show times are 7:30 p.m. Friday, March 2; 2 and 7:30 p.m. Saturday, March 3 and 1 and 6 p.m. Sunday, March 4. Tickets start at $22.50 and are available at broadwaysd.com.
---