The reel deal: December movie releases
Movies hitting the silver screen in December include Aquaman, The Mule, Bumblebee and Holmes & Watson.
Mary, Queen of Scots
Bow to no one.
Drama | History
Directed by Josie Rourke
Starring Margot Robbie, Saoirse Ronan and Gemma Chan
In theaters 12.7
Set during the 16th century, this period piece focuses on the turbulent relationship and bitter rivalry between two young queens vying for the English throne.
Ben Is Back
Drama
Directed by Peter Hedges
Starring Lucas Hedges, Julia Roberts and Kathryn Newton
In theaters 12.7
After a wayward 19-year-old suddenly reappears on his family's doorstep, his mother's love is put to the test as she spends the following 24 hours doing everything possible to keep her drug-addled son safe.
Spider-Man: Into the Spider-Verse
Enter a universe where more than one wears the mask.
Action | Adventure
Directed by Bob Persichetti, Peter Ramsey and Rodney Rothman
Starring Shameik Moore, Jake Johnson and Hailee Steinfeld
In theaters 12.14
In this computer-animated superhero spectacle, Spider-Men from parallel dimensions join forces to keep an existential threat from unraveling the fabric of the multiverse.
Mortal Engines
Some scars never heal.
Fantasy | Sci-Fi
Directed by Christian Rivers
Starring Robert Sheehan, Hera Hilmarsdóttir and Stephen Lang
In theaters 12.14
Centuries after a cataclysm obliterates civilization, entire cities roam the landscape like predators on wheels, and an enigmatic young woman must fight to keep London from consuming everything around it.
The Mule
Nobody runs forever.
Crime | Drama
Directed by Clint Eastwood
Starring Clint Eastwood, Taissa Farmiga and Bradley Cooper
In theaters 12.14
A 90-year-old man with little to live for gets busted smuggling coke for a Mexican cartel, forcing him to rethink his life choices and right some wrongs before it's too late.
Bumblebee
Every adventure has a beginning.
Action | Adventure
Directed by Travis Knight
Starring Hailee Steinfeld, John Cena and Gracie Dzienny
In theaters 12.21
In this origin story for everyone's favorite autobot, a yellow Volkswagen is brought back to life by a California girl on the cusp of her 18th birthday.
Welcome to Marwen
To dream is to heal.
Comedy | Drama
Directed by Robert Zemeckis
Starring Steve Carell, Eiza González and Janelle Monáe
In theaters 12.21
In this touching film based on actual events, the victim of a vicious attack puts the pieces of his life back together by constructing a sprawling, scale-model town where he can be a hero.
Vice
The untold true story that changed the course of history forever.
Biography | Drama
Directed by Adam McKay
Starring Christian Bale, Amy Adams and Steve Carell
In theaters 12.25
This biopic about the most powerful vice president in modern history sheds light on the events leading up to the 2000 election and demonstrates how Dick Cheney used his position to mold the world to his whim.
Aquaman
A tide is coming.
Fantasy | Adventure
Directed by James Wan
Starring Jason Momoa, Amber Heard and Patrick Wilson
In theaters 12.21
The uncouth, half-human heir to the underwater kingdom of Atlantis must step forward to lead his sea-dwelling people when a battle on the surface threatens the lives of millions of Atlanteans.
Second Act
No matter who you want to be, never forget who you are.
Romance | Comedy
Directed by Peter Segal
Starring Jennifer Lopez, Milo Ventimiglia and Vanessa Hudgens
In theaters 12.21
A 40-year-old employee at a big-box store makes a last-gasp attempt at realizing her unfulfilled dreams and cons her way into a career on Madison Avenue.
On The Basis Of Sex
Her story made history.
Drama | Biography
Directed by Mimi Leder
Starring Felicity Jones, Armie Hammer and Justin Theroux
In theaters 12.25
This dramatization of Ruth Bader Ginsburg's rise from scrappy young lawyer to legendary Supreme Court Justice shines a light on the struggles, sacrifices and successes of the notorious R.B.G.
Holmes & Watson
Comedy | Mystery
Directed by Etan Cohen
Starring Will Ferrell, John C. Reilly and Ralph Fiennes
In theaters 12.25
In this this wry take on Sir Arthur Conan Doyle's signature characters, an unorthodox detective and his bumbling sidekick investigate a murder at Buckingham Palace and must solve the case in four days in order to keep the queen safe.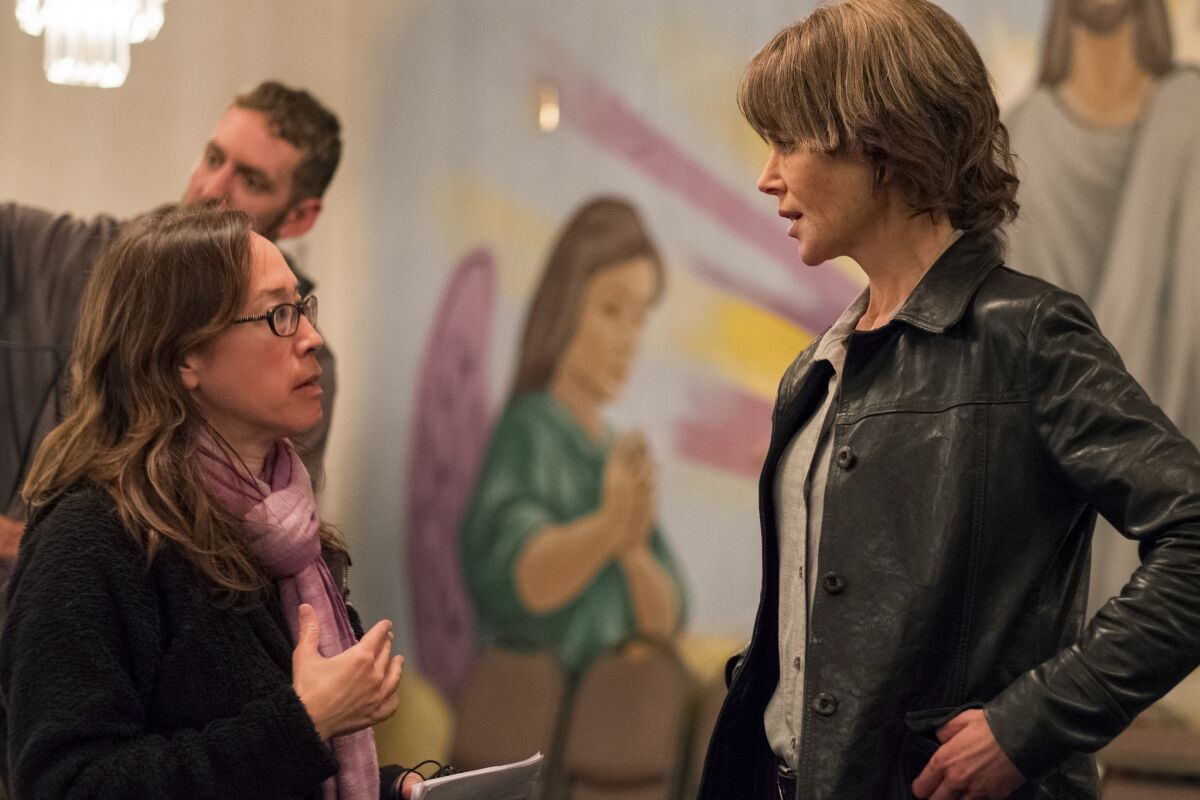 Destroyer
You can't run from yourself.
Drama | Thriller
Directed by Karyn Kusama
Starring Nicole Kidman, Sebastian Stan and Tatiana Maslany
In theaters 12.25
A police detective who once worked undercover to infiltrate a violent California gang must re-enter the ruinous world she thought she left behind after the group's leader rears his head after years on the run.
Sign up for the Pacific Insider newsletter
You may occasionally receive promotional content from the Pacific San Diego.