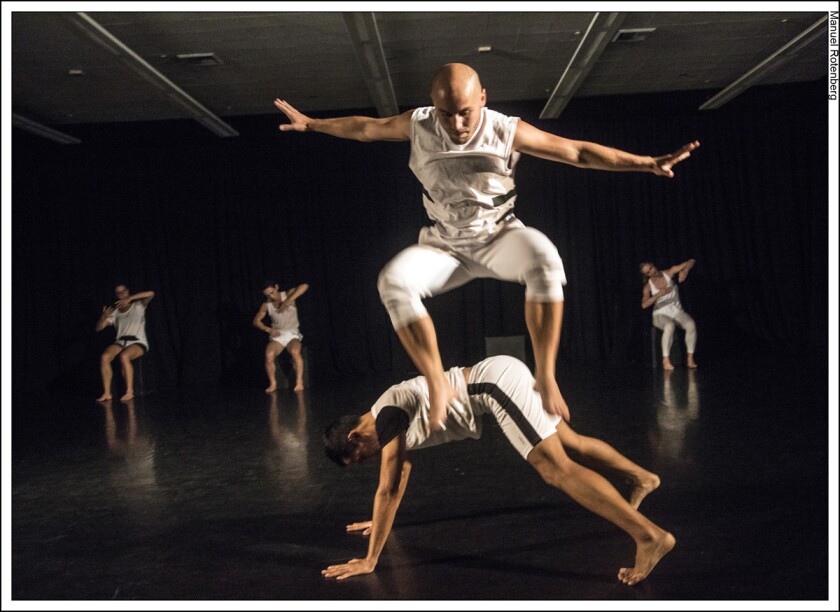 Taking the stage in San Diego this month are shows including Body Rock: Homecoming 2017, Aida, Withering Heights, Minor Fall/Major Lift and James and the Giant Peach.
6.1-3: Minor Fall/Major Lift
Inspired by a folktale about a Jewish boy who is stolen from his family, raised in the Catholic church and becomes pope, this bicoastal collaboration between San Diego's Malashock Dance and New York-based New Amsterdam Records explores reactions to change.
Lyceum Space, 79 Horton Plaza, downtown, 619.544.1000, lyceumevents.org
6.2-18: Damn Yankees
Forget the peanuts and Cracker Jacks. Baseball fanatic Joe Boyd is selling his soul to the devil to save his favorite team. Now, if they don't win, it really is a shame!
Spreckels Theatre, 121 Broadway, St. 600, downtown, 619.235.9500, spreckels.net
6.3: Body Rock: Homecoming 2017
This international hip-hop returns to where it all began 18 years ago: San Diego.
San Diego Civic Theatre, 1100 Third Ave., downtown, 619.570.1100, sandiegotheatres.org
6.9-7.2: James and the Giant Peach
Follow James' peculiar escape from his haggish aunts in a gargantuan peach, which houses personable insects on a juicy, cross-ocean adventure.
Coronado Playhouse, 1835 Strand Way, Coronado, 619.435.4856, coronadoplayhouse.com
6.9-7.30: Big Fish
Before beginning a family of his own, Will seeks to set straight his dying father's tall tales, which include meeting witches and kissing mermaids during his traveling-salesman days.
Lamb's Players Theatre, 1142 Orange Ave., Coronado, 619.437.6000, lambsplayers.org
6.11-7.9: Withering Heights
Two actors take on 14 roles in this gothic parody of Emily Brontë's novel "Wuthering Heights."
Diversionary Theatre, 4545 Park Blvd., Ste. 101, University Heights, 619.220.0097, diversionary.org
6.11-7.15: King Richard II
Robert Sean Leonard of the Fox TV series "House" stars in Shakespeare's historical portrait of the war-thirsty King Richard II and his reckless attempts to rule.
The Old Globe Theatre, 1363 Old Globe Way, Balboa Park , 619.234.5623, theoldglobe.org
6.13-18: The Bodyguard
Rachel, a celebrity with a stalker problem, and Frank, her bodyguard, have conflicting views of who wears the pants in their relationship - and whether it's OK to take them off.
San Diego Civic Theatre, 1100 Third Ave., downtown, 619.570.1100, sandiegotheatres.org
6.14-7.1: Aida
Love, loyalty and betrayal linger in this Elton John-scored love triangle about two princesses and the soldier with whom they're both in love.
Moonlight Stage Productions, 200 Civic Center Dr., Vista, 760.724.2110, moonlightstage.com
6.22-7.8: The Search for Signs of Intelligent Life in the Universe
Beginning with a bag lady consulting aliens about life on earth, this one-woman tour de force orbits around 12 characters and their sometimes out-of-this-world understandings of humanity.
Diversionary Theatre, 4545 Park Blvd., Ste. 101, University Heights, 619.220.0097, diversionary.org
---